Month-long Sailing Trip: Havre de Grace
--Blogpost written by Bob
Wednesday, July 23
The distance from Georgetown to Havre de Grace is almost 20 nautical miles because of the circuitous route that is necessary to avoid the Susquehanna Flats--it took us about 4 hours. Havre de Grace lies roughly northwest of the mouth of the Sassafrass River and

is at the head of the Chesapeake Bay where fresh water from the Susquehanna River enters the bay.
We passed Turkey Point Lighthouse from a distance and then, much closer, Fishing Battery Light. While it looks like a long narrow channel on the chart (8 foot deep by 100 feet wide), the channel was very deep, very wide, and very well marked. We had no problems at all staying in deep water. (I might add, however, that we used our GPS/ chart plotter and autopilot to our full benefit.)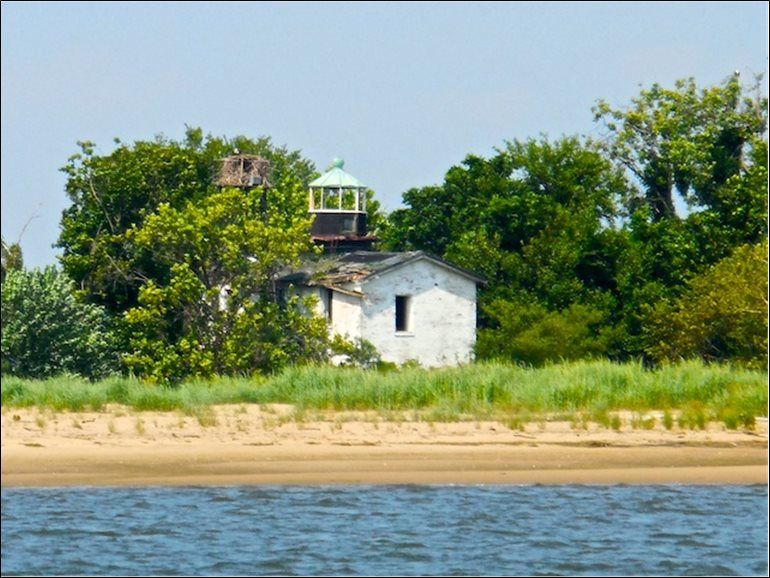 Fishing Battery Light is on a low-lying island in the Susquehanna Flats. It was built in 1853.
We called Tidewater Marina from the end of the channel for a mooring buoy assignment. There are only about a dozen moorings and they have no numbers (and no pennants which caused some extra hassle)--the marina office simply told us to pick up the mooring buoy just ahead of the ketch. Most of the moorings are used by permanent local customers--so, there are very few moorings available for transients.

I was surprised at the large number of sailboats in the marina.

Several bridges cross the Susquehanna River just north of Havre de Grace. One of the
bridges is a railroad bridge that carries thousands of passengers a day. Of course,
two of the bridges are highways, Route 40 and Interstate 95.
Havre de Grace means "Haven of Grace" or "Harbor of Grace." It was originally a small hamlet know as Harmer's Town until General Lafayette suggested "La Havre de Grace" and the town was incorporated in 1785 as Havre de Grace.The town has a population (2010 census) of 12,952 and it was honored as one of America's 20 best small towns to visit in 2014 by Smithsonian Magazine.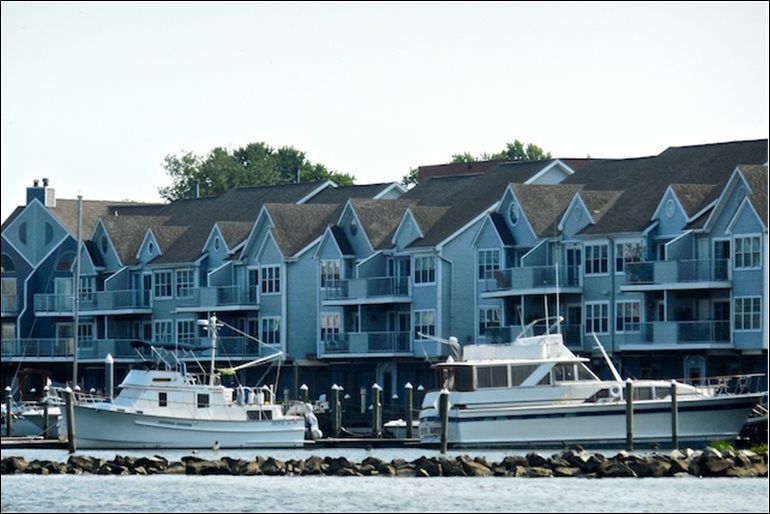 The waterfront at Havre de Grace is loaded with townhouses and condominiums.
We took a dip in the water to cool off before dinner.
After dinner on board, a thunder storm brewed to the northwest--it came through the mooring field about a hour later. We quickly took down the fore peak tent, closed up all the hatches and went below to wait out the storm, peeking out the companionway to see what was going on.
As the thunder storm approached, the skies got eerily dark.
The thunder storm lasted about 45 minutes. As the storm cleared, the sun was setting
and it made this pretty (but eery) yellow glow in the sky.
The weather forecast for tomorrow is cooler, overcast, and a 60% chance of rain (but limited to the morning hours). Winds are supposed to be at 9 mph out of the north. We will be sightseeing in Havre de Grace.
Thursday, July 24
Passenger trains traversed the railroad bridge late into the evening and early in the morning--the rhythmic beat of the wheels on the tracks is somewhat of a comforting sound, even though a foreign sound for a sailor. There was a cool breeze most of the night and we slept very well here in Havre de Grace.
Before heading into town, we had broccoli quiche for breakfast on board--quiche has been a big hit on this trip! Quiche Lorraine, with its aroma and flavor of bacon is our favorite.
Before
After
Havre de Grace is a beautiful little waterfront town with a somewhat vibrant downtown area that actually has interesting shops and they are doing business (like a smaller version of Annapolis).
We walked up to Market Street to Java on the Bay (a nice little coffee shop) to get a cup
of coffee. We spotted these (melamine) dishes for sale in the coffee shop. After
examining them a couple of times and looking at them from our table, we bought
four plates and four bowls to replace some old red dishes on the boat.
One of the most interesting features of this town is the colorful homes, whether old or
new. Another unique feature is the fact that most of the sidewalks are not right
along the street, but six to twelve feet back from the street.
We stopped for lunch at McGregor's Tavern (which was excellent by the way) and ate in the outside dining room. It is here that we had a somewhat bizarre conversation.
Bob: In preparation for when we cruise the Bahamas I think I will start replacing my old underwear with those lightweight (ExOfficio-brand) underwear (the kind you take on trips and wear them for weeks) because we could simply rinse them out and it would not add to our laundry needs."
Maggie: Just don't forget to rinse them out!
Bob: We could imprint the day of the week on the underwear to tell when they are due to be changed.
Maggie: How are you going to remember what day of the week it is?
Bob: Well I could just look at my underwear.
Maggie: That would be quite a sight in a restaurant if someone asked you what day of the week it was.
Bob: Maybe you could embroider one or two initials for the day of the week on the fly of the underwear and make it upside down.
With the vision of this scenario fresh in our minds, we both started laughing hysterically. A month-long cruise really gets you back to basics and having fun with simple little things--things that you would never think about in "normal" life. It makes you wonder which life is "normal."
We walked southward almost the complete length of town to see the Concord Lighthouse.
The Concord Lighthouse was built in 1825. It is a beautiful stone structure that is
painted white with black trim. This photograph was taken from
the nearby town pier.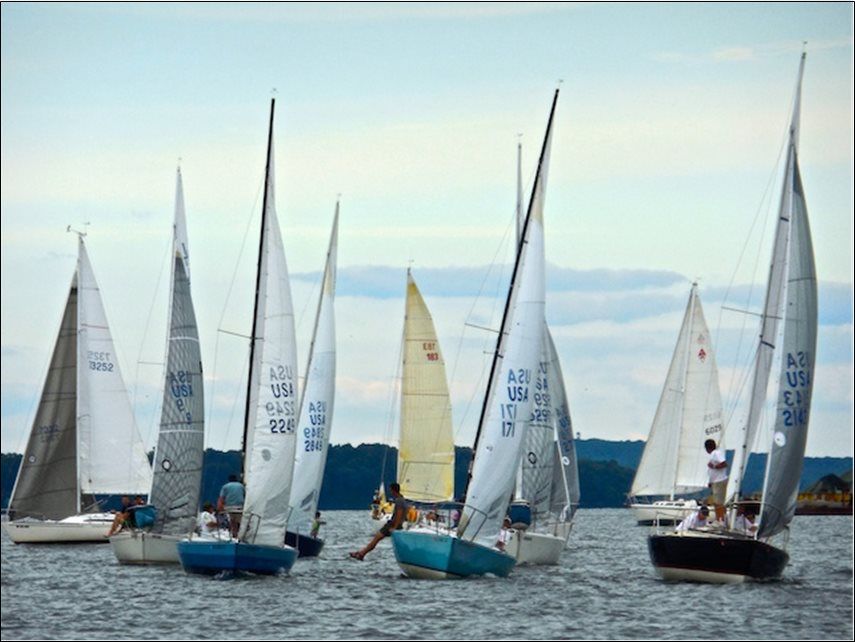 In Havre de Grace, Thursday night is race night. This is a group of J-24's near the starting line.
This was truly one of our best stops on this trip. From here we go back to Still Pond (or Worton Creek) for an overnight anchorage on Friday night, then into Baltimore for the weekend. We are making this blogpost before leaving Havre de Grace--the trip to Still Pond will be covered in our blog post for Baltimore.
Thanks for following our blog!