Month-long Sailing Trip: Heading North
--Blogpost written by Bob


Saturday, July 12
We were planning to go from Crisfield to Onancock, Virginia but with our stay in Crisfield being extended so long (7 days) on account of our engine starter problem/repair and a large group of sailboats from Baltimore were in Crisfield and headed to Onancock, we decided to head north for our mid-month break--it will take 2 or 3 days to get to Galesville.
The weather forecast is partly cloudy with wind at 8 knots from the East with 0% chance of rain and a high of 84 degrees. Sounds like a nice day to head North--we'll be on a reach (a point of sail with the wind dead abeam).

We left Crisfield shortly before 9 in the morning. There was hardly any wind at all--so we motored and motored. Since we were making good time (about 6 knots) motoring, we decided to go all the way to Oxford.
As we approached Kedges Strait this beautiful workboat, Lori Robin, passed us.
Workboats are much prettier in this area of the Chesapeake Bay.
Kedges Strait is a relatively deep passage between Smith Island on the south and Marsh Island to the
north. Kedges Strait Lighthouse marks a shoal off the north end of Smith Island. From the
background, you can see the low elevation of these islands.
It is hard to believe that fishermen still catch fish these days with stationary nets
but these are plentiful between Solomons and Taylor's Island.
When we
passed these (we call them "fish sticks") we were in 60 feet of water
and they were about 50 yards abeam of us near Taylor's Island.
Most of my life I have been sailing on the Chesapeake Bay and the only place
I recall seeing brown pelicans was near Norfolk. However, on this trip we saw a
lot of brown pelicans south of Solomons. These two brown pelicans were
sitting on a buoy near Taylor's Island, 100 or so miles north of Norfolk.
Motoring for hours on end can get pretty boring. I have a nice comfortable
helm seat
and all my instruments are located right in the cockpit.
The winds increased to nearly 15 knots out of the south in mid afternoon. We never did see the easterly winds that were predicted. We motor sailed and reached over 7 knots at times--it was quite a ride! I couldn't sail very effectively downwind because my whisker pole (used to hold the jib out) was at home--I'm refurbishing it. We motor sailed past the Little Choptank River, into the Choptank River, then into the Tred Avon, and anchored off the Strand in Oxford.
I have anchored off the Strand in Oxford many times in my
sailing life--it's almost like home to me.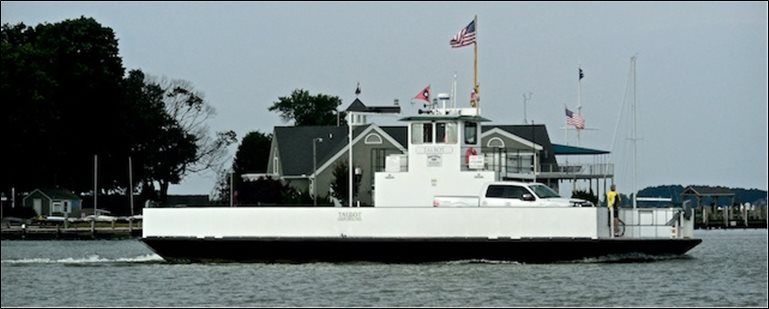 The Oxford-Bellevue Ferry is the oldest privately operated ferry service in the United
States.
The 3/4-mile trip takes about 10 minutes and it is a shortcut
between Oxford and St. Michaels. In this image, the Tred Avon
Yacht Club is in the background.
It got very cool in the evening as I slept on the foredeck under a blanket--Maggie slept in the v-berth. The moon was full and it was a very beautiful evening and night. It started to rain lightly during the night and I had to scurry around gathering up my bedding from outside and closing hatches.
Sunday, July 13
Sunday morning was a time of rest after all the motoring and motor sailing on Saturday.
At lunchtime we rowed the dinghy to the beach and then walked into town.
The Strand is a road that runs along a small anchorage area with the Tred Avon
on the left and beautiful homes on the right.
Morris Street is lined with many beautiful old homes like this one.
No discussion about Oxford would be complete without a mention about the Robert Morris Inn.
Robert Morris was one of the signers of the Declaration of Independence. This is
a well preserved and beautiful historic inn.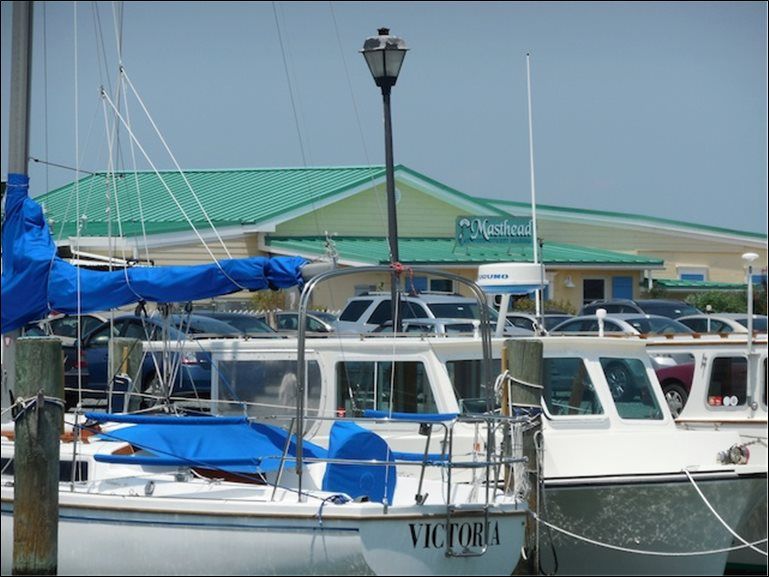 The restaurant we chose for lunch used to be called Pier Street Restaurant--it has been upgraded
recently and it is now called The Masthead at Pier Street Marina. Eating outside was
cool and breezy and the food was excellent!
We finished lunch, walked back to the beach and rowed the dinghy to the boat. We spent some time swimming around the boat. Then we checked the weather forecast and decided to leave for Galesville. We left our anchorage in the Tred Avon at 3 PM. We motor sailed the entire way to Galesville with just the jib and the engine running. We had 15 to 25 knots of wind behind us. We were surfing the waves at times, reaching 8 knots at one point. It was exhilarating! We arrived at Galesville at 8 PM.
Anchoring in the West River, we had grilled steaks and sliced tomatoes for dinner on the boat. We also had nice warm showers on board. We will be taking a 3-day break (living on board in our slip at our marina) to make some minor repairs, provision for the next two weeks, and get a replacement iPhone. Then, we will be headed into the northern part of the Chesapeake Bay. To this point, we have traveled 177 nautical miles. (The track function on our GPS keeps track of our actual nautical miles traveled.)
Thanks for following our blog!