Onboard Storage Bags
--Blogpost written by Maggie
Bob and I have both struggled with the myriad of towels, tools, and other loose items that have lived in our quarter berth all summer. Every time we needed to get into the quarter berth to get to the wires or hoses around the engine and fuel tank it was a major production to remove all the loose stuff. We also have cat food and litter stored in a compartment under the berth, again a major hassle to get to it. We needed to use the quarter berth for storage, but it just couldn't continue as it was.
After brainstorming the problem we came up with the idea to use the reinforced (100% polyester), waterproof, and roomy IKEA (FRAKTA) shopping bags for storage. By using onboard storage bags we would simply remove the bags when we had to remove everything from the quarter berth. The only problem is that the IKEA bags don't have a lid.
To solve the problem of not having lids, we bought 8 IKEA shopping bags to
make 4 onboard storage bags. I cut the bottoms out of 4 bags,inverted
them, and used them for the lids of the remaining 4 bags. I sewed
one side of the lid to the bag on one long side to act as a hinge.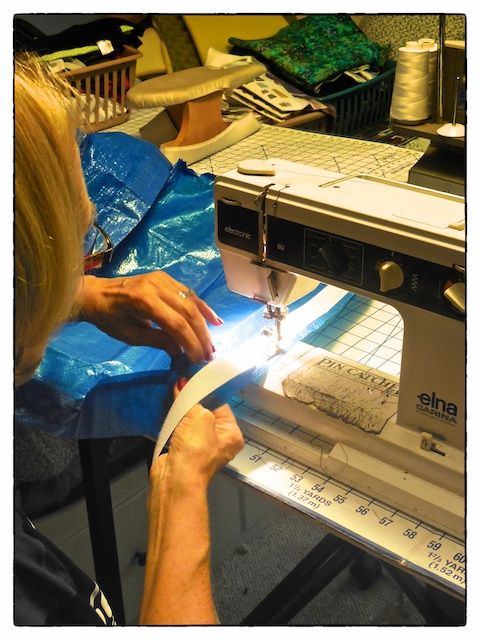 To be able to completely close the lids (and keep them from becoming cat beds), I sewed
Velcro-brand hook and loop tapes around the three remaining sides of the lids and the bags.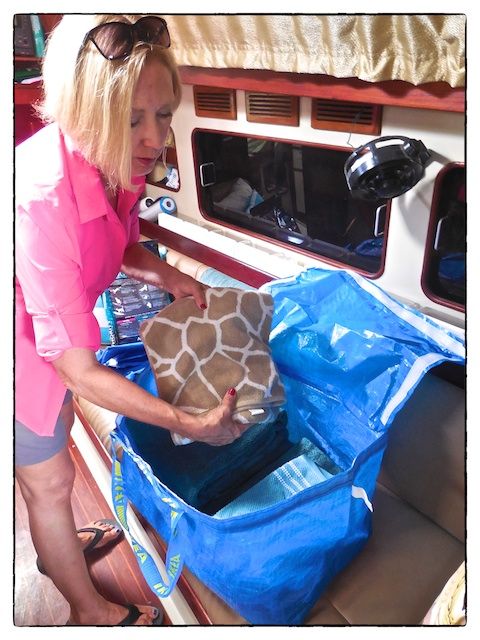 Here I am filling the first onboard storage bag with towels.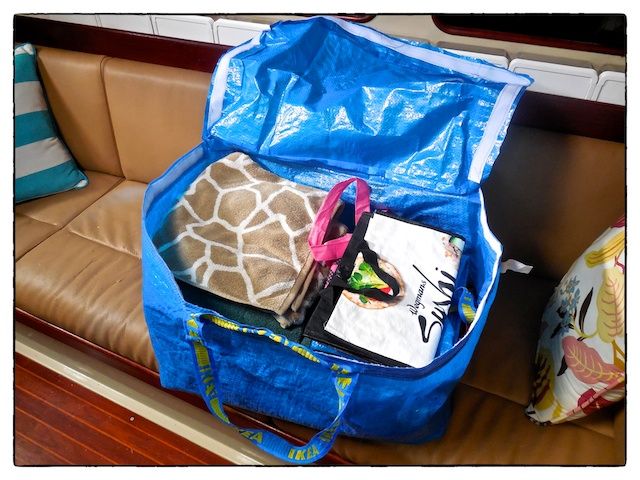 As shown above, they are perfect for storing towels and linens. I also filled one bag with tools and
sandpaper. The third bag contains Bob's things to be sorted out. The fourth bag will be used
to store infrequently used items when we are living aboard during retirement. Since we
are not using that bag presently it is folded up nicely to the size of a hand towel.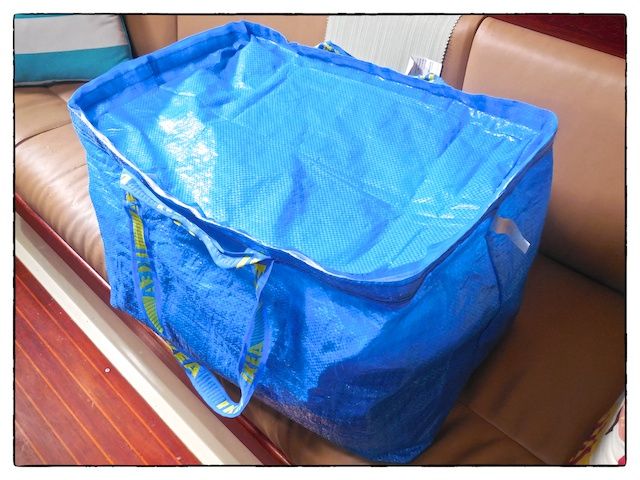 The new lid completely closes up the onboard storage bag.
As you can see, the quarter berth looks organized and attractive. Plus
when we are making long passages and have extra crew (or guests) we can
easily remove the bags from the quarter berth. (In this picture,
the quarter berth cushions were removed.)


This was a very inexpensive project that added much to our comfort while living aboard. The eight IKEA bags cost less than $6 and the velcro cost $18 for a total of $24. I spent about 4 hours in my sewing room constructing them. All in all this was a project that was well worth the effort.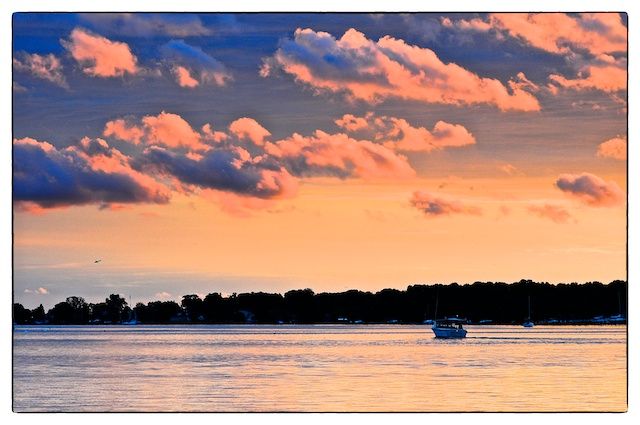 Sunrise on the West River on Saturday, September 13
Check out our two addendums to our blog post on our helm-mounted VHF radio--I think that problem is finally solved!
Thanks for following our blog!