Composting Toilet: Part 3
--Blogpost written by Bob
This is a follow up blogpost after using our composting toilet for six weeks, some of that time consumed by our recent haul out.
Emptying of Liquids Container
One of the first lessons we learned is that our (small) liquids bottle only lasted two man-days (one person for 2 days or two people for a 1 day) before it needed to be emptied.

The instructions that come with the composting toilet don't mention anything about this fact.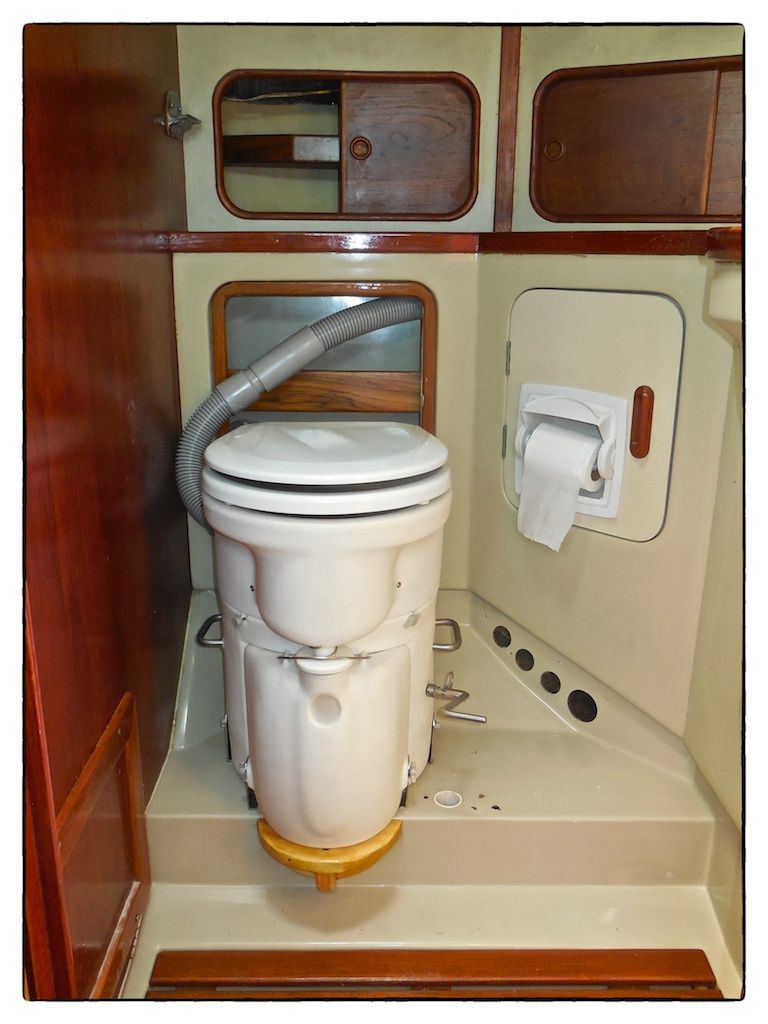 Our original installation with the small 1-gallon liquids
container shown in the lower front of the toilet.
There is a small translucent plastic window on the front of the liquids container intended to indicate how full the container might be but it is totally useless. It might work fine in a design office where it is sitting on a desk with good lighting but not in a typical head on a sailboat. (A design improvement would be making the entire liquids container clear or a relatively wide vertical strip that is clear.)
The small round window (upper center of this image) is practically useless
in terms of knowing when to empty the liquids container,
Within the first couple weeks after installation, we upgraded the liquids container from the small container (1 gallon capacity) to the large liquids container (2 gallons capacity). The mounts had to be relocated to accommodate the larger liquids container--you can't simply switch back and forth between the small and large liquids containers. The primary reason for this change was so that when we are making an overnight passage with 3 or 4 people on board, the liquids container wouldn't have to be emptied during the night. Our estimate for the new large liquids container is 4 man-days (1 person for 4 days, 2 people for 2 days, 3 people for 1-1/3 days, or 4 people for 1 day).
The large liquids container shown here has a 2-gallon capacity.
Emptying of Solids Container
We really haven't emptied our solids container yet. We understand that we can make 80 "donations" before it needs to be emptied. We've been keeping track and we are currently up to only 6 donations--we sequentially numbered the coffee filters that are used with each "donation." The whole idea of keeping track of bathroom habits is a bit silly but we're new to composting toilets and have no other way of determining when to empty it.
Height of Toilet
We felt that height of the toilet was a problem right from the start. The height on our installation is particularly acute because the toilet is installed on a shelf in the hull liner which is about 5 inches above the shower grate. Consequently, the distance between the toilet seat and the shower grate (floor) is 24 inches--compare this height to your toilet at home which is typically 16 inches. We use a small stool in the head to help compensate for the extra (8 inches) toilet height and we are both on the tall end of average. For shorter people and kids the height of the toilet has to be an issue.
Improved Space Utilization
The increased available space has proven to be the biggest advantage of the conversion to a composting toilet. We gained space for a 19-gallon auxiliary diesel tank plus much more space in two cabinets in the head. However, there are several consumables you have to store related to the composting toilet which uses some of that gained storage space.
Odors
The lack of odor is probably the second biggest advantage of converting to a composting toilet. We have yet to notice any odors. The old marine head/holding tank always seem to have objectionable odors, probably coming from the hoses.
Unbleached Biodegradable Toilet Paper
While this was not necessarily part of the conversion, we have switched to unbleached biodegradable toilet paper for environmental reasons. We started out by simply trying a 4-roll pack that we bought on amazon and, later, we found out we could order larger quantities through Home Depot and have it shipped to our local store free of charge.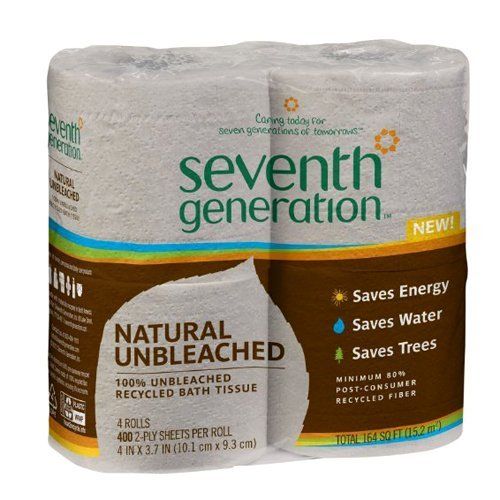 We first tried a 4-roll pack of Seventh Generation-brand unbleached
toilet paper that we purchased on Amazon.
Coffee Filters
While making a "donation" a coffee filter is used as a flexible platform to keep the "donation" from marking the toilet bowl. We received about 50 unbleached coffee filters for this purpose with the composting toilet.

12-cup Unbleached Coffee Filter
We managed to find 12-cup unbleached coffee filters from webrestaurantstore.com for under $10 per 1000 (but again, the shipping cost was more than the filters). While cruising, I imagine that the two of us will use 4 filters per day and the 1000 filters will last about 250 days (the entire 8 months we will be cruising each year).
Summary
After six weeks, we are very pleased with our AirHead-brand composting toilet. It is still a little strange not to have to flush anything. If we lived aboard full-time, I'm sure we would be completely used to not flushing by now.
I am considering remounting the fan to be further away from the deck and less likely to be splashed with seawater. I added this to my project list.
We hit a milestone with our last blogpost--over 10,000 page views all time! Our most popular blogposts involve our solar panels, our composting toilet, and the C&C Landfall 38.
Thanks for following our blog!