Moving to Canton (not China!)
--Blogpost written by Bob
My friend, Tom, drove down from Annapolis to help me move s/v Rainy Days to Anchorage Marina in Canton, a waterfront neighborhood in Baltimore. Maggie was teaching a class for new teachers and couldn't make the trip--she met us there by car so that we could get Tom back to Galesville and retrieve my car. We decided to leave our rowing dinghy and Maggie's kayak in Galesville temporarily--we hope to sell the rowing dinghy over the winter and the kayak can be easily transported by car at some other time.
With engine running, s/v Rainy Days is ready to leave
Hartge Yacht Harbor in Galesville, Maryland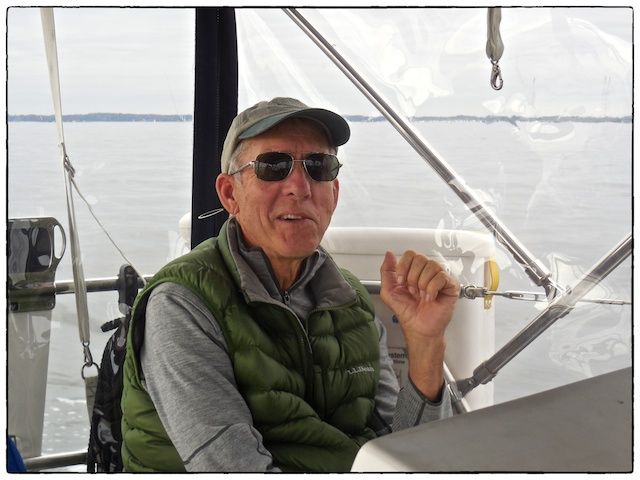 My friend, Tom O'Neill, accompanied me from Galesville to Canton.
With the cockpit enclosure in place, the trip was very comfortable.
This green buoy marks the ship's channel approaching
the Chesapeake Bay Bridge from the south.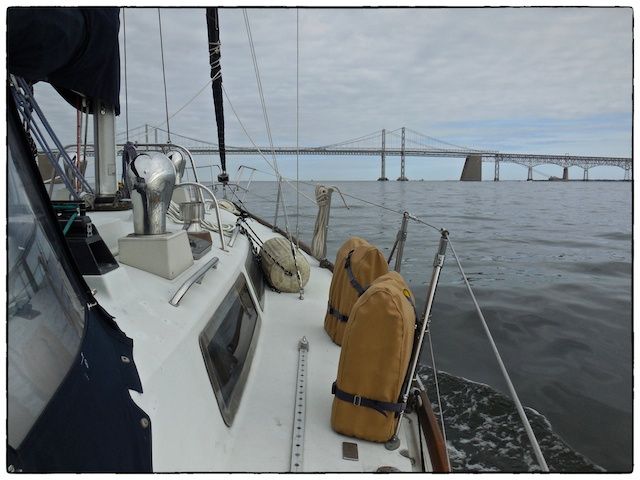 The Chesapeake Bay Bridge lies ahead.
One of several large ships anchored just south of the Chesapeake
Bay Bridge--this one was flagged in Hong Kong
The second bridge on our trip north is the Key Bridge
which crosses the Potapsco River.
s/v Rainy Days is safely tied up in her new home base. This is the first time
we have had a permanent slip with floating docks. This means
that
we will hardly notice the tidal changes
There IS a connection to China. According to Wikipedia, "

In 1785, Irish merchant John O'Donnell settled in Baltimore and began trading with merchants in the Chinese port of Guangzhou, then called Canton by English speakers. When O'Donnell purchased land, he named his plantation Canton. In the late 19th century, O'Donnell's land was sold off by his son Columbus O'Donnell, William Patterson and Peter Cooper, and was developed for waterfront industry and blue-collar housing.
Most houses in Canton are turn-of-the-20th-century two- to three-story rowhouses. Some homes closer to the water date from the Civil War. New townhouses have been built at Canton Square and the Anchorage, as well as on empty lots throughout the neighborhood. There are also waterfront apartments and condominiums in rehabilitated industrial buildings."
It's good to have this move behind us so that we can focus on getting rid of a lot of our stuff that's still in our house. We have to get some of our winter clothes moved aboard since it's getting chilly. I have never been much of a "city person" nor do I like winter--so this winter season may be a challenge for me. We'll see...
Thanks for following our blog!