Radio Licensing
--Blogpost written by Bob
As a boater, if you remain in the USA you don't need a radio operators license nor a call sign for your ship's VHF radios--you simply use your boat's name for identification.
However, if you are making international voyages (like to the Bahamas, Canada, Mexico, or other countries) the FCC requires that you have a call sign for identification.
(I wonder how many cruisers know about this
requirement
and comply with it.)
I recently completed all the application forms for my operator's license (good for lifetime) and our ship's station license (good for 10 years and it can be renewed).

$215!!! Whiskey Tango Foxtrot?
In addition to obtaining an FCC Registration Number (FRN) on-line (using FCC Form 160), completion of the following FCC forms was required:
The collection of fees for FCC licensing started in 1989.

The fees collected go into the government's general funds--not to the FCC to support their operation.

So, the fees, in reality, are simply a tax.

An image of the FCC website dealing with radio licensing.
(The links in this image will not work since this is a screen shot.)
Getting the FRN on-line was easy.
Simply fill out FCC Form 160.
However, I was not able to fill out any of the other required forms on-line because it wasn't possible to fill in the blanks on the PDF forms.

I had to print them out, manually fill in the blanks, and send them to the FCC with authorization to charge my credit card $215.
I'll make an addendum to this blogpost when I receive my operator's license and ship's station license.
Thanks for following our blog!
Addendum - May 10
Our radio license arrived today after only 10 days! Actually we got an email today notifying us that our license was available online. We printed out a portion of it to post it in our navigation station: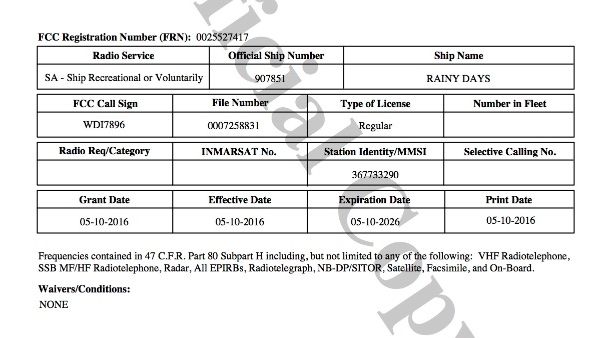 This image is a partial copy of our new radio license.
Addendum - May 25
Well, I wasn't finished with the process! Even though I had a restricted radio operator's license a long time ago and they are good for your lifetime, the FCC had no way of looking it up using my name. So, I had to apply for a new restricted radio operator's license--another $65! I made the application on line and had the new new operator's license the following day.