Elizabeth City to Beaufort - 2016
--Blogpost written by Bob
Elizabeth City to Head of Alligator River
We departed Elizabeth City at 7:30 AM (Sunday, October 16) after taking our last (land-based) showers for a few days.

(Our next overnight marina stopover will be in Beaufort, NC.).

The current forecast is warm & sunny for the next several days, then possibly rain on Saturday or Sunday.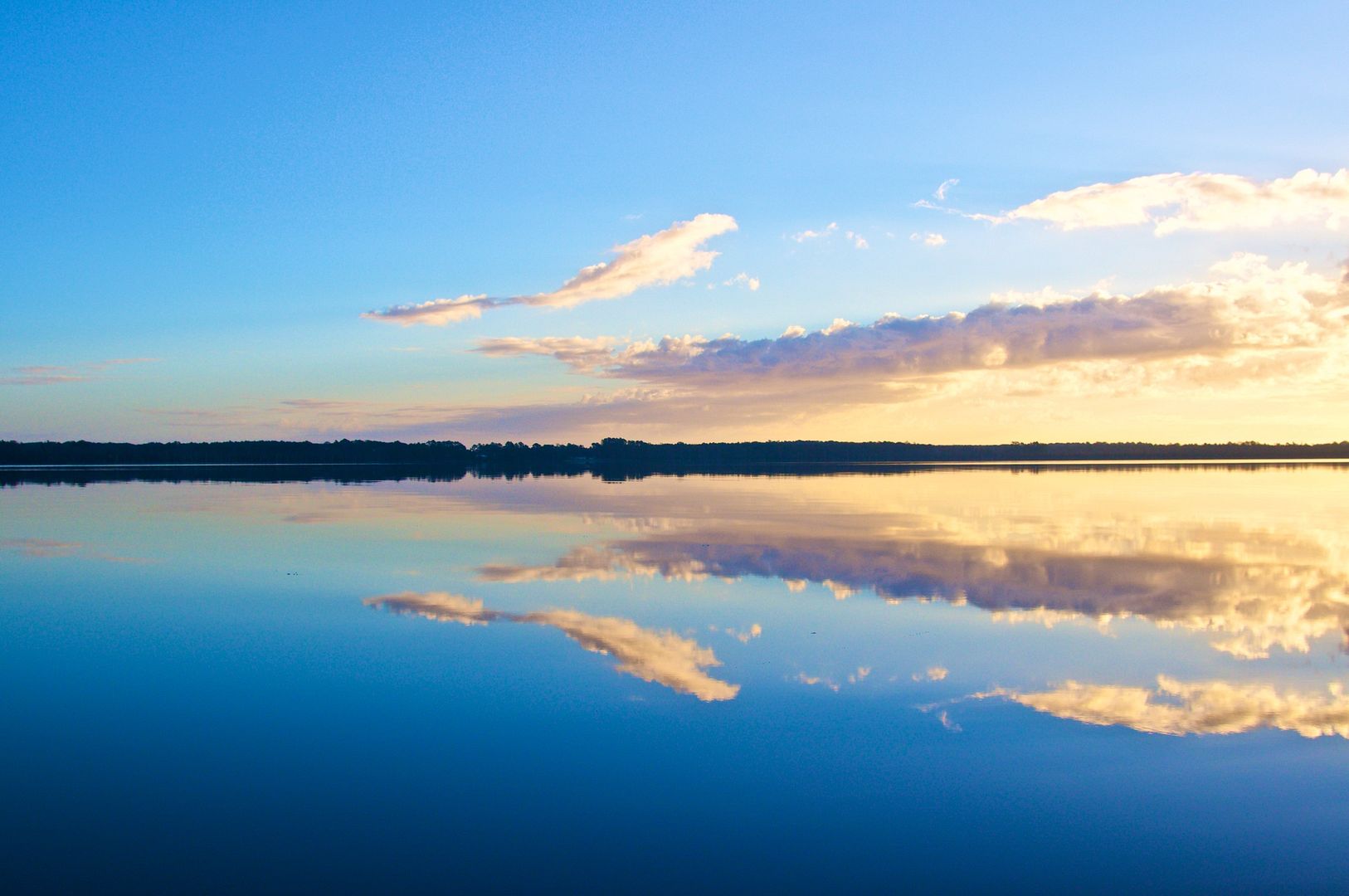 When leaving Elizabeth City on Sunday morning, the Pasquotank River
was very calm and the reflection of the sky from the
water's surface was amazing.
As we proceeded toward the mouth of the Pasquotank River, we re-traced our track coming to Elizabeth City until we headed south into the Abermarle Sound.

There were a lot of crab traps in this river.

We paid close attention to crab traps because if we snagged one with our propeller it would demobilize us until we got free.
Most times when we are underway, Lizzie is outside in the cockpit
with us while Captain Jack sleeps below. Lizzie is looking
at me as if to ask "Are we there yet?"
The Alligator River Bridge, a swing bridge, opened for
us and a power boat upon request.

Fortunately, we met this tug pushing a barge at a time when we had
plenty of water depth outside the ICW channel.
At 3:30 PM we dropped anchor in 11 feet of water just to the south of the ICW channel before it changes to a westerly direction toward the Alligator River-Pungo River Canal.
We traveled about 55 statute miles (47 nautical miles) today and only went through one bridge.
We saw only six southbound boats all day (one sailboat and and five power boats) but there are three other sailboats anchored about a mile away from us and a power boat is anchored about 1/2-mile away.
From our anchorage we can't see any homes along the shoreline of the Alligator River.
This area is really remote and desolate and there is no cellular service.
Head of Alligator River to Mouth of Goose Creek
We managed to get underway by 7:30 AM and make our way into the 22.5-mile long Alligator River-Pungo River Canal.

It is a very straight man-made canal through a heavily wooded area, connecting the Alligator River to the Pungo River.

There are not many places to stop along its length.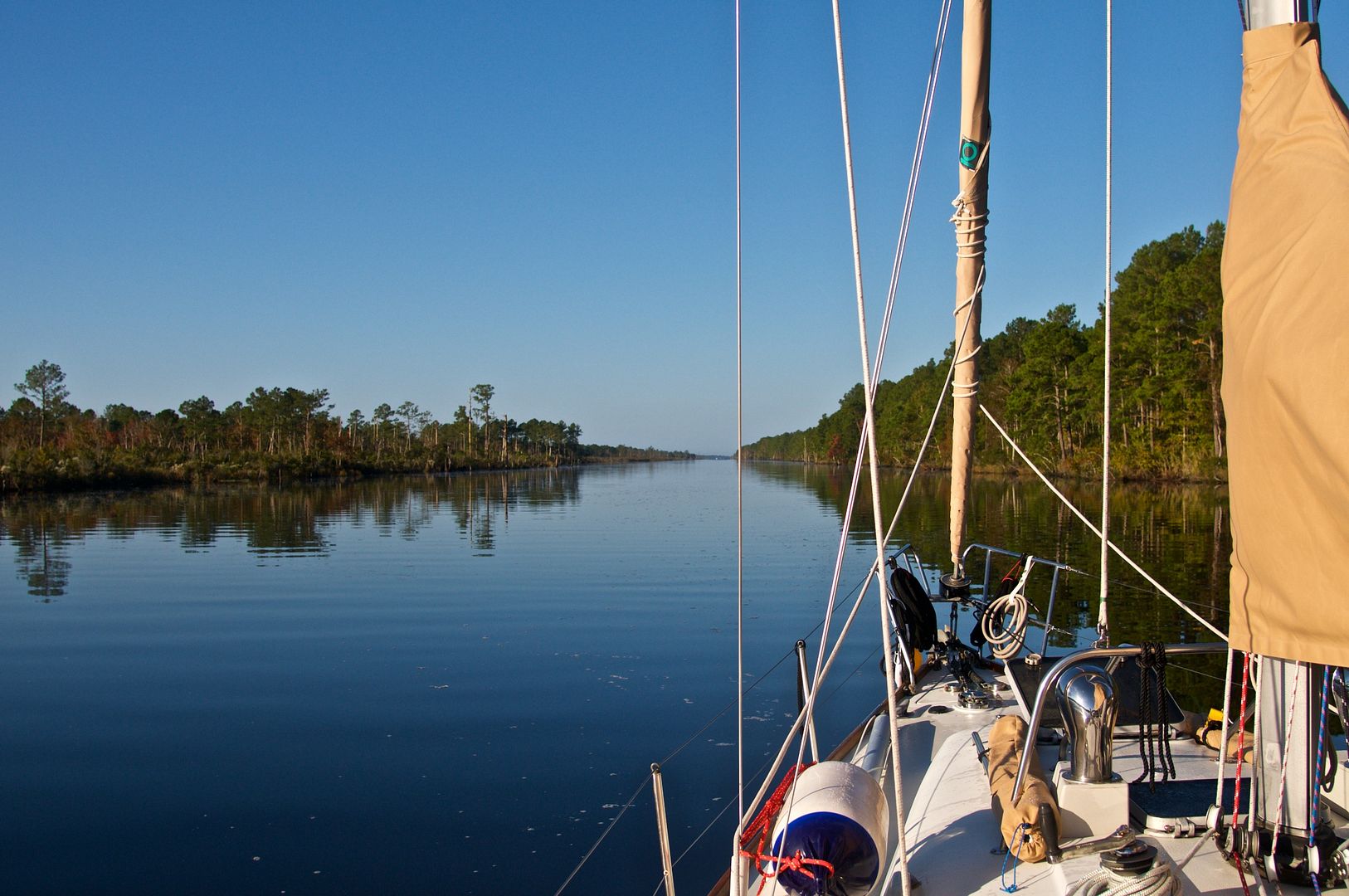 This is a typical view going through the Alligator River-Pungo River Canal.
It was 22.5 (statute) miles long and took about 3.25 hours doing an
average speed of 6 knots with our engine running at 2100 RPM.
Most of the Alligator River-Pungo River Canal was bordered by a large cypress
swamp. In the morning, the reflection of the cypress
trees in the water was almost perfect.
The water in this area of North Carolina is brown from the tannic acid created
by decaying leaves and wood in the water. It creates a brown
mustache at the bow of a white-hulled boat like ours.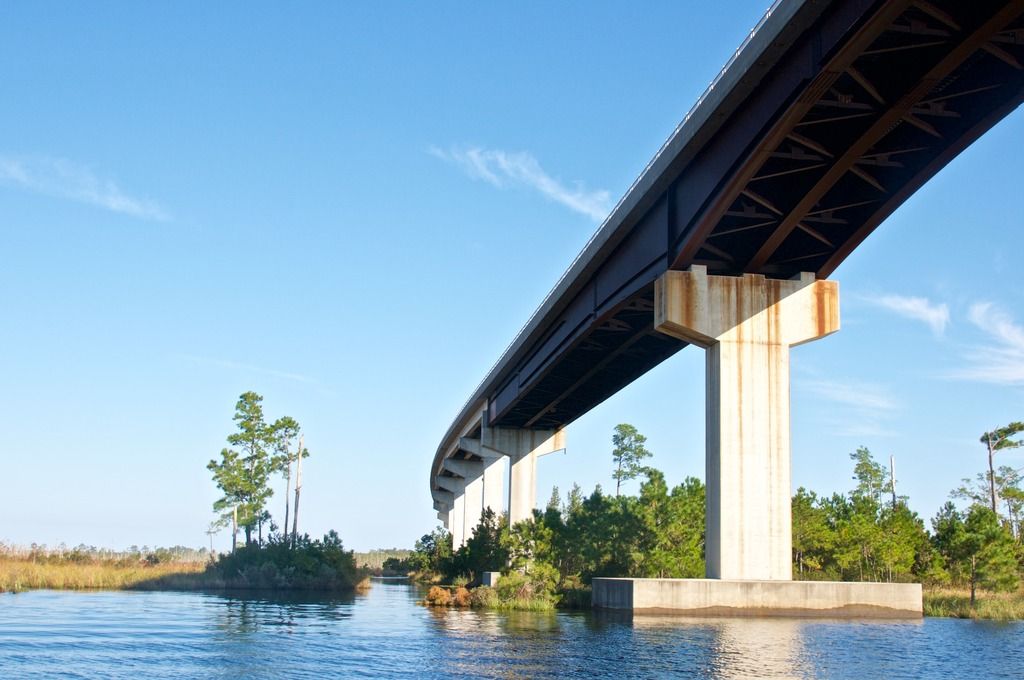 The Fairfield Bridge (shown above) is one of two bridges that cross the Alligator
River-Pungo River Canal--the other one is the Wilkerson Bridge. Both
are fixed bridges with approximately 65 feet vertical clearance.
Today, like most of the time we've spent in the ICW, we have been using our autopilot to steer and adjust our heading as we go by hitting +1 or -1 degrees or multiples thereof.
We only steer manually if we encounter heavy boat traffic or find ourselves in a particularly tight spot (like entering a lock).
The advantage of using the autopilot is the ability to steer a perfectly straight line aligned with the channel.
For the most part we simply follow the black line on our chart plotter for the ICW--it's like driving down a highway.
We also follow the buoy numbers on a hard copy chart book, John & Leslie Kettlewood's "Intercoastal Waterway Chartbook."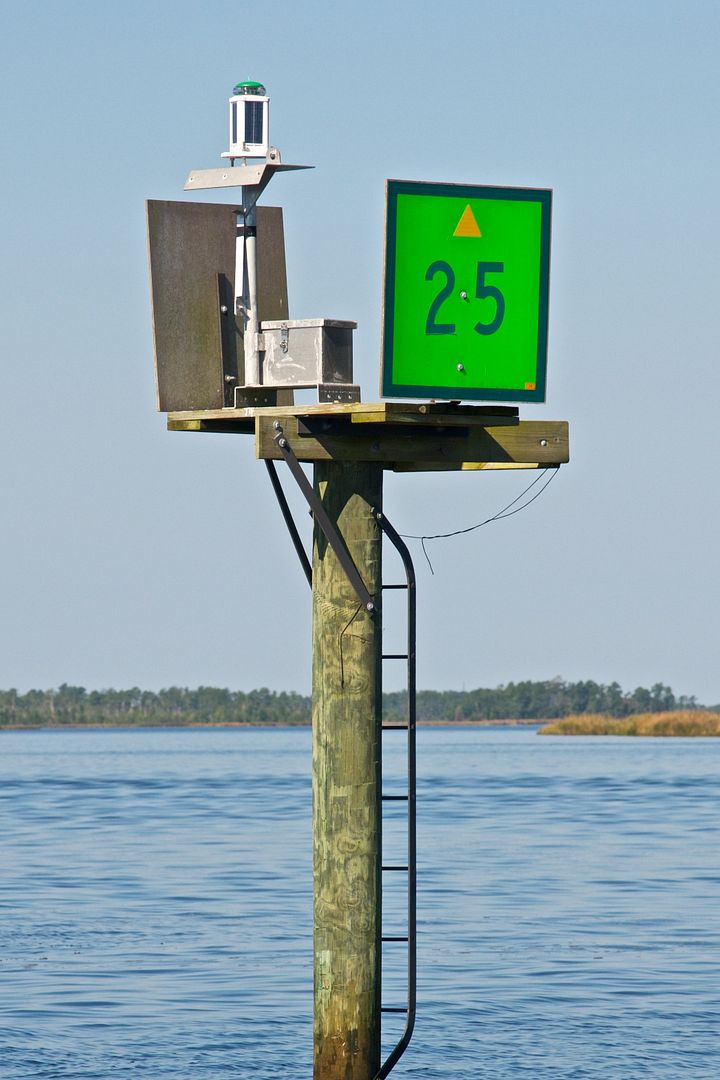 Below the Wilkerson Bridge on the Alligator River-Pungo River Canal,
the channel markers adopt the convention of "red right returning" upriver
(and we are traveling down river). So, now we have to keep green
markers to starboard, opposite of what we have been doing up
to this point. However, the green markers have a small
yellowtriangle on it, indicating that as far as the
ICW is concerned, it is a red marker.
Like most days, Lizzie spent all day in the cockpit with us but today she
was feeling exhausted because she couldn't sleep
all day as she usually does.
We anchored at about 3:15 PM just outside the ICW channel in 11 feet of water in Goose Creek, after crossing the Pimlico River.
Today was another day where we traveled in excess of 50 statute miles down the ICW.
We saw only about five southbound boats today (all power boats) because we are well ahead of the "snowbird" crowd.
Mouth of Goose Creek to Beaufort
Another early start at 7:30 AM got us further into Goose Creek and then through an un-named 5-mile long canal into Bay River.

By the time the sun was rising, our engine was warming
up ready for another day on the ICW. This photograph
was taken at our Goose Creek anchorage.
This shrimp boat, Sharon Nicole, was berthed next to a seafood processing
plant just south of the Hoboken Bridge over the canal.
We spent most of the day traveling through the Bay River and the Neuse River, past Oriental, NC--it was mostly in open water compared to the previous several days on the ICW.
Most of our time today was spent on relatively open water (Bay River
and Neuse River) against a 5-knot breeze out of the south.
We tied up to our slip at Beaufort Docks at 4:30 PM, after our third 50-mile day in a row.
More about our stay in Beaufort in our next blogpost...
Summary
As far as our trip planning is concerned, we have been making rough plans for a week in advance and detailed plans for just the next day or two.

For example, we planned around the 22.5 mile long leg in the Alligator River-Pungo River Canal.
We are using Weather Underground
for weather planning nine days in advance but also check the National Weather Service broadcasts on our VHF radio during each day for short-term forecasts.
We also plan our evening meals around the weather.

If it is nice weather and we anchor for the night, we usually cook our dinner on our grill.

Since we can't use our on board grill in a marina, for those nights we cook our dinner in the oven or eat out at a local restaurant.
Thanks for following our blog!