Adding a Fourth Battery
--Blog post written by Bob
The most recent completed boat project involves increasing the size of the second battery bank on the starboard (right side of the boat). This involved building a plywood platform and fitting it to a system of supports that can be fastened to the bulkheads and a reinforced point against the hull. The platform was coated with West System epoxy (2 coats) before installation. I then attached two battery trays made by Attwood.
Two battery trays mounted on new platform in the starboard cockpit locker
After the battery platform was installed, I purchased another 92 amp-hour deep-cycle AGM battery and installed both batteries on the platform. All four batteries are now Group 27 batteries and provide a total of 368 amp-hours. AGM (Absorbed Glass Matt) batteries are completely maintenance free--no adding water and no fumes. They are completely sealed and will not spill electrolyte when the boat is heeled. The batteries cost about $200 each. The final installation is shown below: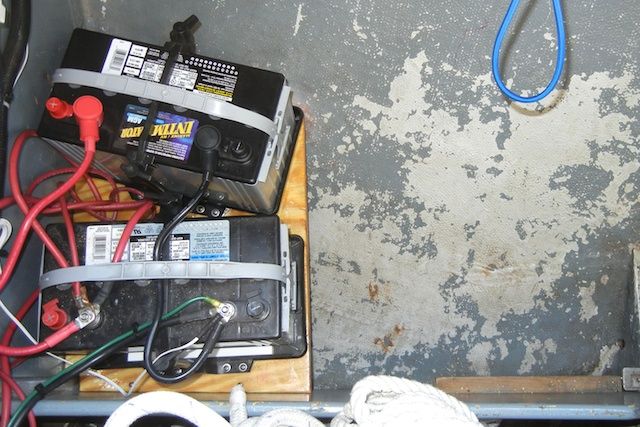 Two batteries in starboard cockpit locker on new platform
Lizzie, my little helper
The entire time I was installing the new battery platform, my little boat helper, Lizzie, was constantly around. She is a rescue but has all the characteristics of a Maine Coon. She loves being on the boat and riding in the car on the way to/from the boat. Our other cat, Captain Jack doesn't like the boat quite as much. (In Pirates of the Caribbean, Captain Jack was Johnny Depp's character while Elizabeth Swan, or Lizzie, was his love interest.)
Of course, to remove the old diesel tank (a winter project), all my new battery equipment must be temporarily removed and reinstalled after the new tank has been installed.
Thanks for following our blog!