Replacing All Plastic Drain Fittings
--Blog post written by Bob
Even though it is early March, we are still experiencing very cold weather. We decided to go to the boat and do some spring cleaning and some simple boat projects (if there is such a thing as a simple boat project) since we start cruising in only 2-1/2 years and I have a long list of boat projects to be completed.
Maggie in Starboard Cockpit Locker with Pipe Wrench in Hand

One weekend last fall after seeing some pieces of balsa core from one of my projects accumulated in one of the starboard deck drains, I tried to dig the debris out of the deck drain with a screw driver. Fortunately, I noticed that the plastic drain fitting was cracked all around and the remainder of the fitting had fallen inside the boat with the drain hose still attached. Rain water that would have normally drained out of the boat would have simply poured into the cabinet in the head. Furthermore, it could have been a long time before I had realized that we had a water leak and then an even longer time to find it. I replaced the cracked plastic drain fitting with a new one.

Coincidentally, the January 2014 issue of BoatUS' Seaworthy magazine featured an article on cracked plastic thru-hull fittings written by Frank Lanier--it was #2 on "Captain Frank's Sea Chest of Horrors."
Cracked Plastic Thru Hull Fittings
(photo from January 2014 Seaworthy Magazine)
After reading the magazine article, I decided that I needed to replace all the plastic drain fittings on the boat as part of my 30-year retrofit. Plastic fittings were only used on four deck drains, two cockpit drains, and two bilge pump overboard discharge drains thru the side of the hull. All thru-hull fittings that are located anywhere close to the waterline (or below) are bronze fittings.
I found some attractive stainless steel thru-hull fittings while shopping at a local West Marine store--they are SeaFit brand. None of these eight drain fittings will experience any significant exposure to salt water--so, stainless steel should work fine, eliminate the UV damage concerns, and improve the appearance.


Replacing the Two Cockpit Drain Fittings
The cockpit drains are 1-1/2-inch diameter. When removing the old plastic drain fittings, it was obvious that they were extremely brittle from 30 years of UV exposure. The flanges of the old plastic fittings cracked as we removed them.
Old Plastic Cockpit Drain Fitting
The fiberglass around the cockpit drains has a 3-inch diameter recess--so, the flange of the stainless steel fittings had to be turned down from about 3-1/8 inches to 2-3/4 inches using a lathe in order to get them to easily fit. Fortunately, a friend of mine was able to do this at no charge.
One of Two New Stainless Steel Cockpit Drain Fittings
While replacing the cockpit drain fittings we also replaced the remaining cockpit drain hose, on the port side--removing the 30-year old rubber hose was the toughest part of this project.
Replacing the Four Deck Drain Fittings
The four existing deck drains were 1/2-inch diameter--I decided to increase the size to 5/8-inch. (Year's ago, I had increased the size of all the hoses from the deck drains leading to a single main overboard drain--two one-inch hoses run aft on each side of the boat to a tee that mounts on a 1-1/2-inch bronze thru-hull fitting.). While changing the deck drain fittings, I also changed the hoses and increased their size to 5/8-inch diameter at the same time.

The new fittings came with a black rubber gasket. Usually I would discard the rubber gasket and use a marine sealant in its place. Because of my concerns about the threads bottoming out on the fitting, I used both the gasket (as a spacer) and marine sealant to assure that it remains leak tight.
One of Two Aft Deck Drain Fittings from Above
The Forward Starboard Deck Drain from Below
(It's in the Center of this Photograph.)


The Two Remaining Fittings

The changeout of the two bilge pump overboard discharge fittings will have to wait until warmer weather arrives in the spring. More on these later…
Addendum - May 27
The aft two deck drain fittings (at 5/8-inch diameter) were too small and didn't drain water quickly enough. I purchased one-inch diameter drain fittings and had the flanges turned down where only a 1/8-inch lip remained.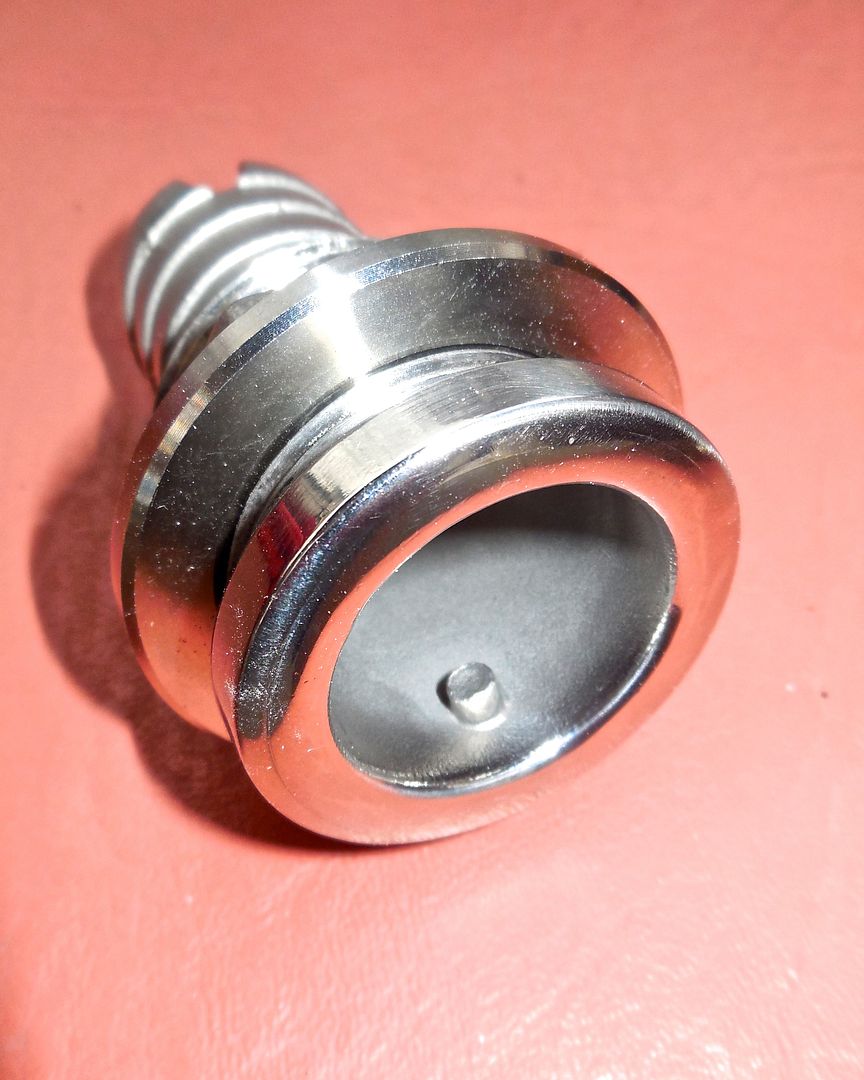 One-inch diameter drain fitting with flange turned
down to fit existing trough in deck
The larger drain was accompanied by a larger drain hose--now it drains very quickly!
Thanks for following our blog!