Cleaning & Lubricating Barient Winches
--Blog post written by Bob
Over the 27 years that I have owned my boat, the winches may have been cleaned and lubricated maybe two times--so, this task is certainly overdue. I have always had a fascination with winches--they look rugged and nautical and employ a complex mechanism to perform a simple and much needed task. (They are kind of manly, don't you think?)
Main Halyard Winch on S/V Rainy Days
List of Winches
My first step in this overall process was to make a list of all winches on the boat--a total of seven.
Secondary jib halyard winch: Barient #22, 2-speed (aluminum)
Primary jib halyard winch: Barient #18, 2-speed (chromed bronze)
Main halyard winch: Barient #18, 2-speed (chromed bronze)
Two Jib sheet winches: Barient #28, 2-speed (aluminum)
Main sheet winch: Barient #23, 2-speed & self-tailed (aluminum)
Main sail out haul winch: Barient #8, 2-speed (aluminum)
The second step involved getting copies of one-page service manuals for each winch from an on-line source,
L-36.com
. Then, I obtained some spare replaceable parts (pawls, springs, and retainer clips) from West Marine in case I needed them.
Barient #28's
I decided to tackle the starboard jib sheet winch first--a Barient #28. I happened to watch a YouTube video about a week ago on disassembling a winch of this type--it showed placing a small screw in one of the holes in the cover ring and then using the winch handle to push against the screw. This is definitely NOT an acceptable way to remove the cover ring!
Barient #28 Winch has Drum Retainer with 2 Holes
I used a Groco spanner wrench--the side with the 1/4-inch pins worked perfectly without leaving marks on the cover ring.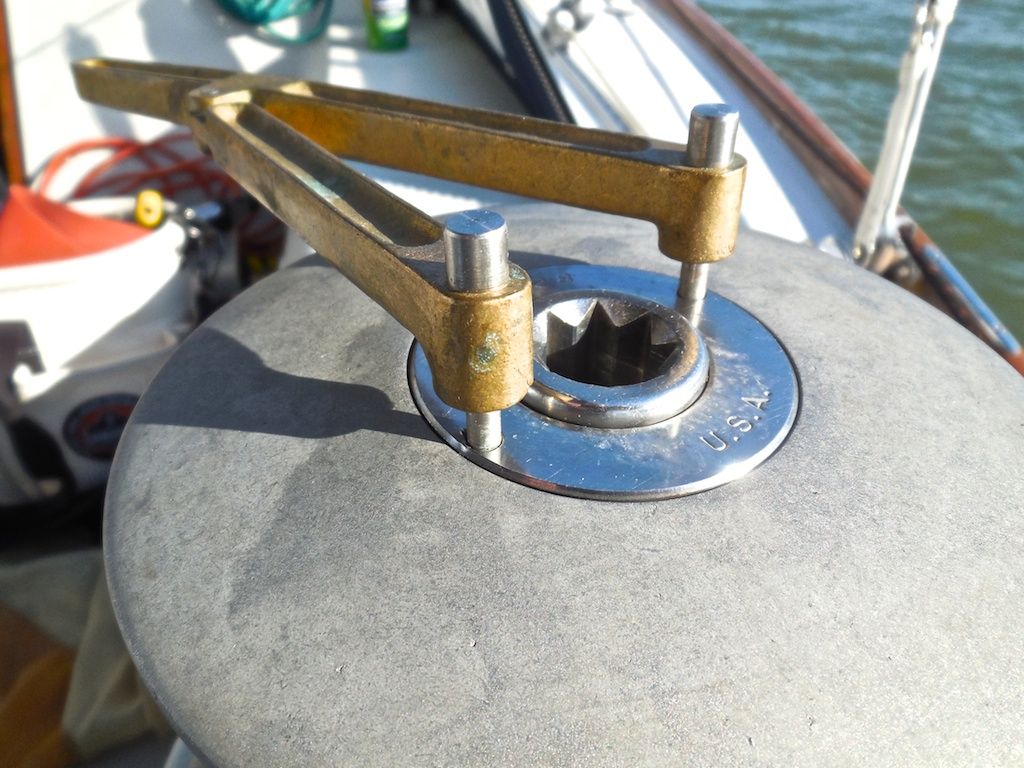 Using a Spanner Wrench to Remove Retaining Ring on Barient #28
The Barient #28 on the starboard side was easy to disassemble, clean and lubricate everything, and reassemble it. The Barient #28 has two sets of roller bearings, separated by a bronze sleeve. Because I had winch grease all over my hands most of the time, I didn't take any photos of the process.

The port side jib sheet winch was a completely different story--it was very difficult to rotate and nearly impossible to lift the drum off the winch base. I worked some solvent into the bearing and kept trying to rotate the drum--this eventually freed up the blockage and allowed me to lift the drum off. This particular winch had lots of dirt particles and very little grease--it took a lot more effort to clean and lubricate this one! But again, I didn't take photos.
Barient #18's

Since I had cleaned and lubricated the secondary jib halyard winch recently (installation as described in my blog post dated March 9, 2014) I decided to tackle the primary jib halyard winch (Barient #18, 2-speed) and the main halyard winch (also a Barient #18, 2-speed) next.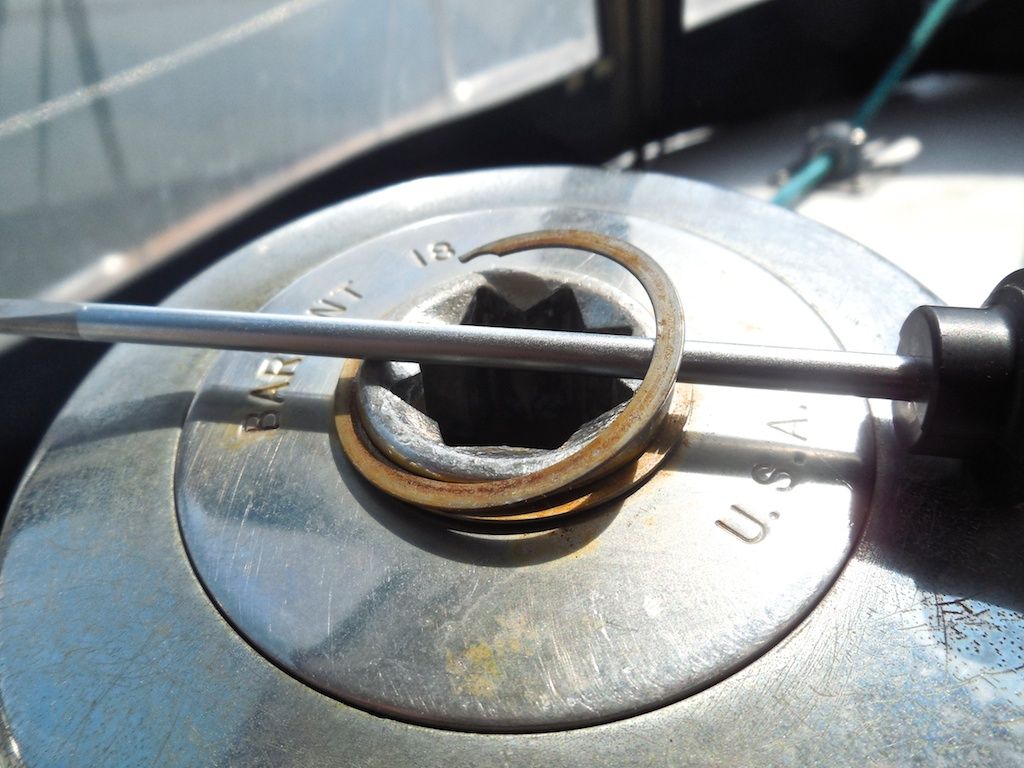 Barient #18 Winches Have Circular Spring Clip Retainers

The Barient #18's are very similar to the Barient #22 (as used on our secondary jib halyard) in the way the drum is retained--it is retained with a circular spring clip.
Drum Removed from Main Halyard Winch
The Barient #18 winch has just one set of roller bearings. I did not completely remove the Barient #18's from the boat, even though there is a gear that mates with the drum that can only be accessed by completely removing the winch. (However, I cleaned and generously coated this gear with Lewmar Winch Grease before reassembly.) All parts that could be removed from the base were thoroughly cleaned with mineral spirits.
Bearings Being Cleaned in Mineral Spirits
Then, I thoroughly cleaned the shaft--it was still fastened to the base which was still bolted to the boat's cabin top. I cleaned it with solvent-soaked rags and a paint brush.

Since I purchased pawls and springs, I installed new pawls and springs in both Barient #18's--I also installed new circular spring clips.
New Pawls and Springs in Drum
All Back Together Again!
Two Remaining Winches
The only remaining winches to be cleaned and lubricated are the main sheet winch (under the dodger) and the small winch (on the boom) used for the mainsail out haul. These two will be done during another weekend or evening in the near future.
All Sheets, Halyards, and Reef Lines Back in Place
Fortunately, these Barient winches are "old school" and they are built to last.

Thanks for following our blog!