Memorial Day Weekend - 2014
--Blog post written by Bob
This blog post is a little different from the others but I hope it portrays sailing on the Chesapeake Bay and provides some information about Annapolis
(our home town)
for those who have never been here .
This long holiday weekend trip is kind of a shakedown cruise for our month-long sailing cruise in July (which is also to test our ability to cruise together in retirement). We still have a transmission seal leak which bothers me. I purchased an additive (ATP AT-205) to put in the transmission fluid that contains plasticizers which are intended to cause the rubber seal to slightly swell and reduce or eliminate the leak. This is only a stop gap measure until we can have the seal replaced. For now, it means checking the transmission fluid level daily.
We left the marina in Galesville and motored out of the West River, generally headed toward Annapolis.
We had a nice breeze (10 to 15 knots) out of the North in the early afternoon. As the day wore on, the wind clocked around from the northeast and became weaker. We then motor sailed for a while until we took the sails down completely. We motored into Annapolis harbor in the hope of picking up a mooring buoy for the night--it just didn't work out. So, we motored up to Small Round Bay on the Severn River and anchored for the night. It was a very pleasant anchorage with only two other sailboats anchored nearby.
After anchoring and checking the transmission fluid level and adding some of the additive I purchased,
Maggie made ginger beer margaritas for the first time. They were actually quite good.
I made dinner--chicken thighs cooked in mango ginger habanero sauce (Fischer & Wieser) and chucks of fresh pineapple, served over rice. It turned out pretty good but I have to give the sauce most of the credit.
In the early evening there was a lot of small power boat traffic nearby but as it got closer to dusk it disappeared. We went to bed early with full bellies and sun-soaked bodies.
Sunday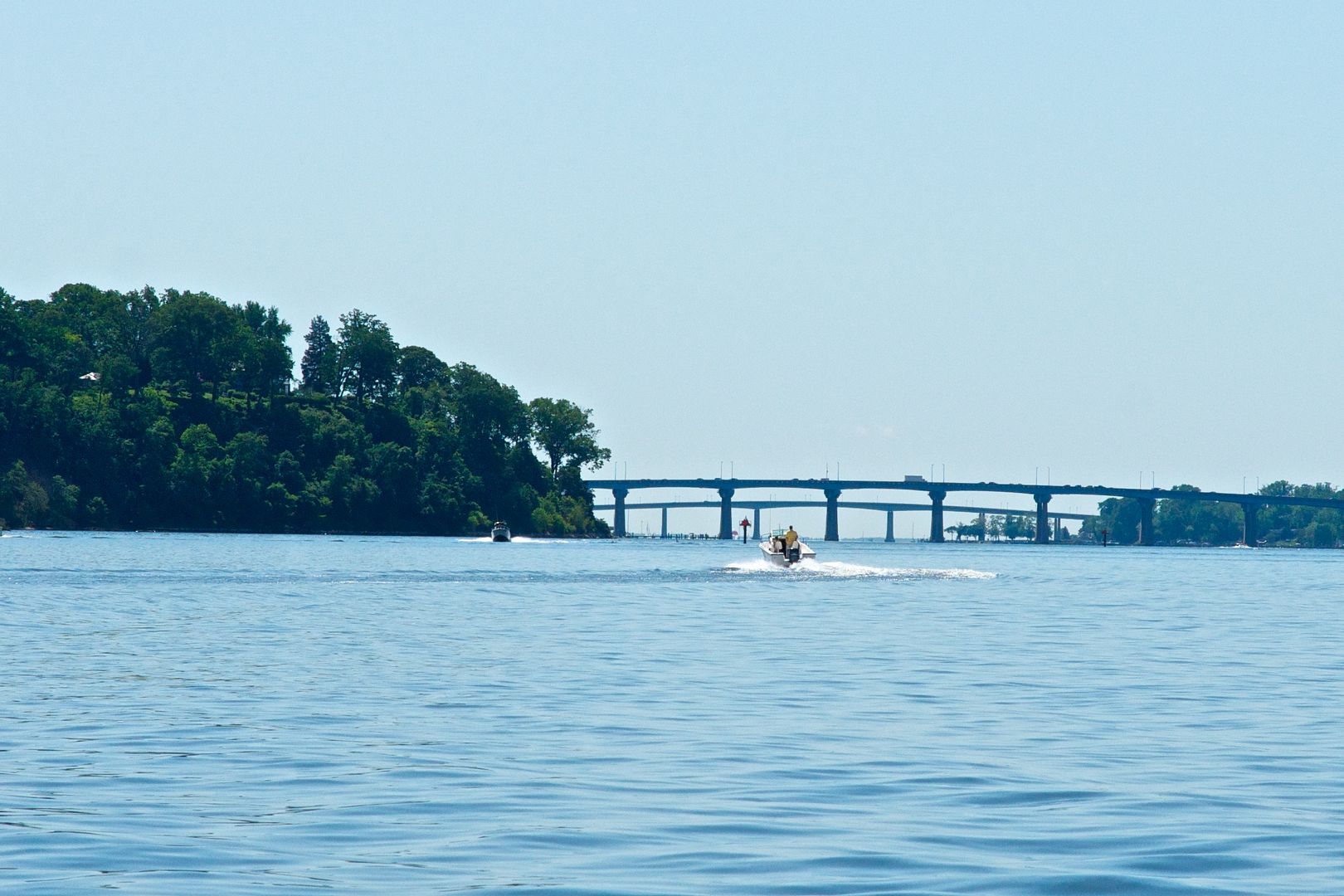 After having a light breakfast, we weighed anchor and lazily motored toward Annapolis Harbor
on Sunday morning.
The two bridges that cross the Severn River ahead of us are
the Route 50 Severn River Bridge and the Naval Academy Bridge.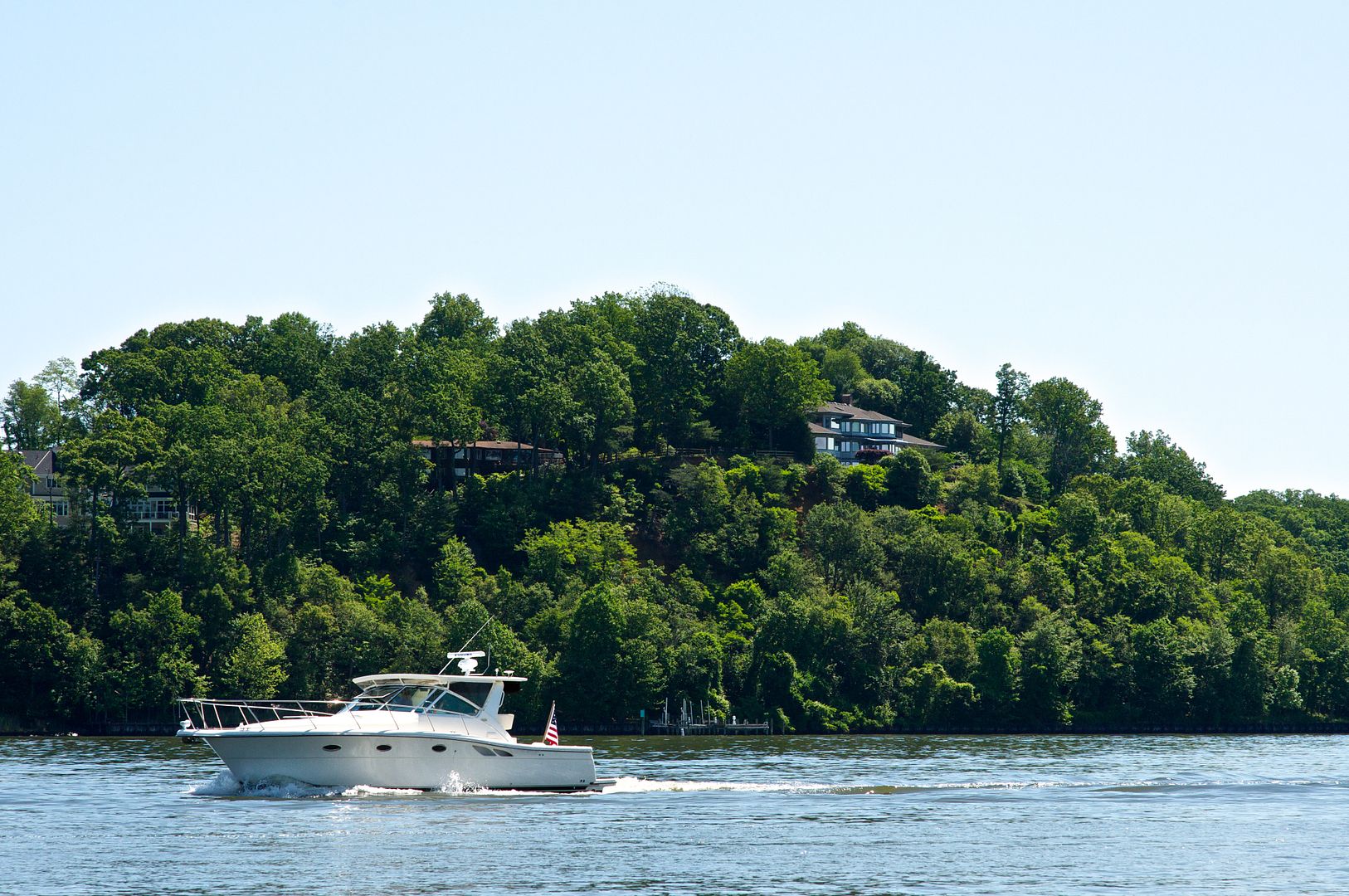 Multi-million dollar homes line the Severn River and most are high
up on the steep banks of the river.
As we reached Annapolis Harbor about noon, we got lucky as two mooring buoys became
available--we quickly snatched one. Annapolis is sort of a Mecca for mid-Atlantic sailors.
S/V Rainy Days on mooring buoy #25 In Annapolis Harbor.
There were boats from Canada and France among the moorings today.
We spent a very lazy afternoon on the mooring buoy in Annapolis Harbor: reading napping, downloading pictures and post processing them for this blog.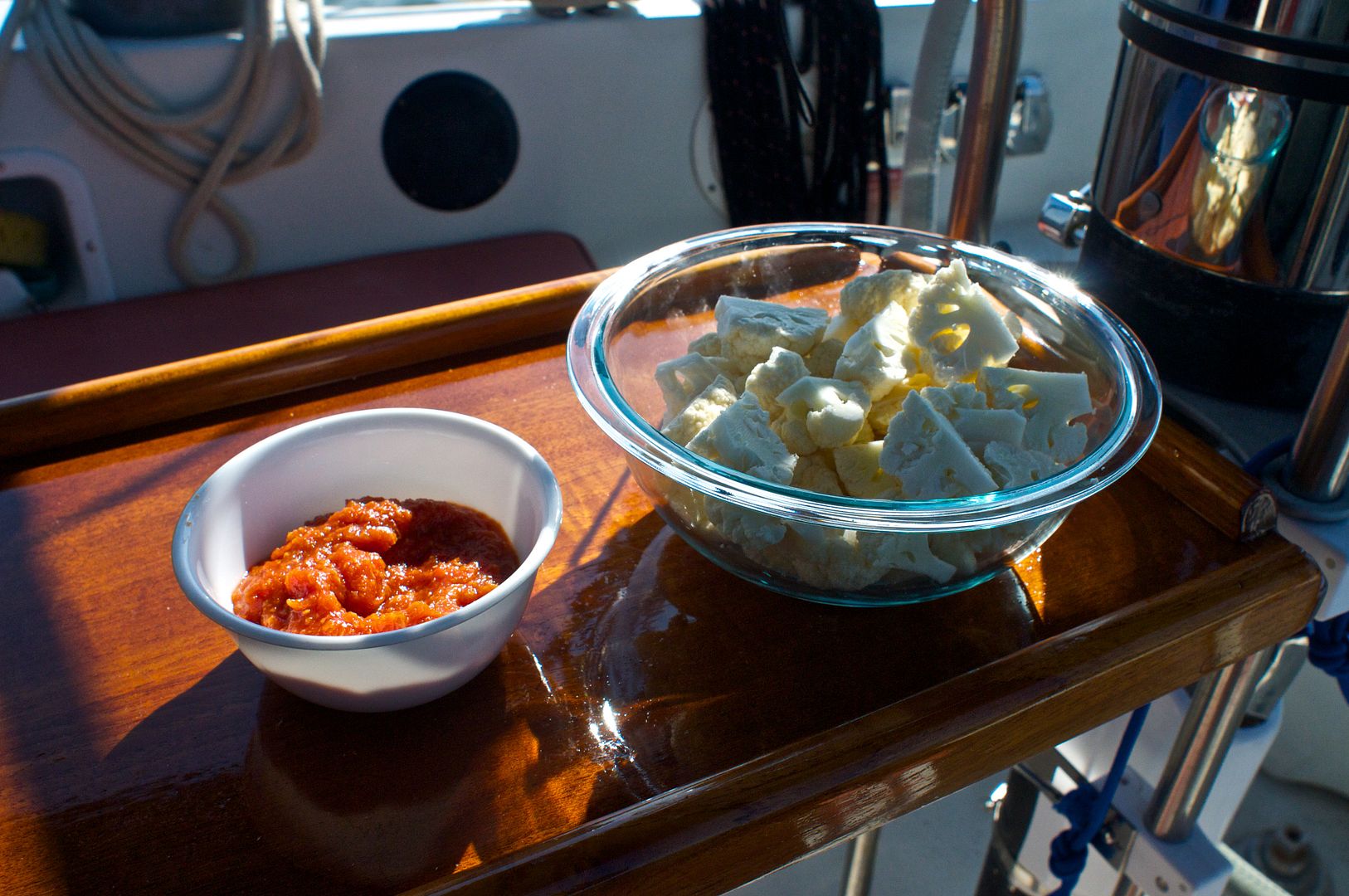 Happy hour included what we call Midwestern Shrimp (cut up pieces of cauliflower and cocktail sauce)
and dark-n-stormys. Dinner involved a reheated Mexican casserole that Maggie made during the
week--it was very tasty!
It got very cool in the evening on the mooring buoy--we needed a blanket!
In the morning, we hailed a water taxi on VHF channel 68 and went into Annapolis for coffee and a bagel at City Dock Cafe--our favorite coffee shop in town. After coffee, we walked along Main Street and were greeted by a parade!
The highlight of the parade was the Naval Academy Marching Band.
After the parade was over we walked to Middleton's Tavern (the second oldest tavern in the US that is still in operation--the oldest, by the way, is in Newport, Rhode Island) for lunch.
After lunch we took a water taxi back to the boat, quickly threw off the line connecting us to the mooring buoy and headed south to Galesville.
Of course, the wind had clocked around to the south--the direction we
were headed.
We motored past Thomas Point Lighthouse--the most photographed lighthouse on the Chesapeake Bay.
We arrived at our slip in Galesville safe and sound with no drama during docking. This blog post was published from our boat, just like it will be during our future cruising. For this blog post, I made the photographs a little larger and incorporated a little more of the story in the captions. I'm still new to writing a sailing blog--so, I would appreciate any suggestions to improve our blog!
Thanks for following our blog!