Getting the Leaky Transmission Fixed
--Blog post written by Bob
When I recently topped off the transmission fluid (which I now do every day I spend on the boat) I noticed that the fluid was leaking at the rate of one drop every few seconds without the engine running. At that rate, I would very likely have a transmission failure during a weekend sailing trip. So, I can't put if off any longer--it must be fixed, even if it is the middle of sailing season on the Chesapeake Bay. (This also means that I will be postponing the purchase of our new rigid hull inflatable dinghy for a while, at least until we sort out how we are going to fix the transmission.)
The alternatives we are considering are:
(1) changing out our old transmission with another used transmission,
(2) having our old transmission completely rebuilt, and
(3) installing a brand new transmission.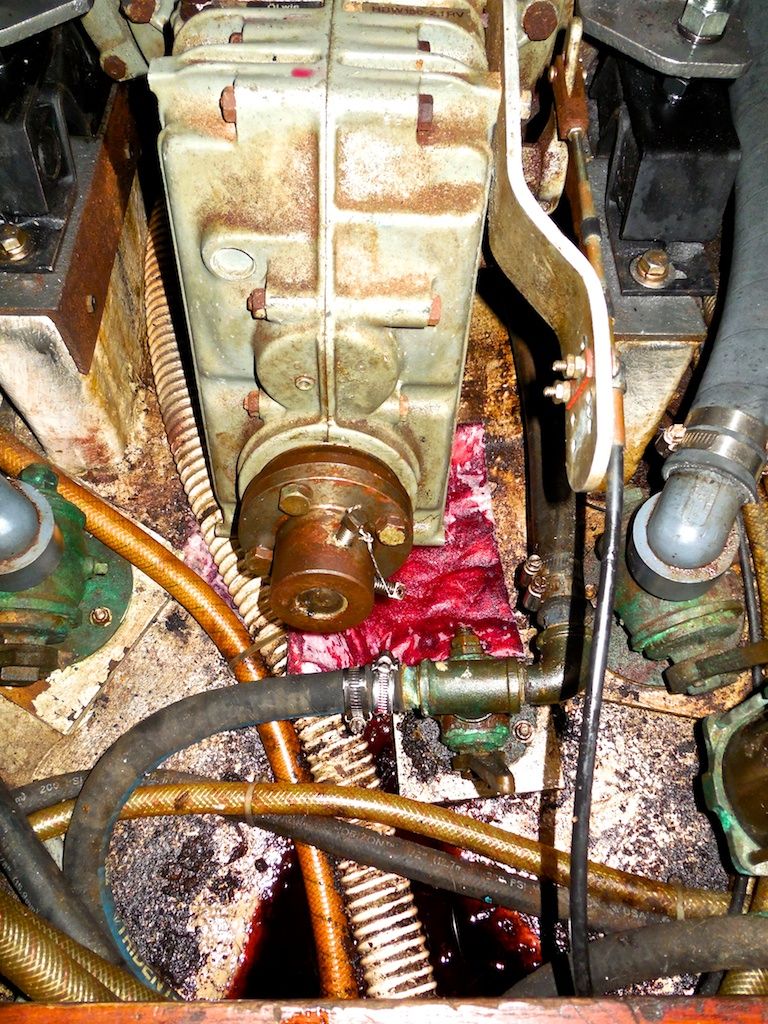 One drop every few seconds can lead to a big problem quickly. The bright red color
under the transmission is an absorbent pad soaked with transmission fluid.
The absorbent pad was pure white 3 days before this picture was taken.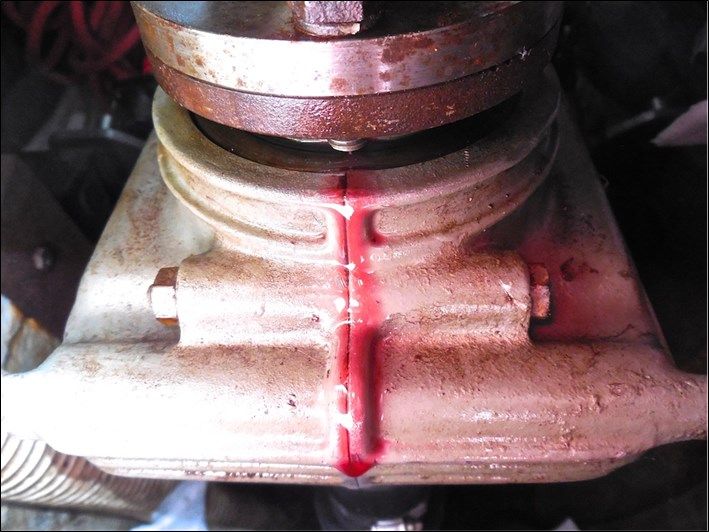 By using a small camera, I was able to capture an image of the source of the leak--it is the rear shaft seal.
We decided to have the transmission pulled from the boat, taken apart and evaluated further. Once we see the extent of the damage, we can decide between rebuilding the old transmission or getting a new transmission. We have ruled out the idea of buying a used transmission (too many unknowns about the used transmission).
Several Small Boat Projects For June
Since I expect the boat to be out of commission for most of June, I've decided to tackle some small projects around the stern area of the boat (all at one time) which is normally a somewhat difficult area to access:
(1) rewire propane solenoid wiring (still has original un-tinned wire),
(2) replace (plastic) bilge discharge fittings with new stainless steel fittings,
(3) replace engine room ventilation fans with new in-line fans, rewire, and change hoses,
(4) rebuild manual bilge pump & replace all hoses, and
(5) replace (Morris) cable for engine kill switch.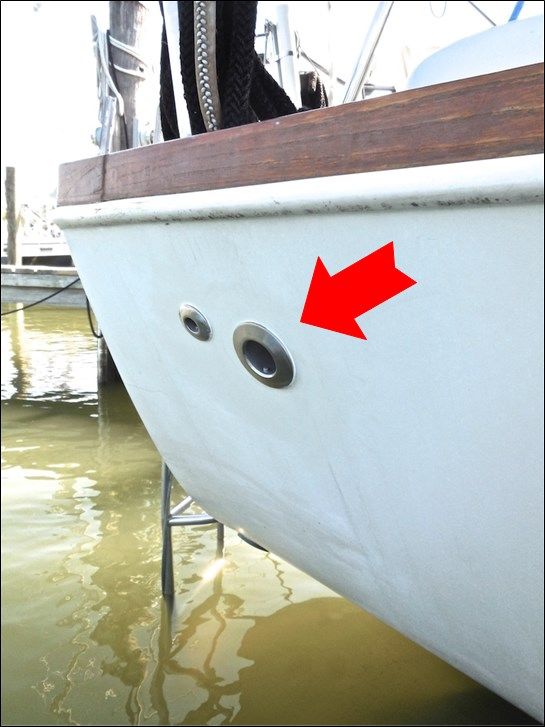 We replaced the old plastic fitting with new stainless steel fittings. These two
fittings are the bilge pump overboard discharge fittings--one for the primary bilge
pump and the other for the back up manual bilge pump.
We also changed the discharge fitting for the shower sump pump to a stainless steel fitting.
All the old plastic fitting were very brittle and snapped when any small amount of load was placed on them.
This 3-inch diameter ventilation hose simply fell apart in handling during the fuel tank replacement
earlier this year--it was 31 years old. We replaced this with brand new ventilation hose this past weekend.
While I'm not exactly sure why the kill switch cable stays partially out (lately), I'm going
to save some future replacement in some exotic port by replacing it now.
I've also decided to refinish my exterior teak during June--it needs some serious attention in some spots. (Pollen and mayflies make it difficult to finish teak earlier than June while the summer heat and humidity are difficulties typically faced in July and August.)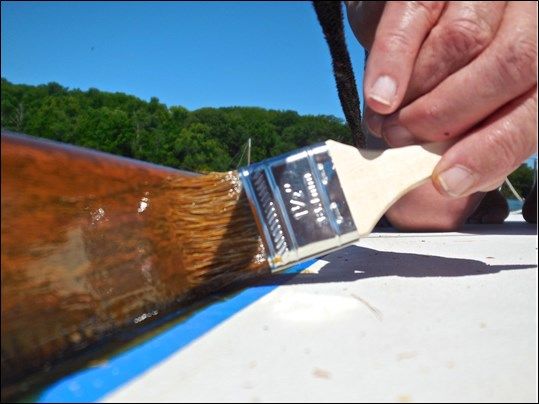 We have started to refinish our exterior teak this month. I have done the sanding and taping
while Maggie has done most of the brushwork. We are using Cetol as we have in past years.
While I don't particularly like maintenance (I would much rather build something!), performing
boat maintenance still provides the joy of "simply messing about in boats."
While I was in a borrowed hard dinghy changing the bilge overboard discharge fittings, our
boldest cat, Lizzie, was in the dinghy with me rubbing her cheeks against the dinghy's rub rail.
It has been a tough weekend of boat work but we are making progress of the list of June projects.
Thanks for following our blog!