A Transformation, a Transmission, and a Reduction
--Blog post written by Bob


An Old Dinghy Begs a Transformation
Since the purchase of our new rigid hull inflatable dinghy has been postponed because of the expected expense associated with our transmission rebuild, we found a used hard dinghy at our marina that we managed to purchase for only $35.
This was our $35 purchase. It does not have oars nor functioning oar lock
sockets
and half of the rub rail is hanging loose on one side.
The transformation of this old used dinghy began by:
(1) removing the old registration numbers
(2) removing the old rub rail & all screws & pop rivets
(3) removing the rotted wooden outboard bracket
(4) removing the old broken oar lock sockets
(5) scrubbing it thoroughly (big job!)
(6) reinforcing the oar lock area with several layers of fiberglass
(7) filling many holes & patching some areas on the bottom
(8) applying a dark blue boot stripe (to match that of S/V Rainy Days)
(9) purchasing and installing new oar lock sockets
(10) painting the bottom with green anti-fouling paint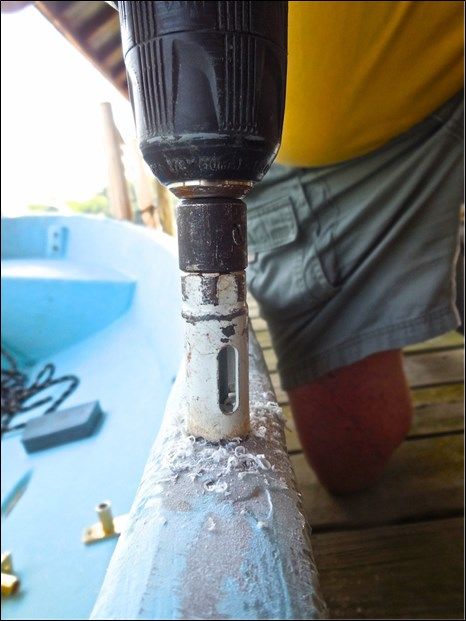 Since the new oar lock sockets I purchased did not match the existing holes in the dinghy,
I had to fill the old holes (and reinforce the area) with fiberglass. I drilled out the largest
hole for the oar lock sockets with a hole saw.
The dark blue boot stripe was covered with painter's tape while we
were painting the bottom with green anti-fouling paint.
After finding out how to properly size the length of the oars, we ordered 66-inch long oars (complete with a rope wrap and stop) and oar locks from Sawyer Paddles & Oars in Oregon and a new Dacron & foam rub rail from Hamilton Marine in Maine. We will use this dinghy for our month-long sailing trip in July and all of next year. A picture of the dinghy's complete transformation will be in a future blog post. We decided to name the dinghy "puddle" since it will be following S/V Rainy Days.
Progress with the Transmission
The transmission was extracted from the boat this past Tuesday afternoon.
By mid-morning this past Wednesday the bad parts were identified: two seals and a complete
set of clutch plates. All gears looked like they were new, despite being 31 years old.

All replacement parts have been ordered and will be delivered early next week. The transmission work is being done by Terry Kivett at Hartge Yacht Harbor. An interesting statistic I've learned this past week is that the average number of engine hours between overhauls of v-drive transmissions is 1500 hours (equivalent to about 60,000 miles for a car). I believe I have a little over 3000 hours on my engine (since I added an engine hour meter around 1989 after the boat was 6 years old) and this is my second transmission overhaul--I believe that I'm right on the average. (This statistic affirms my decision not to buy the used transmission--it had 1500 hours of service!)
A Reduction in Solar Power During the Week

For some reason battery bank #2 would not start the engine (just prior to the transmission removal) while Bank #1 was fine and did start it. After switching to Battery Bank #1 for almost a week, the fridge stopped running yesterday and the voltage in this battery bank was very low. We've had cloudy and rainy weather most of this week and I think the 200 watts of solar panels couldn't keep up with the fridge's needs (it's been running all week) under these conditions. I ran my shore power battery charger to see if the batteries could be brought up to full power and after charging overnight, they are great. Ordinarily if we were cruising, we would be running the engine occasionally and the batteries would be charged by the 70-amp alternator as well. We have a (Xantrex-brand) battery monitor but I just don't have any confidence in it yet--I have to get more familiar with it. I have to conclude for now that the problem was the entire week of cloudy weather but I have learned never to rule out the possibility of two simultaneous problems!

Thanks for following our blog!