Month-long Sailing Trip: Heading Home
--Blogpost written by Bob
Monday, July 28
We were awaken shortly after midnight by rain showers--we scurried around closing the hatches. So far, all the storms we've encountered have occurred while we were anchored or in a slip. We haven't had to use our foul weather gear yet--I hope we are so lucky for the remainder of this trip.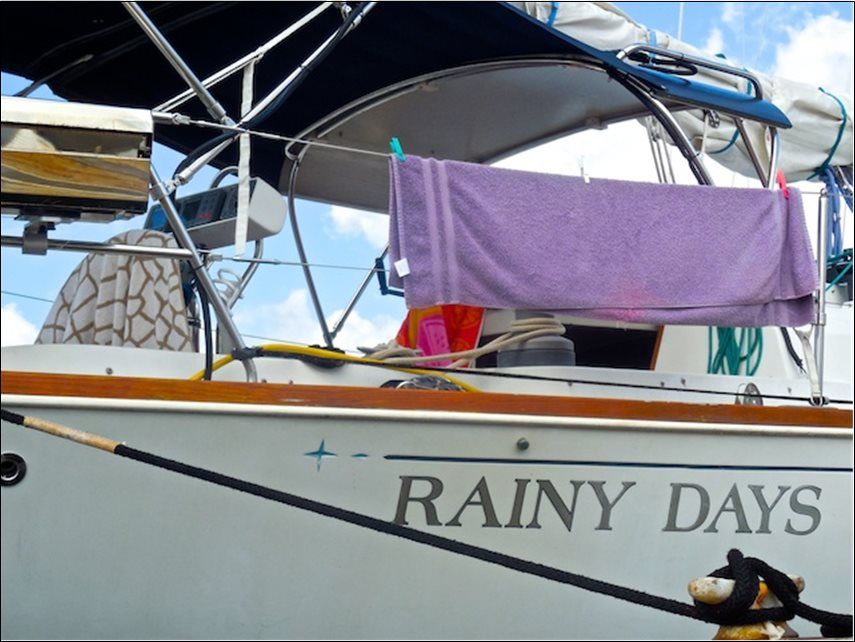 Prior to departing Anchorage Marina in Baltimore
After taking showers, filling our water tanks, and having coffee, we left Anchorage Marina in Baltimore at noon. It was nice to be moving again. We followed the shipping channel out of the Potapsco River and into the Chesapeake Bay.
The wind was blowing out of the west at 15 to 20 knots and gusting to 30 knots. After passing under the Key Bridge we let out the jib and we were instantly moving at 7 knots. After leaving the Potapsco River we headed directly toward the Chesapeake Bay Bridge. Since the winds were so strong, we decided to go straight to Galesville rather than stopping at any intermediate places.
After a short time we noticed a topsail schooner leaving the mouth of the Potapsco River--it caught up to us.
The large topsail schooner was the Pride of Baltimore. It was sailing under
reduced sail and still must have been doing 10 knots.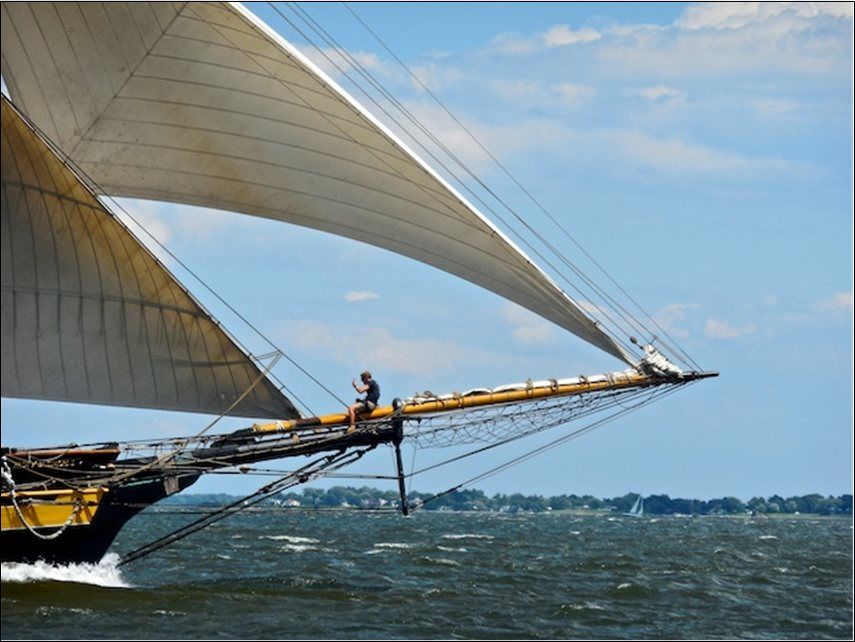 The man on the bowsprit give you a good idea of the size of this sailing vessel.
The Baltimore Light is near the mouth of the Magothy River--it leads ships up into
the mouth of the Potapsco River. It was commissioned in 1908. In 1964,
a small nuclear reactor was installed in the lighthouse for power. Two years
later the reactor was replaced by a conventional generator. Today
the lighthouse is privately owned and powered by solar panels.
The Sandy Point Shoal Lighthouse is located just north of the Chesapeake Bay Bridge. It was
erected in 1883. Like the Baltimore Light, the structure is now privately owned and is
powered by solar panels.
The third lighthouse we passed today is Thomas Point Light--it is the only screw pile lighthouse
still standing on its original foundation. The screw pile lighthouse replaced a stone lighthouse
in 1875. In 1964 it was the last manned lighthouse on the Chesapeake Bay. Today the
lighthouse is jointly owned by the City of Annapolis, Anne Arundel County, the Annapolis
Maritime Museum, and the U.S Lighthouse Preservation Society.
We pulled into our slip in Galesville at 5:30 in the afternoon, ending our month-long sailing trip.
Summary
During the second half of our month-long trip we traveled 158 nautical miles; adding the 177 nautical miles from the first half of this trip makes a total of 335 nautical miles. We stayed within the State of Maryland for the entire trip.
We covered just a small fraction of the Chesapeake Bay within the State of Maryland, in terms of number of destinations. All of our destinations were quite different. Had we done this trip all over again, we would have not stayed so long in Crisfield, visited Cambridge and St Michaels as part of the first half month, and possibly not taken a mid-month break.
For others considering this type of trip (even though hot humid weather was not a problem for us this year), I would recommend making this trip in May/June or September/October.

We are thinking about a similar month-long trip next year that will be within the State of Virginia and will not have a mid-month break.
For most photography used in this blog, I used a small Nikon Coolpix camera having 10 megapixels. Due to a problem with the on/off switch my big camera (Nikon D300), I seldom used it. I used Aperture and EFlex Pro 4 plug in for post processing. The photography would definitely suffer without post processing. Many times, the photographs dictated the content of the blog, even though I made a conscious effort in advance to get some shots. I added simple line borders to each photograph using Microsoft VISIO and this was time consuming--I need to add borders in Aperture next time around.
Generally, I would write each blog post using Notes on my iPad in the evening for each day and then email the complete post (without pictures) to myself (just before posting) so that I could get it onto my laptop. All blog posts were posted from my laptop using Google's Blogger.
Typically I would do some research on line for population, as well as for background and historical information before posting each blog post. This proved to be a learning experience for me.
Clothing items we found very useful were Teva sandals (we both wore these almost all the time, even getting a "Teva" tan line on our feet, lightweight breathable shirts (Henry Lloyd was the best brand), lightweight shorts offered by Duluth Trading Company and Patagonia, a straw hat with a brim to protect your ears from sunburn, and Bullfrog-brand sunscreen (SPF 36 and 50) as well as CVS-brand SPF-15 for milder days.
Maggie: For the ladies, my favorite clothing was Columbia-brand PFG shorts and 100% cotton tank tops (mine were from Loft). The hat I wore while sailing and sightseeing was an Outdoor Research-brand sun hat. Since the hat had a chin strap I couldn't loose it like the baseball cap I wore the first day. One of the best upgrades we made that made my cruising life better was the set of Magma-brand ceramic lined no stick cookware. It was great to cook on and cleanup was a breeze. Most of the time I could just wipe it out.
When we used mooring buoys or slips in a marina, we used showers offered by the marina. When at anchor, we used our cockpit shower which was heated by exchange heat from the engine while we motored during the day--this was for the first night of an anchorage. For the second night of an anchorage, we used a 5-gallon sun shower and were able to get multiple showers from the 5 gallons--this was the first time we've used this on board and it worked great.
The USB charging receptacles I installed earlier in the year worked great for
charging
cell phones and iPads--the drain on the batteries was insignificant.
Thanks for following our blog!