Month-long Sailing Trip: Smith Island
--Blogpost written by Bob
To be clear, we did not take our sailboat to Smith Island because of concerns about water depth in the channel into Smith Island. Instead, we took a passenger ferry from Crisfield--it left Crisfield shortly after noon and returned to Crisfield close to 5 in the evening. The trip from Crisfield to Smith Island is about 12 miles and it took close to 1 hour each way. We made this little side trip on Monday, July 7.
On the way into Smith Island, the ferry captain didn't just follow the channel markers but moved from one side of the channel to the other side at times to avoid shoals. The draft for the big aluminum catamaran ferry was 4 feet--our boat's draft is 5 feet and we wouldn't have made it through the long winding channel with all the shoals.
Background on Smith Island
According to Wikipedia, Smith Island is actually composed of multiple islands--they are predominantly low, salt marsh with an elevation of less than 4 feet above sea level. There are three communities: Ewell, Rhodes Point, and Tylerton. In 2000, there were 364 people living on 4.4 square miles of land.
In the last 150 years, Smith Island has lost over 3,300 acres of wetlands due to erosion into the Chesapeake Bay. To prevent the island from being lost to erosion, restoration efforts will be ongoing for the next 50 years to restore 1,900 acres of submerged aquatic vegetation and 240 acres of wetlands.
British settlers arrived on the island in the 17th century, arriving from Cornwall, Wales, and Dorset via Virginia.

A notable feature of the island is the local dialect which is like the dialects of the West Country of England and the dialect of Cornwall.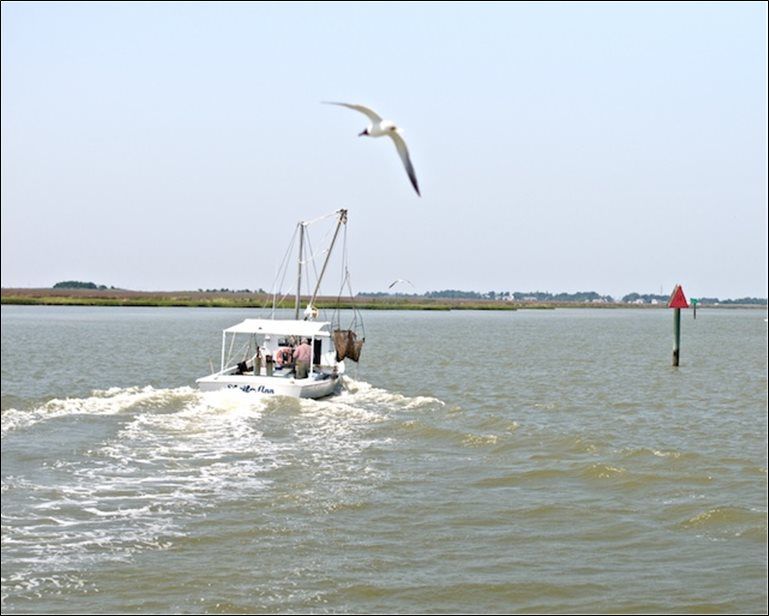 Watermen from Smith Island work long days to harvest crabs and oysters to eek out a living.
Their harvest is brought to Crisfield daily for processing and distribution.
Smith Island Cake
My favorite product of Smith Island is the famous Smith Island Cake which has 10 thin layers of cake with frosting between each layer. The most common flavor is yellow cake with chocolate icing. On our visit to Smith Island, I had orange Smith Island Cake--it was absolutely delicious! (Smith Island Cakes are also produced in Crisfield by Smith Islanders for distribution to other areas of Maryland.)
A slice of peanut butter Smith Island Cake--note the 10 layers. A 9-inch cake costs $55 in Crisfield.
Island Workings
Electricity is provided to the island by underwater cable from Crisfield. An emergency diesel generator provides a back up source for electricity. The island gets it's water from 3 or 4 artesian wells--it is distributed to each house by underground piping. The island has it's own sewage system and waste water treatment plant.
There are a couple small B&Bs on the island and a couple small restaurants. The day we were on Smith Island, there were about 10 to 20 tourists that came over on the ferry with us.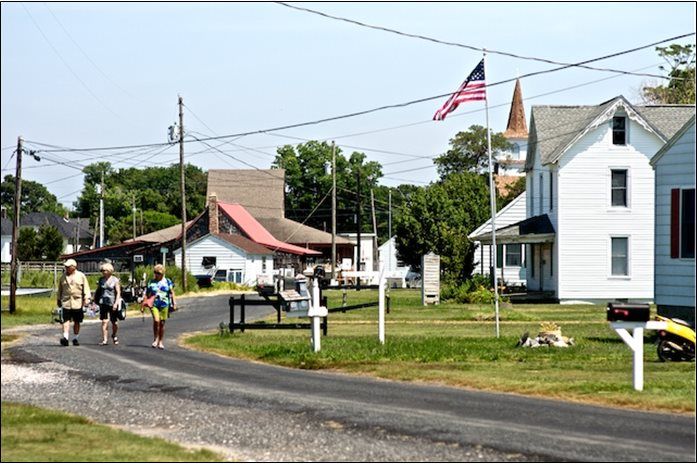 Homes on the island are surprisingly normal--very modest colonial, salt box, and cape cod style homes
and cottages with clapboard exteriors and built on concrete block foundations with nicely manicured lawns.
Children attend a very small elementary school on the island, and for high school, they ride a school boat (like a school bus on the water) to Crisfield daily during the school year.
Images from Smith Island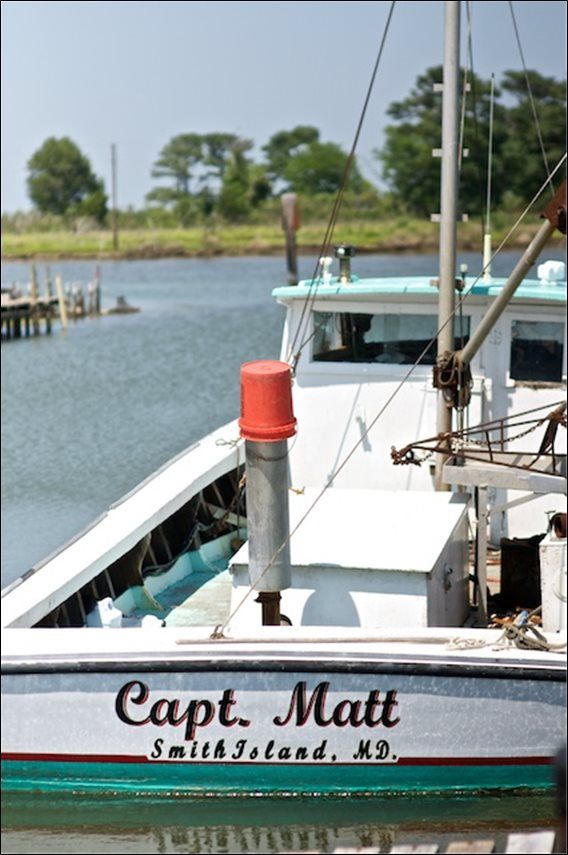 Most of the work boats are powered by diesel (tractor) engines. The muffled exhaust
is directed
vertically--when not in service, the exhaust is covered with a bucket
to prevent rain water from entering the exhaust system.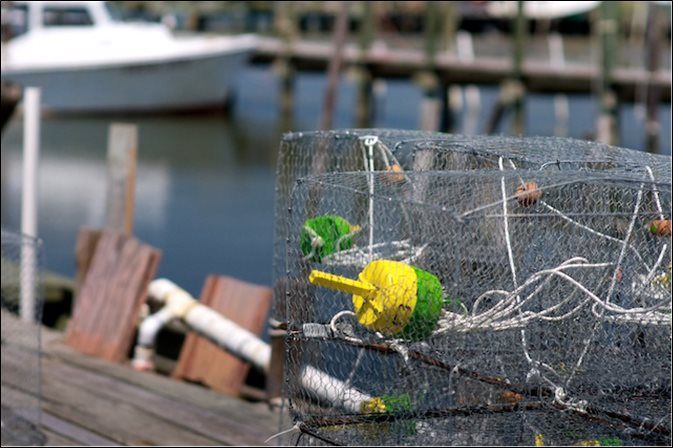 The crab pot floats are very colorful and unique--they identify the owner of the crab pot.
I just wish they would keep them out of the channel!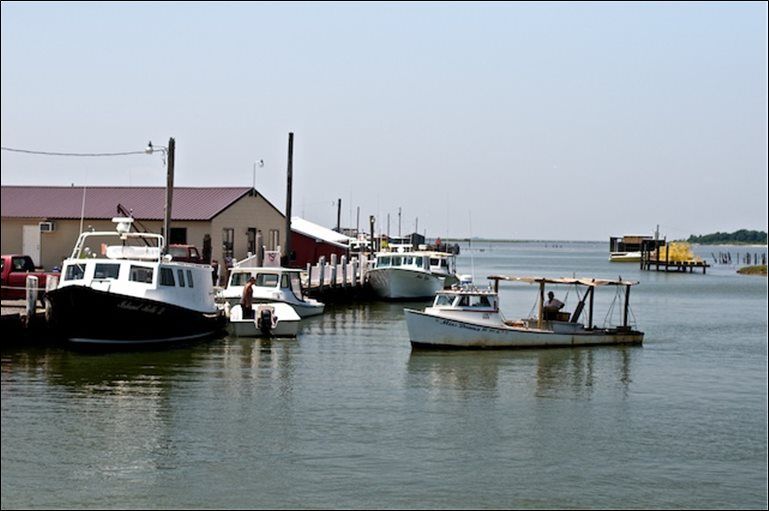 The small harbor for Ewell is located on the back door channel called Big Thorofare.
A boat is the primary means of transportation in this area while a golf cart gets you around on land.
There are crab shanties all along the harbor and a network of interconnecting docks.
This image is looking at the end of Shell Road. At low tide white egrets search for fish in the shallows.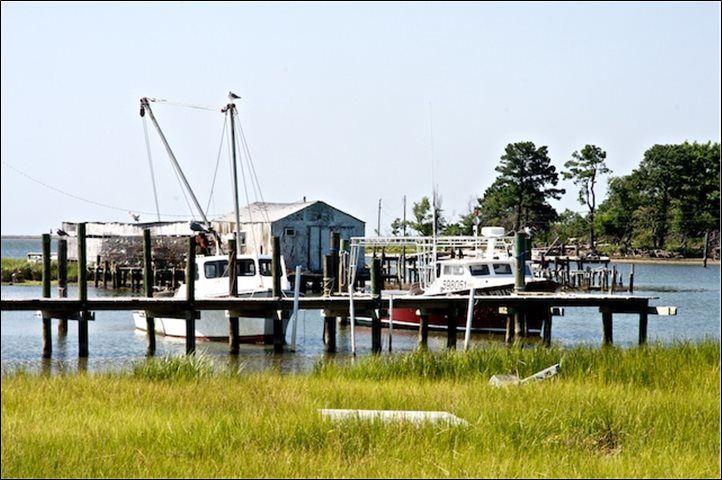 The workboats, docks, and wetlands make this island very picturesque.
Even though there is a 5 or 6-slip marina, I don't think the water is deep enough for a sailboat.
There was a workboat in one of the slips when we were on the island.
Another picturesque image from Smith Island
This was a very memorable and worthwhile side trip--it was well worth the $26 per person round trip ferry ride! How often do you get to see a culture that lives only 4 feet above sea level?
Thanks for following our blog!