Month-long Sailing Trip: Still Pond
--Blogpost written by Bob
Saturday, July 19
Skies are overcast with a very light breeze out of the east this morning. A Catalina 30 out of Boston was moored nearby last night and eight boats were anchored further up in Swan Creek. We took garbage into shore and picked up a bag of ice before slipping our mooring line in Swan Creek.
We had quiche for breakfast as we motored out the long channel from Swan Creek--quiche is the perfect breakfast on board since its aroma cooking in the oven really sparks your appetite!
Our batteries have held up well on this trip, with our solar panels easily making up the power lost by our refrigeration. However, we have been motoring every couple days and this generates power too. I would still be concerned if we were at anchor (in the Bahamas, for example) for a couple weeks or a month--I believe we still need another 100 watts of solar panels and we will probably add these this winter.
There have been several times that I have had difficulty reading the small print (like for buoy numbers and depths in an area of the chart with a dark blue background) on my chart plotter and this will have to remedied by getting a chart plotter with a larger screen. This is a problem that doesn't come to light when sailing in home waters.
Our Raymarine A50d chart plotter only has a 5-inch diagonal screen--it simply
isn't large enough of my needs at the helm.
Also, adding a weather-proof VHF radio at the helm is a good idea too since there are times when the handheld VHF just doesn't cut it because of its limited power output.
This leg of our trip was 22 nautical miles. Still Pond consists of a bay-like inlet that makes a well-protected anchorage area, a creek (Still Pond Creek), and a tidal pond and connecting creek (Churn Creek). The tidal pond can only be accessed by dinghy or kayaks because it is so shallow. Still Pond Creek is also too shallow for us to anchor there but there is plenty of anchorage area in the little bay with 9 to 11 foot depths.
There is a small Coast Guard station here and a few waterfront homes. For the most part, boaters come here to swim in the fresh water, to raft up with friends, or to enjoy the serenity.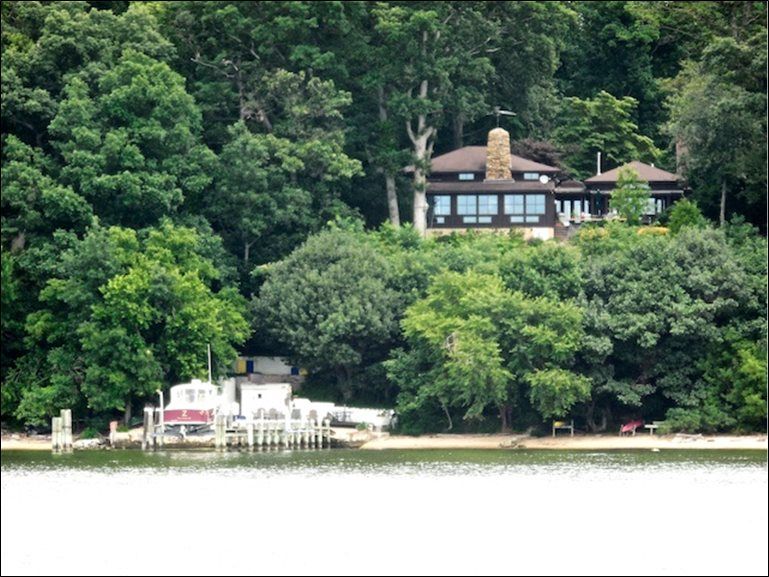 We anchored along the north shore because of the plethora of speed boats that were beached
on the south shore near the tidal pond. There are a few beautiful homes
like this one on the northern shore.
While anchored in Still Pond, a 32-foot speed boat had to be rescued--it was taking on water. Another power boat towed them onto a nearby beach to prevent them from sinking. The troubled speed boat didn't even have a VHF radio--they had to hail a nearby boat waving their arms and blowing a horn. Their boat was up on the beach for hours until help arrived, they pumped the water out of the boat, and then they were towed away to safety.
The water is clean and refreshing here in Still Pond. Maggie spent a
lot of time in the water and rowing on the water.
This evening we grilled steaks and sweet potatoes (served along with sliced tomatoes) for dinner on board! It was a nice cool evening with a light breeze out of the northeast.
Sunday, July 20
We woke to a brief drizzle in the morning but soon the clouds cleared up and the sun came out. We had french toast for breakfast--what a pleasant Sunday morning breakfast!
The northern bay is naturally beautiful with lush green forested shorelines
and occasional sandy beaches.
Feeling constructive this morning, I walked around the inside of the boat and took pictures of areas that need improvement before our trip to the Bahamas. Maggie and I have discussed converting the towel storage space back to a hanging locker for our foul weather gear. We also discussed making duffle-bag type containers for all the things that end up in the quarter berth. There are a lot of items we've added to our project list as a result of this trip--all good ideas, but the "to do" list is back up to 65!
Even my navigation station gets messy--I need more organization. Although it
seems like all my life I've had messy desks, even in grade school.
I have not been able to charge my laptop using the tiny 50-watt inverter I have on board--it plugs into a cigarette lighter type receptacle. Getting a bigger inverter is on my list of projects but I really thought I would be able to charge my laptop during this trip. The USB charging outlets I added to the boat earlier this year have worked great for charging our iPhones and iPads. I usually write the blogpost on my iPad and then send it to my laptop via email. Processing the images and actual postings are done on my laptop.
I've been creating all the blogposts for this trip while on board, using marina's WiFi signals or the WiFi hot spot on my iPhone but here in Still Pond I don't get a strong enough signal. (When in the Bahamas we will be using only land-based WiFi signals when they are available.)
This afternoon while at anchor in Still Pond we drank a couple Bloody Mary's because they were the only drink we could come up with that were suitable for a Sunday afternoon (if there is such a thing). As if in a Hemingway novel, the savory tomato flavor with zesty spices perfectly complimented the sea breeze and the rhythmic motion of the boat. After all, we have no responsibility except to safely get from one place to another on this trip--time has very little relevance. I think we are finally in cruising mode after 19 days.
From Maggie's journal: "I'm not quite sure why, but making and eating french toast with my second
cup of coffee makes me very happy. Our little family altogether taking pleasure in these simple meals
and activities is also very pleasing. I made chicken salad from some left over rotisserie chicken and I feel
creative and constructive. I take great pleasure in all the small chores: brushing the cats, shaking
out the rug, making the bed, cleaning up after the cats, organizing the fridge, and tidying up. I
guess this cruising lifestyle agrees with me."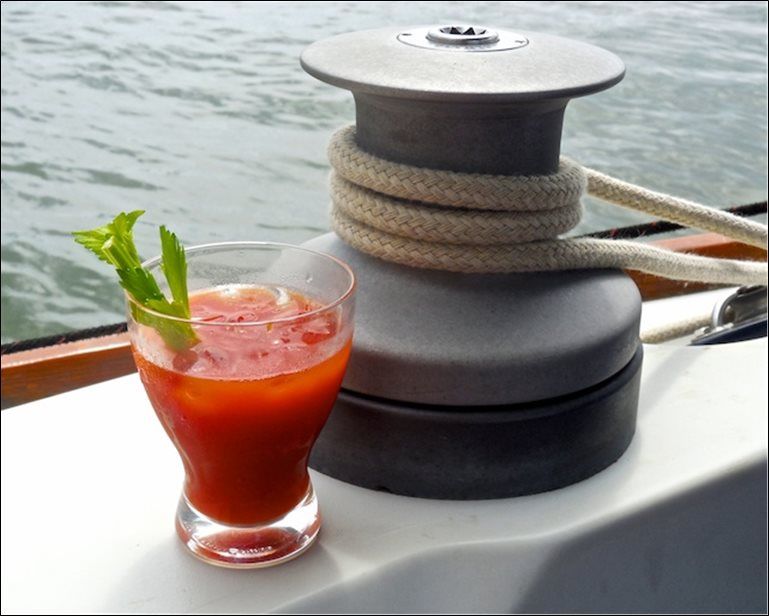 Our favorite Bloody Mary recipe is simply 1-1/2 ounces of vodka combined with 5-1/2 fluid ounces
of Hot & Spicy V8, over ice with a celery stick. The winch is a Barient #28 and
the jib sheet is vintage yacht braid.
We had grilled ham and cucumber salad for dinner and baked apples done on the grill for dessert--these were delicious! We simply sliced up apples, added olive oil, cinnamon, and a little sugar and baked them in aluminum foil while we were eating dinner.
Tomorrow, we travel to Georgetown on the Sassafrass River.
Addendum - Friday, July 25
We returned to Still Pond on our way between Havre de Grace and Baltimore--this time we anchored along the outer south shore in about 9 feet of water.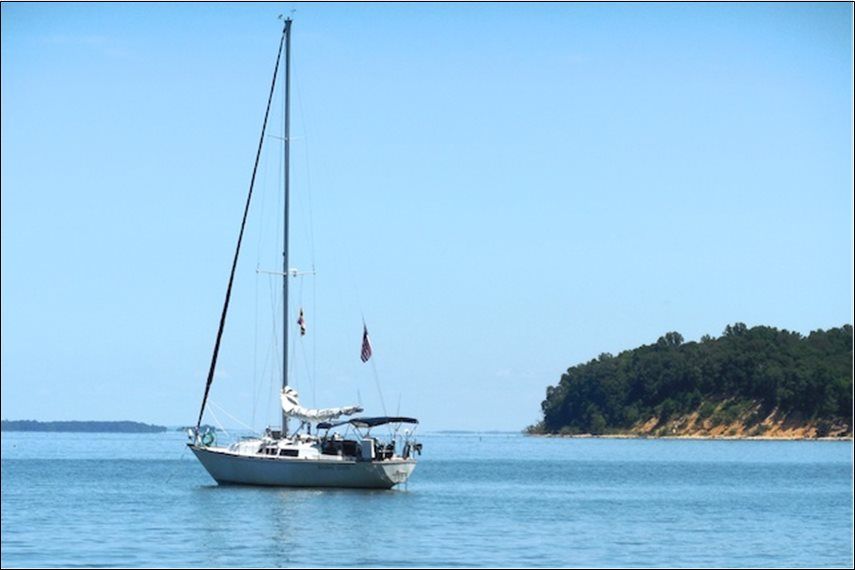 This photograph was taken from the outer south shore of Still Pond looking north.
This is a screen shot from our GPS / Chart Plotter showing the normal anchorage
area at Still Pond and the two different anchorage area we used on this trip.
Shortly after anchoring in Still Pond we rowed ashore and explored the north-facing beach.
The shoreline is pristine with a lovely sandy beach and a forested bank.
We found this cut from a little tidal pond--it was about 3 feet wide and about 4 inches deep.
The beach was sandy but near the shoreline there were smooth
pebbles of all different sizes and colors.
Thanks for following our blog!