Month-long Sailing Trip:
Swan Creek & Rock Hall
--Blogpost written by Bob


Thursday, July 17
From Galesville, we motored northward (against about 5 knots of wind out of the north, of course) toward Rock Hall as our first destination of the second half of our month-long sailing trip.
We remembered to bring along our water hose on the last half of the trip but when I
loaded the hose in the cockpit locker, I wasn't very careful about where it was
placed in the cockpit locker--it ended up being rubbed through in a
couple places where it contacted the engine's belt drive for the
alternator. Consequently, Rule #6 was developed.
I have always considered the Chesapeake Bay Bridge as a demarcation
between the northern part of the bay and mid-Bay.
We saw lots of commercial traffic as we approached the Chesapeake Bay Bridge. A tug was pushing
the barge full of gravel and in the background on the left, a car carrying ship heads into Baltimore.
In a way, it's nice to see this kind of positive business activity again.
After about 5 hours of motoring, we navigated carefully into Swan Creek just north of Rock Hall Harbor. We picked up a mooring buoy at Swan Creek Marina (the marina on the immediate left after entering Swan Creek)--this is where my Chesapeake Bay sailing began about 40 years ago. After rowing the dinghy into shore to check in at the marina office, I found no one around. My attempt to reach them by cell phone was equally a failure.
Swan Creek is very quit, even though there are six large marinas within a distance of about one mile.
There are four boats anchored a little further up in the creek. All you can see of two of them is their masts sticking out above the marsh grass. The chart shows that the creek gets pretty shallow further up.
The marina has changed very little since I kept my Paceship PY-23 and, later, my Sabre 28 here. The dinghy dock is the same, the docks are the same, and the little marina office is the same. There may be more moorings now but that's the only positive difference I can see in the marina. Most of the slip holders are from southern NJ or southeastern PA. At one time there was a successful yacht brokerage and a restaurant here in this marina.

We plan to stay here two nights.
Swan Creek Marina has not changed much in 40 years.
Knowing that in business you have to keep changing to meet changing business conditions, it makes me wonder why this marina hasn't changed much at all. Maybe I will find out tomorrow (Friday) when I check in at the marina office.
This was our view of sunset from our mooring buoy in Swan Creek. It's funny
that at home we never even notice sunsets.
Friday, July 18
We checked in the marina office shortly after 9 AM when they opened. They have unusual hours of operation, 9 to 3 on most weekdays. We used their bikes to go into the town of Rock Hall, which is about 1-1/2 miles away from the marina. We found a lot to do in town and some great places to eat. Here are some images from our visit in Rock Hall:
We found this great coffee shop called Java Rock--it is located
on the corner of Main Street and Sharp Street.
We stopped at the Watermen's Crab House for lunch and Maggie had two hard shell crabs.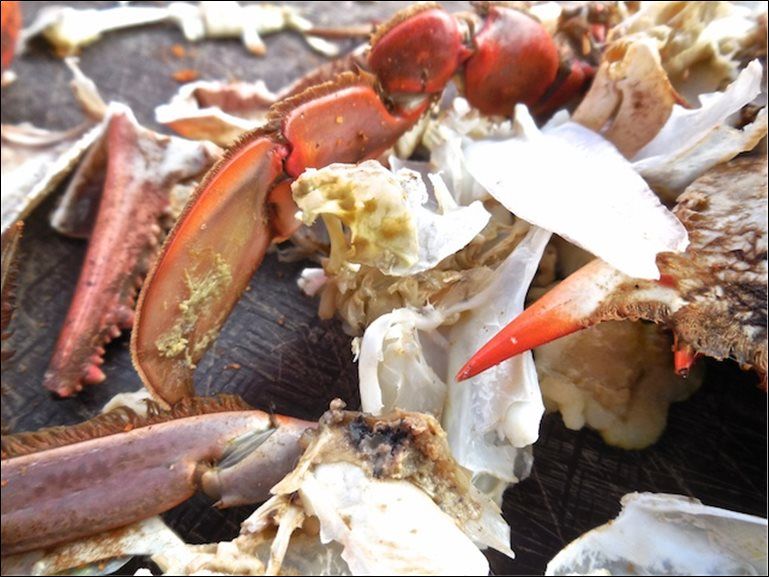 This is some of what remained of the two crabs.
We had a good time shopping in town. It's good that one of the bikes had a basket
on the front so that we could carry our goodies back to the boat.
Rock Hall has a public beach on the Chesapeake--this was added sometime in the last 40 years.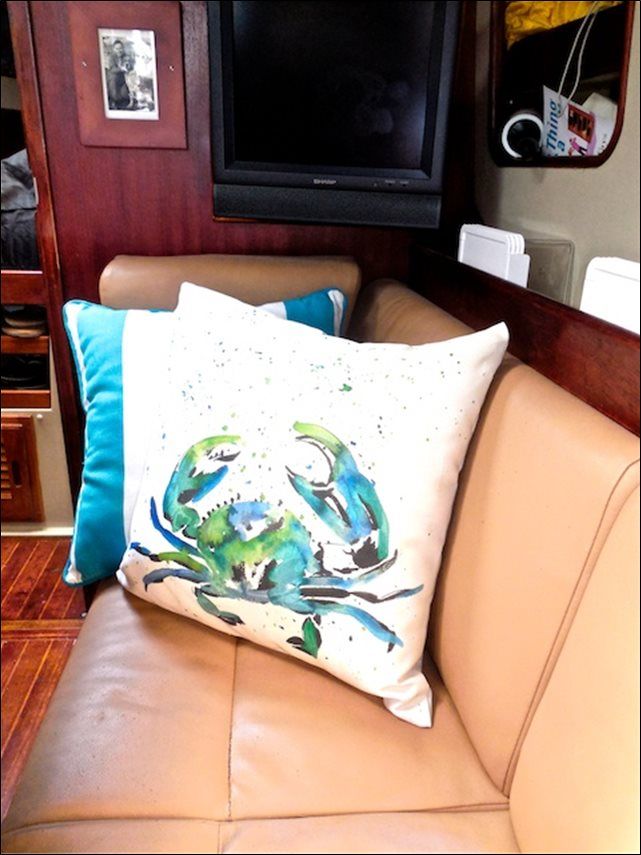 This is a new pillow that we picked up in one of the shops in Rock Hall today.
We have recently decided that we have to reupholster the settees in the boat
before our trip south--so, it has to match this pillow!
Captain Jack manning the main sheet winch in the late afternoon.
We had a cold dinner of spicy roll ups and red skin potato salad. The spicy roll ups were made
with whole grain tortillas, jalapeño cream cheese, celery, sliced ham, and iceberg lettuce.
A sailboat leaves Swan Creek late Friday afternoon under a main sail and a red drifter.
We will be leaving Swan Creek first thing in the morning and heading further north to Still Pond. We really enjoyed our stay in Swan Creek and Rock Hall.
Thanks for following our blog!