New Interior Upholstery!
--Blogpost written by Bob
In the 30-year life of s/v Rainy Days, the interior upholstery has undergone several changes between the original denim-colored brushed corduroy (31 years ago) to the more recent coffee-colored vinyl.
The Old Vinyl Upholstery
The interior-grade (coffee-colored) vinyl lasted about 5 years without showing any signs of wear until our month-long sailing trip this past July.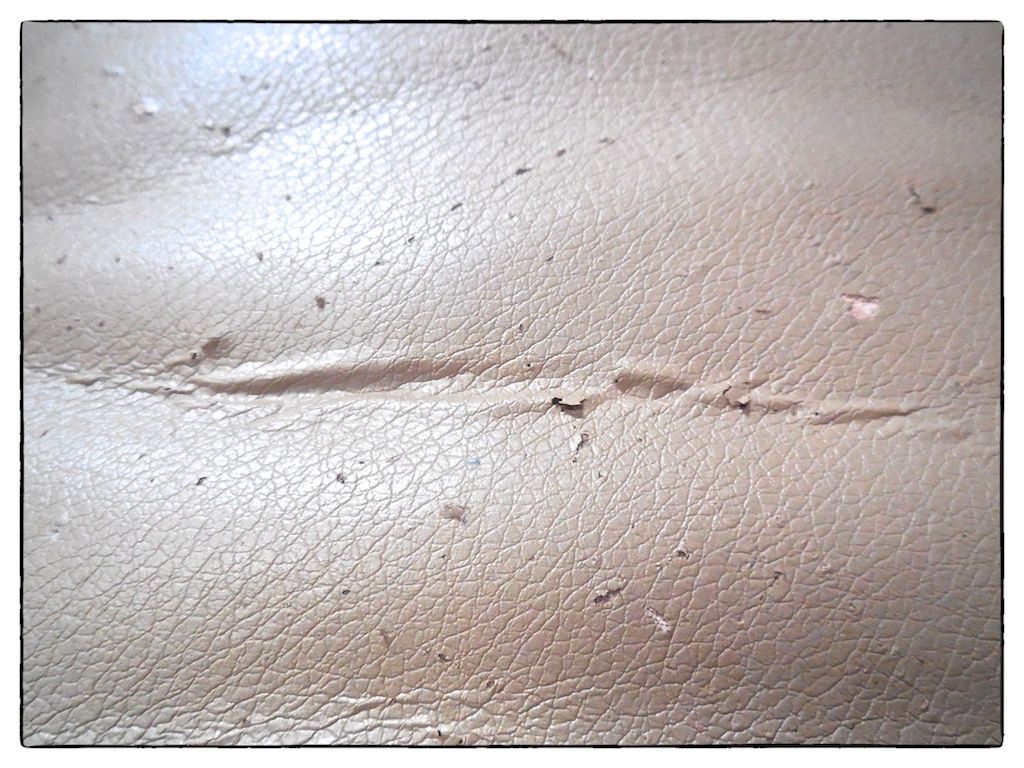 In July, several bubbles appeared in the vinyl--the vinyl was actually lifting off the
backing material in these small areas.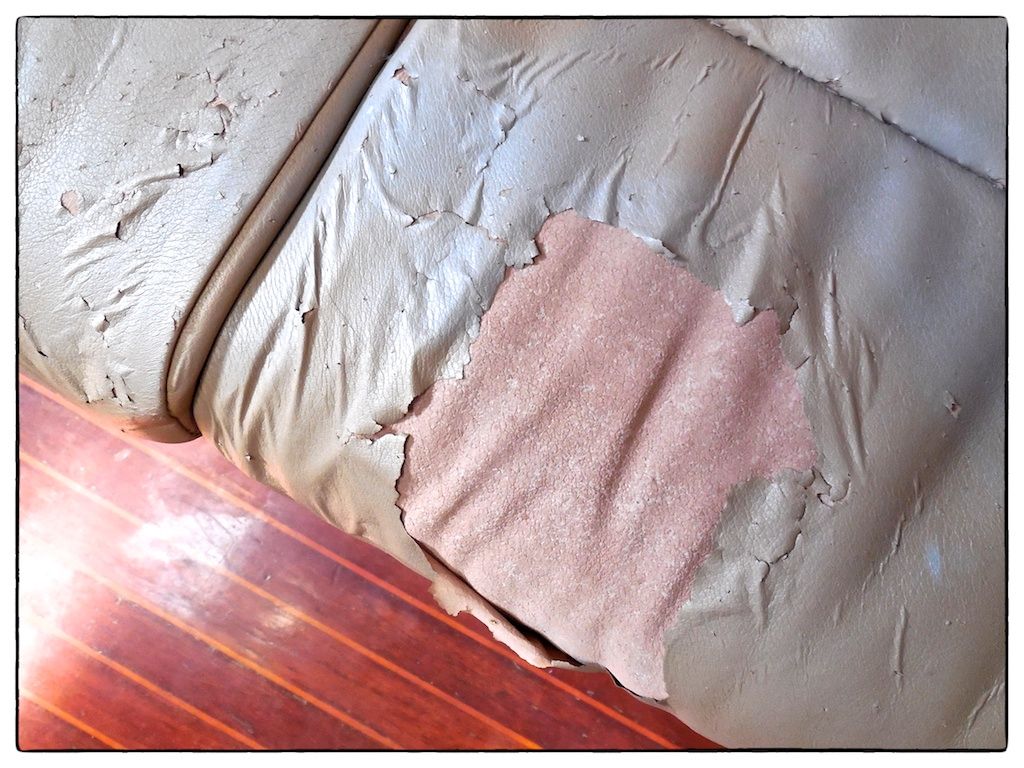 The small deteriorating areas turned into larger areas such as the above. Based on this experience,
I would not recommend an interior-grade vinyl be used for boat upholstery.
Replacing the boat's upholstery was not one of the things we planned to do before leaving but
because the vinyl was deteriorating so quickly, we didn't think we could postpone it.
Selecting the New Fabric
We took a sample of our gold-colored curtain material and two of our colorful pillows that we really like to Annapolis Custom Yacht Canvas and came home with two large fabric books that we thought were the most promising. From those two fabric books, we narrowed our focus to two alternatives. We obtained large samples of both alternative fabrics and positioned them on our starboard settee so that we saw them every time we visited the boat. After a while, one clearly stood out--"Spa" from the Sunbrella Fusion Collection which is a plush blue-green fabric.
A close up view of our fabric selection for our new upholstery.
It is called "Spa" and it is in the Fusion line by Sunbrella.
Preparations
As described in a previous blogpost, we made additional storage areas available under and behind the settees while all the cushions were being recovered. In addition, I varnished all the teak trim above and below the cushions with Epifanes gloss clear varnish--I did this while I had the settee bases at home. (The teak bulkheads are varnished with a satin finish while all the trim is in a gloss finish.)
Plush New Fabric Upholstery
Because the interior foam was only six years old, we were able to reuse it.

It took Annapolis Custom Yacht Canvas about 5 weeks to recover all 19 cushions in our main salon and nav station. One of the reasons there are so many cushions is that both settees have cushions on the ends (like arms on a sofa)--these give the settees a very comfortable feeling. (All the cushions are held in place by a wide strip of Velcro hook and loop fastening tape on the back, as well as the fid on the edge of the bases.)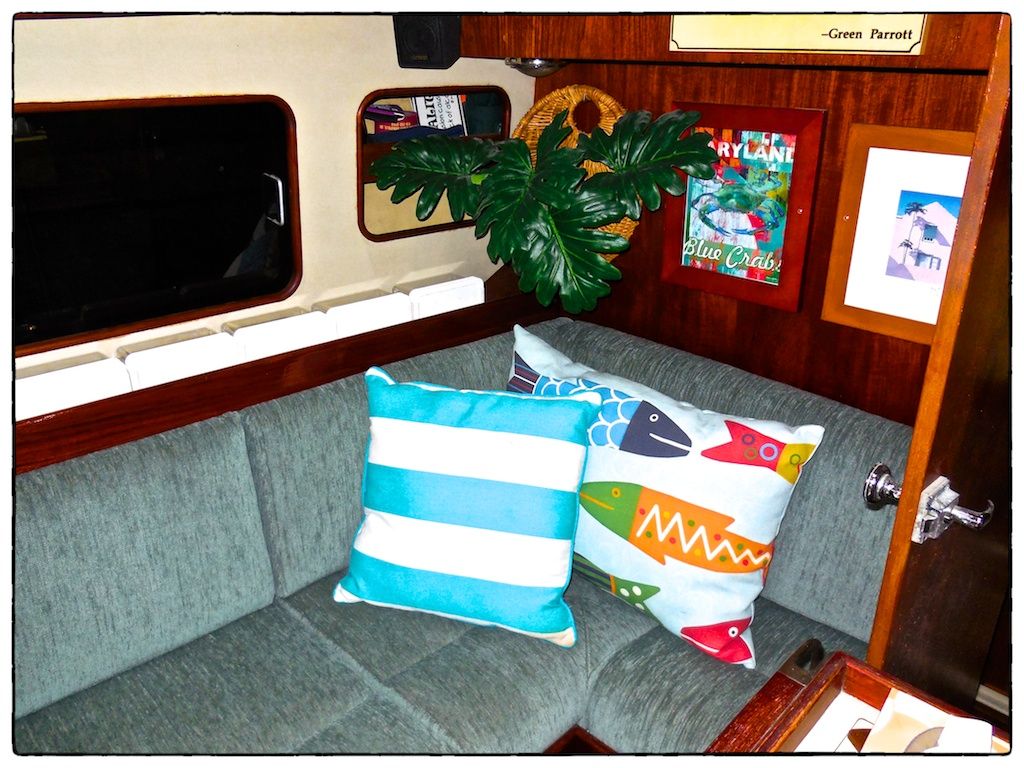 The new upholstery in place on the port settee.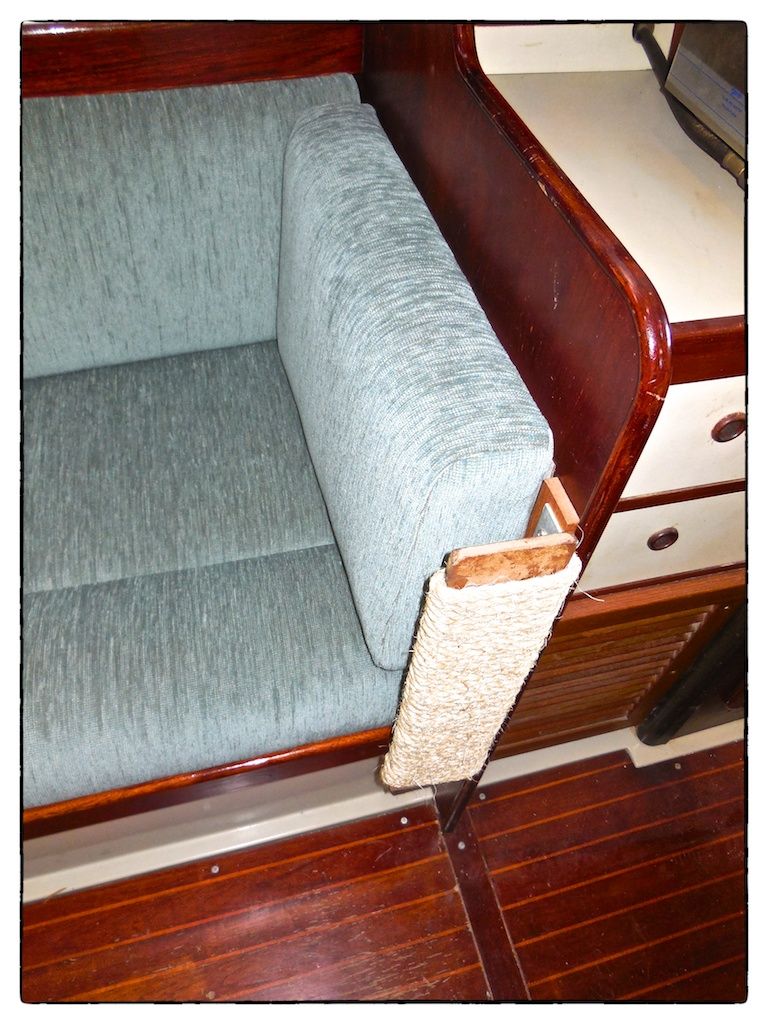 Because we have two cats who like to scratch things, it was important that I recover
their scratching post with new jute rope--this is mounted just in front of one of the
arms of the starboard settee.
Summary
As a point of interest, I recently calculated the square footage of our boat's living area. Because the settees and berths are built in, I included the area under the settees and berths in the calculations (just like the floor area under your sofa and bed at home would be included). Our 38-foot boat's interior is only 220 square feet! Two hundred and twenty square feet is equivalent to a room that is 22 feet long by 10 feet wide. While our living area may sound small, most of our time awake will be spent outdoors: sailing, snorkeling, beach combing, and exploring in the dinghy. Living in a small space has lots of advantages: less cleaning, easier to keep warm on chilly nights, and easier to keep cool (yes, we have central air conditioning but we will only need it when we are back on the East Coast) during the summer.
Our cockpit enclosure is in place now for the winter--it's like a sun room. It retains a lot of
warmth from the sun and is a very effective shield from the cold winter wind. This was an
invaluable improvement I made while living aboard. Our boat is now in its winter slip.
This reupholstery project cost $3,000 but the impact on the feel and appearance of the boat's interior is dramatic. The main salon will be our living room for possibly up to 10 years while cruising--so, making it comfortable and good-looking is important to us. We expect to be changing the covering on the exterior cushions in the cockpit over the winter.
We're spending Thanksgiving week in Cape Cod for a little vacation. I have been working on a cabinet for our photography equipment and I think this will be the subject of our next blogpost.
Thanks for following our blog!