Updating & Organizing Onboard Equipment Manuals
--Blogpost written by Bob
When we are in the remote out islands of the Bahamas (I can't wait!) and some piece of onboard equipment breaks down (I'm not looking forward to that!), I'll need all the information I can get to be able to fix it and we may not have internet availability at the time. So, having manuals for each piece of onboard equipment is important.
I've always had hard copy manuals for all the boat's equipment--I really haven't updated them in a long time. I've considered saving the paper and the storage space by putting all the equipment manuals on my iPad and/or laptop in PDF format. However, the last time I did a major system update on my iPad, I lost all my PDF documents and I certainly wouldn't want this (or water intrusion into my iPad or laptop) to cause me to lose all my manuals. So, I've decided to keep both hard copies and electronic copies on board.
A long time ago I made a shelf under the navigation station desk to hold equipment
manuals in 3-ring binders--the shelf and the old binders are shown in this image
with the cardboard model of the new inverter.
Removing Manuals for Old Equipment
The first step in this reorganization effort was to discard manuals for equipment that was no longer in use. This was a pretty easy step.
Lots of pages from the old equipment manuals in the recycle bin.
Downloading Manuals for Current Equipment
The second step in this process was to make a list of all the different equipment on board. Again, this was a relatively easy task.

I downloaded manuals for all current equipment, despite having copies of most--the old copies were in the form of different-sized handbooks that came from the manufacturer. The downloaded copies were already in PDF format.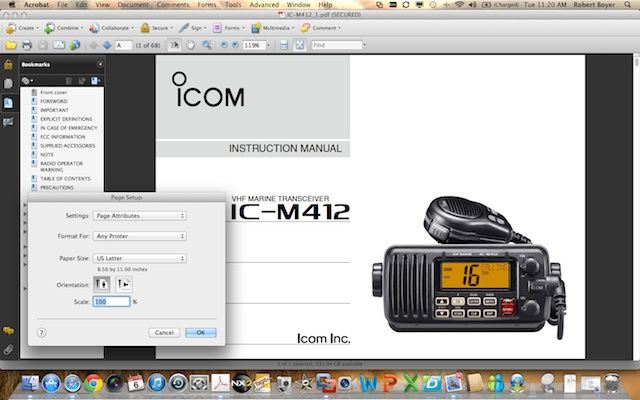 This is a screen shot of an equipment manual being formatted for printing full size
on 8-1/2" x 11" paper. Once the printing was done for all manuals, all individual
sheets were placed in plastic sheet protectors.


Using Adobe Acrobat, I formatted all the manuals to fit fully on 8-1/2" x 11" paper and used portrait or landscape orientation as appropriate to fill each page--by doing this all the manuals would have the same page size and could easily be stored in one place. All the paper pages are placed in clear plastic sheet protectors, mostly to keep the holes from tearing after extended use.
Organizing the Binder Contents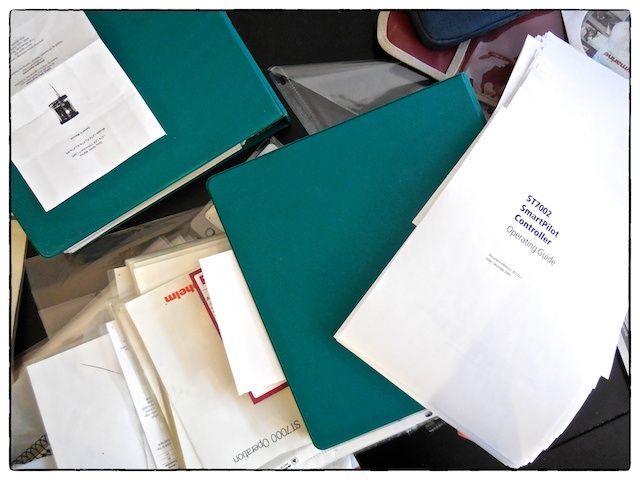 Most organizing efforts have moments, hours, or even days of chaos--this project was no exception.



Working around the desire to fit all the manuals into four 3-ring binders with dividers and have them filled to a nearly even capacity, I came up with a system for the binders, using eight dividers for each binder with the last one of each being for miscellaneous.
A table of the equipment binder organization


I have the original service manual for my Yanmar engine (in its own 3-ring binder) and it is stored on the shelf with the other equipment manuals.
Summary
The importance of this effort was to get all equipment manuals up to date and in one place and to get rid of a lot of odd-sized handbooks that cluttered the area around the navigation station--in this respect, this effort was a huge success.
Updating and reorganizing the boat's equipment manuals was a good winter project.
It took about a week of evenings to complete. Here they are shown on the
shelf below the navigation station desk

Our next blogpost will be Part 2 of Hatch Seal Replacements--this time with the correctly sized seals.


Thanks for following our blog!