Onboard Fresh Water Consumption
--Blogpost written by Bob
Cruising represents a greatly simplified lifestyle and minimal fresh water consumption is part of that lifestyle simplification.
We don't plan to have a water maker on board s/v Rainy Days mostly because of the high initial expense and the energy needed for operation. We can carry 104 gallons of fresh water among our three onboard tanks plus another 15 gallons in three jerry jugs on deck, for a total of 119 gallons. Like most cruisers, we will fill our fresh water tanks every time we stay in a marina, which will be once a week at most or once every two weeks at the least. In between marina stays, we have to rely on water conservation and/or transporting fresh water by dinghy from land in our three 5-gallon jerry jugs. (Using three 5-gallon jerry jugs, it will take seven dinghy trips to completely fill our water tanks from empty and it would consume the better part of a day. Conservation is the most practical alternative.)
Showers
The average home shower takes 8 minutes and uses 17.2 gallons of fresh water. Showering is the second largest use of fresh water in the home (flushing toilets is the first). Showering on board using a sun shower can significantly stretch fresh water consumption--Maggie and I can get 2 showers each from 5 gallons of fresh water. This means less than 1.25 gallons of fresh water consumption per shower--a reduction of 90% compared to the average home shower.
We used this sun shower on our month-long sailing trip last summer
and we don't feel that we compromised much in using it while cruising.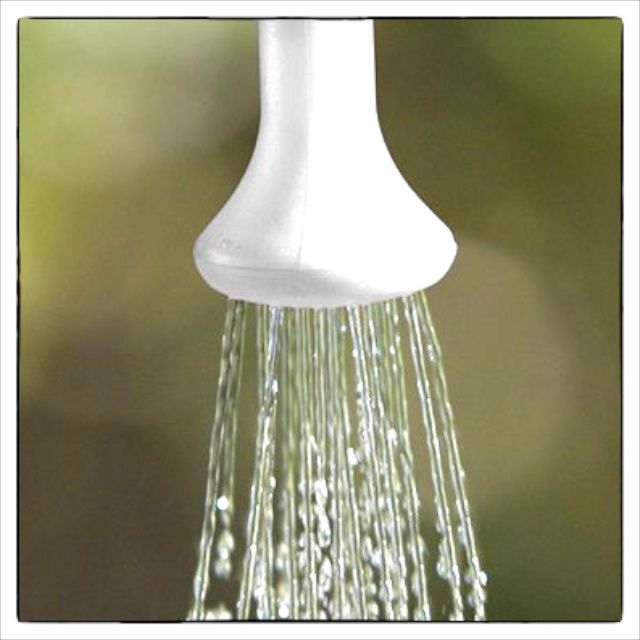 It is surprising that only 1.25 gallons is all that is needed to shower--7%
of the average water consumption of a typical land-based shower.
Taking showers at anchor during our month-long sailing trip last summer involved suspending the sun shower from our bimini frame near the aft port corner of the cockpit. We usually showered while sitting down because of the height taken up by the hanging sun shower. The spot we used for showers allowed the soapy water to easily drain out through the nearby cockpit drain. From this spot, we can also shower with salt water (or the hot water of the cockpit shower) and simply use the sun shower for the final rinse and this would save even more fresh water.
Washing Dishes
Washing dishes for two people on board takes 3 to 5 gallons of fresh water from our tanks--this is if we wash all the dishes for one day in the evening. We can cut our fresh water consumption for dish washing by 92 to 95% if we wash with salt water and rinse with fresh water kept in 16-ounce spray bottles (using 16 ounces per day).
Brushing Teeth
The average American who brushes his/her teeth with the water continuously running from the tap uses 4 gallons of fresh water for each brushing. With the tap turned off while brushing the water consumption is reduced to 1/4-gallon per person. We hope to cut this last figure by 75% by using spray bottles to clean our tooth brush and simply rinse out using about 3 to 4 ounces of fresh water per brushing.
Ice & Drinking Water
Obviously, this has to be fresh water and this will change very little from our normal activity at home except ice cubes are a lot more difficult to harvest on the boat. We can make about a gallon of ice cubes per day and that about equals our expected daily consumption. Drinking water accounts to about 1 gallon per day per person.
Spray Bottles
Some time ago we purchased three 16-ounce spray bottles (from Amazon) to use in our water conservation measures. To make this water conservation concept work we had to come up with a way of keeping the spray bottles handy in the two areas where they will be used the most: the sink in the head and the sink in the galley.
We bought these three identical 16-ounce spray bottles from Amazon.
We decided to locate the spray bottles relatively close to the faucets so that we would have to make a conscious effort in order to avoid using the spray bottles.
Spray Bottle Holders
I decided to make spray bottle holders from 1/4-inch thick black Starboard. (I considered making them from teak but the cost would be a lot higher and it would take a lot longer to make, not that these issues usually affect my boat-related decisions.)
I used an adhesive-backed template as a guide for cutting with a jigsaw, cut the holes with a 2-1/2-inch hole saw, and then hot bent the Starboard in two places to make the final u-shape. I cleaned up the edges by sanding and, finally, by hot polishing with a propane torch.
The custom spray bottle holder made from
1/4-inch thick Starboard is simple, but functional.
One spray bottle is mounted in the head just above the faucet as shown above
while another is mounted in the galley next to the galley faucet.
Summary
With all the aforementioned water conservation efforts, we believe we can reduce our fresh water consumption to 7.0 gallons per day for two people, with our 104-gallon tankage providing a 15-day water supply while cruising in the Bahamas.

A pie chart of our 7 gallon per day fresh water consumption budget
for two people while anchored out in the Bahamas.
While focused on the cherry pie, you may not have noticed that washing clothes was not part of our water budget--this task will have to be done on land once every two weeks or whenever we have the opportunity. However, we have included a contingency category which includes fresh water for rinsing out lightweight clothes that can be hung up to dry on our lifelines. Shaving, also not part of the fresh water budget, will be done using salt water.
Keep in mind that the average American uses 80 to 100 gallons of fresh water per day and we are expecting to use less than one tenth of this average while at anchor.
To make the above fresh water budget doable I have to hook up a source of salt water for washing dishes--this will be another future project, one that was not on my list until now.
Thanks for following our blog!