Memorial Day Weekend - 2015
--Blogpost written by Bob
Because of the cool weather earlier this year, Memorial Day weekend was our first sailing trip of 2015. We live in Annapolis and keep our boat about 15 miles south of Annapolis in Galesville. We thought about sailing to St. Michaels but figured it would be pretty crowded since it was a holiday weekend. We then talked about Whitehall Bay--a nice low-key destination. At the last minute, we decided to try pick up a mooring in Annapolis--surprisingly, we got one as another boat was just leaving.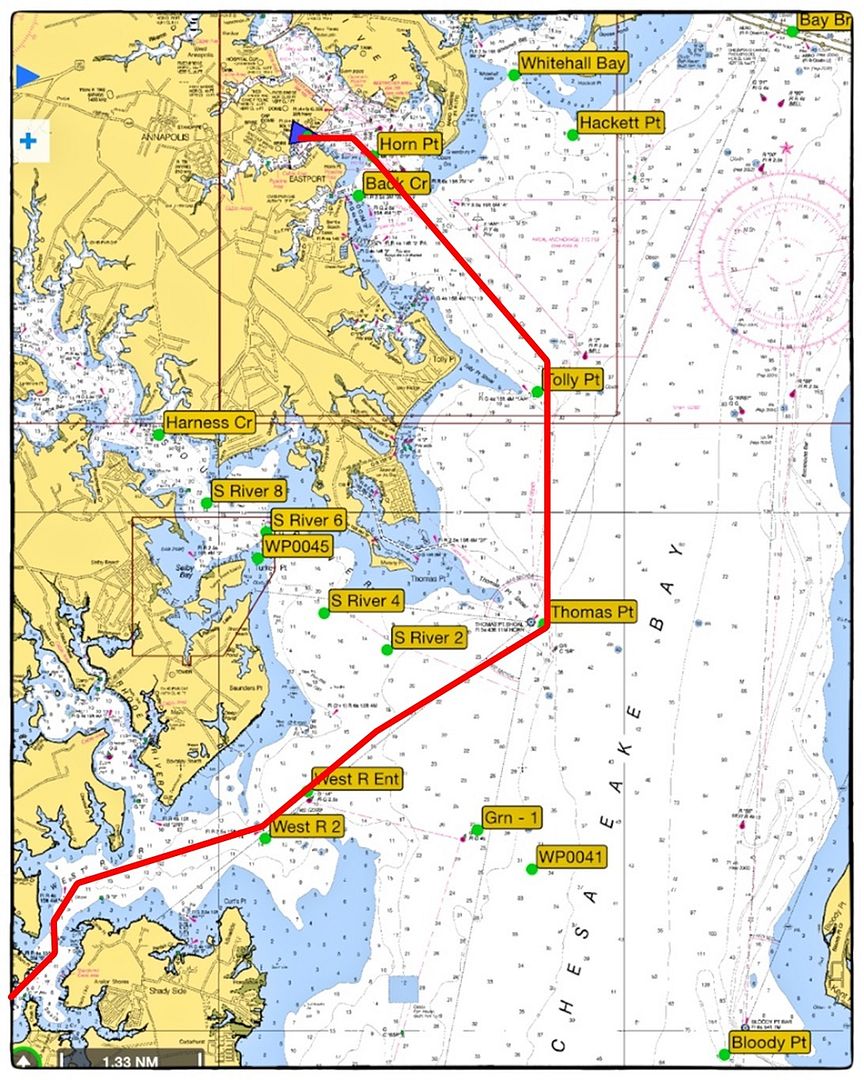 The cool winds were light out of the North--the general direction we were headed.
We motored the 2-hour trip into Annapolis from Galesville. This image
was from the iNavX application on my iPad.
Memorial Day weekends on the Chesapeake Bay always seem to involve a thunderstorm.
Since we got a late start due to grocery shopping, getting our dinghy in the water, and loading Maggie's kayak on board, we didn't get underway until about noon on Saturday. We spent 2 hours motoring to Annapolis and weathered the cool 50-degree temperature with sweatshirts. We managed to pick up one of two remaining moorings in the outer harbor--mooring buoy #23 across from the Eastport Yacht Club.
We were able to pick up mooring buoy #23 in the outer harbor just after another boat left!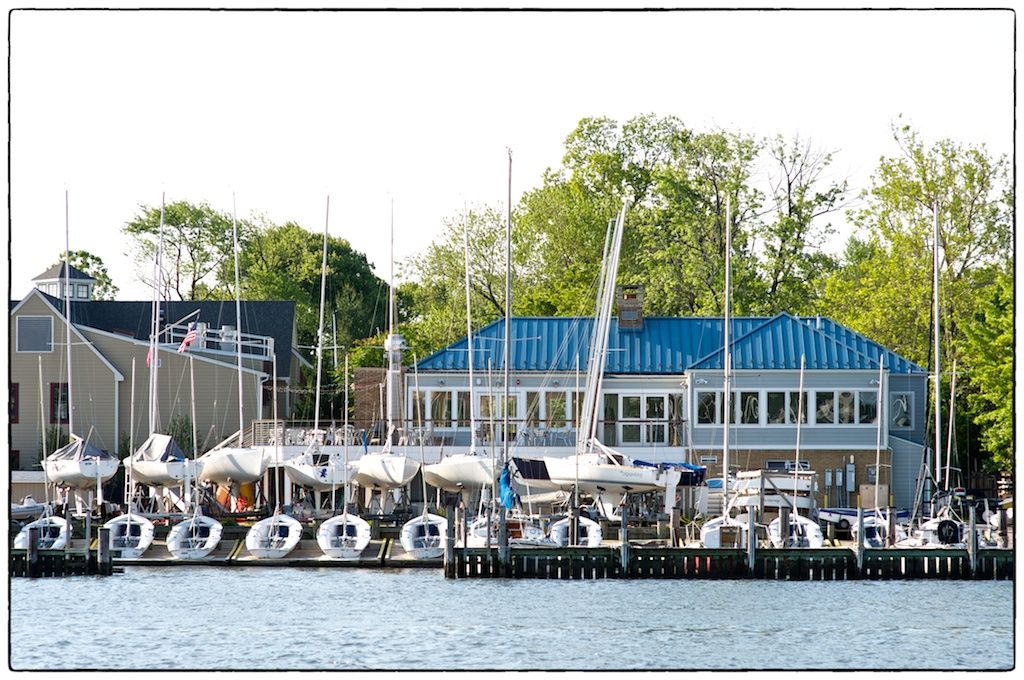 I like to think of the Eastport Yacht Club, shown here across from our mooring buoy,
as a blue collar yacht club--more "on the water" activity and less "purely social"
activity. It's the kind of yacht club I'd like to join.
As usual, the outer harbor was choppy from all the boat traffic--so choppy that it was difficult getting to sleep st night. About midnight it calmed down a bit. The cool breeze blowing in the forward hatch coerced us into burying deep under the covers to keep warm.
On Saturday morning after breakfast, we ventured into town using the water taxi ($3 each way per person). We had coffee at City Dock Cafe and then walked up and down Main Street, past Chick & Ruth's Delly.
Chick & Ruth's is an unusual and interesting restaurant. The entire restaurant recites the pledge
of allegiance to the flag at 8:30 every morning and 9:30 AM on Saturdays and Sundays.
Their colossal entrees, like their 6-pound milkshake and their 3-pound cheeseburger
earned them a spot on Man V. Food. Also of significance, the owner has donated
more than $750,000 to the Anne Arundel Medical Center for cancer research.
It seems like t-shirt shops are one of the few small businesses able to
consistently pay the high rents on the small shops along Main Street.
Every Sunday morning during season, the farmer's market occupies the
parking lot at the junction of Compromise and Main Streets.
It's a great place to buy veggies and breads!
A local singer decided to provide entertainment during the farmer's
market--it was a nice change of pace and she was
quite
good. It's too bad I didn't catch her name.
We relaxed on the boat all afternoon--something that is difficult for me to do but something I need to learn how to do better. In the evening, we went into town and walked to Mangia Italian Grill and Sports Cafe for dinner. I had baked lasagna while Maggie had ravioli florentine--both were excellent! Of course, no evening in Annapolis would be complete without ice cream from Storm Brothers on Ego Alley. Even after we sell our house and go cruising I will always consider Annapolis to be my home town--I've lived here for over 30 years.
Early on Monday morning, the harbor was quiet--no boats moving around yet. The breeze was still cool but out of the southwest. The church bells chimed at 8 AM signaling the start to the day. We left our mooring about 8:30 AM and started our short trip home. Of course, we had light winds on the nose. As we entered the West River the winds were picking up noticeably and continued to increase in velocity. Surprisingly, there was no thunderstorm this Memorial Day weekend!
After returning to our marina and unloading everything (clothing, food, my tools, and two cats) we took the boat to Hartge's Yacht Yard (on the North side of Galesville, midway up Tenthouse Creek) where it will be hauled out for maintenance. Our planned maintenance work includes:
(1) Coating the propeller & shaft to prevent barnacle growth
(2) Removing the old head discharge thru hull
(3) Repairing the frozen seacock at the galley sink drain
(4) Soda blasting the hull to remove old layers of bottom paint
Our next blogpost will cover our boat's haul out and some more details about the planned (and I'm sure some unplanned) maintenance work. It's the unplanned maintenance work that I worry about...
Thanks for following our blog!