Engine Gauge Rewiring: Part 2
--Blogpost written by Bob
After finding a failed sending unit in one of the diesel tanks and a faulty engine-hour meter while suspecting the old un-tinned wiring, I decided to address the problem with my malfunctioning tachometer before Memorial Day Weekend.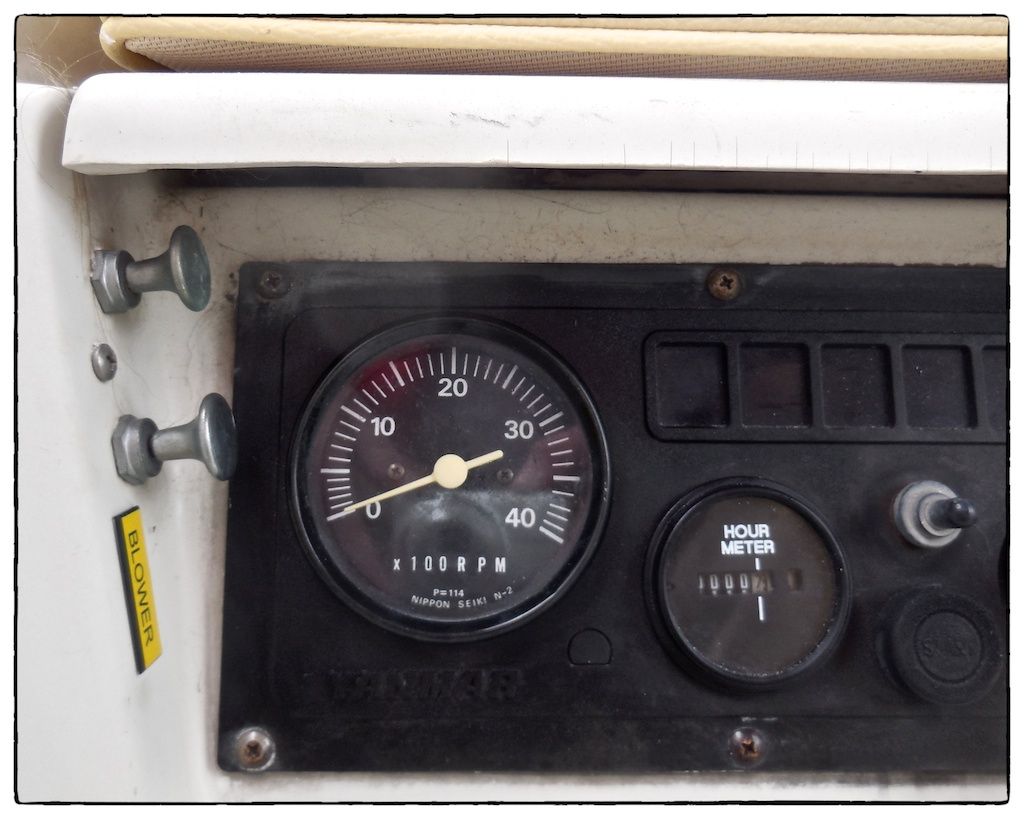 The needle on the tachometer hasn't moved since some point during our month-long sailing
trip last year. As I recall, it was intermittent just before it completely stopped working.
Was the fault in the tachometer, the sending unit, or the wiring

?
Tachometer Troubleshooting
To find the cause of the tachometer malfunction, I used the five troubleshooting steps in the Yanmar service manual:
(1) Check the connections at the rear of the tachometer: Open circuit? Loose connection? Corrosion?
(2) Disconnect power to the tachometer and check input voltage (10-16 volts)
(3) Check if sender is securely attached to engine.
(4) Measure internal resistance of the sender (~1.6k ohms)
(5) Measure output voltage from sender (>1 volt)
Since I was replacing the wiring, I went right to steps 3 thru 5 and all was OK. There were three wiring harnesses between the sender and the tachometer when I started--now there is only one. The new wiring completely fixed the problem and the tachometer is working again!
Changing Instrument Lighting to LED
As part of this effort I changed the old incandescent instrument bulb to a new red LED bulb like the other gauges. This is an effort to reduce electrical power consumption and increase the longevity of the bulbs.
Summary
I understand from my boatyard, that electrical rewiring represents one of the most costly boat repairs primarily because when they work on a system it must be brought up to current ABYC standards (which usually means changing the wiring for the purpose of the color of the covering, if nothing else). There are usually issues with the boat owner's modifications as well. So, doing this work myself surely saved a lot of money.
The cost of this part of the project was negligible. This part of the project took one half day
on the boat.
Thanks for following our blog!