Finding New Purpose
--Blogpost written by Bob
As retirement approaches I find myself in search of new purpose. No longer am I seeking to build my career or to accumulate material things but instead withdrawing from my career (as a mechanical engineer) and disposing of those material things that we have accumulated (this is a huge project in itself). It's a strange situation in which I find myself but I'm sure others have gone through it too at retirement (or they postponed it indefinitely).


"Many go fishing without knowing it is fish they are after."
--Henry David Thoreau
Clearly, preparing our boat for cruising during retirement has generated
a huge (intermediate) purpose for me but sooner or later, the boat projects
will be done (I can only hope so!) and we'll be cruising full time.
This blog is actually generating purpose for me--writing about our boat projects has become part of completing them. I will admit that sometimes it is difficult to take the time to get good pictures during a boat project. I have found it easiest to write the blogpost in draft form on my iPad while working on each project and planning the pictures I need to explain the important aspects of the project. It took me a long time to figure out this system and to take lots of pictures.
As we begin cruising, I hope to write about interesting places along the ICW and in the Bahamas--places where others haven't taken the time to visit.

Maggie is actually a better writer than I am (she proofs every blogpost now) and I hope she gets more involved in writing blogposts.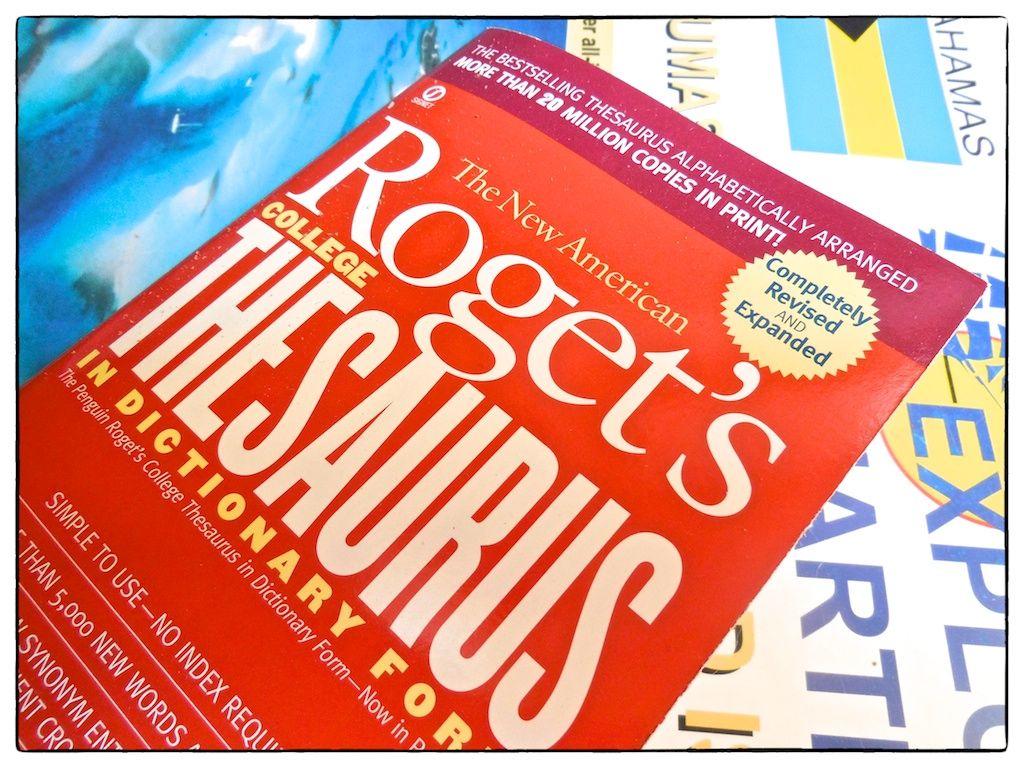 I replaced my hardbound Thesaurus with a (used) paperback version
for cruising--it is smaller and more disposable.
Photography (and lately, clip art) has been a big part of my blogposts. As we begin cruising, photography will have an even larger role in our blogposts. I will be using my trusty old Nikon D300 DSLR, a Nikon COOLPIX (point-and-shoot) camera (which I use on most boat projects), and possibly a new GoPro for underwater and action shots.
I'm now working on our new swim ladder and it will be the subject of our next blogpost. It is one of the most attractive boat projects I've tackled. I think you will agree...
Thanks for following our blog!