2015 U.S. Sailboat Show
--Blogpost written by Bob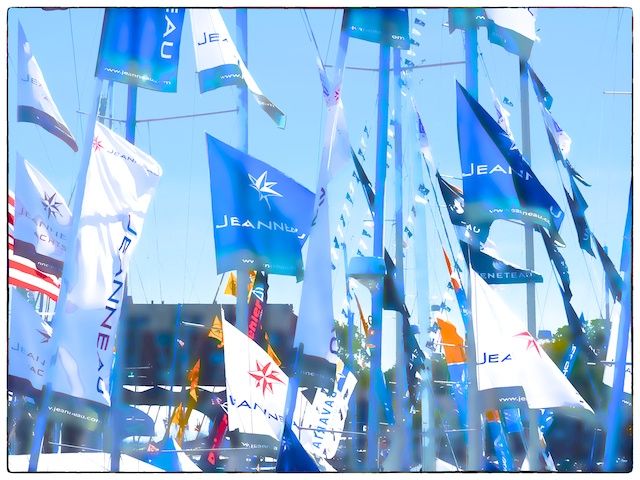 The colorful banners and flags on all the new sailboats is always attractive.
I added a "painted effect" and lightened the image to make it more interesting.
We attended some seminars on Thursday and Friday, visited most of the product booths, and toured a few big boats on Sunday.
Cruising World Seminars
This year, the Cruising World seminars were held at the old Fawcett's building just outside the boat show perimeter.
The Cruising World seminars were held at the old Fawcett's building adjacent
to the show. The location was great on the day you attended the show but
not so great on other days because parking was so far away.
I chose to attend three one-hour seminars:
(1) Thursday @ 12:30 - "How a Sailor Can Conduct a Personal Weather Routing Plan" by Lee Chesneau
This was an excellent presentation on the capability of the National Weather Service and all the data that is available from them free of charge. This information will certainly be useful in our cruising future.
(2) Friday @ 11:45 - "Cruising the Bahamas" by Pam Wall
This turned out to be an interesting presentation but only covered the Abacos.
(3) Friday @ 1 - "The Gulf Stream: A Navigator's Perspective" by Frank Bohlen
While the focus was on the Gulf Stream north of Cape Hatteras, this seminar
provided a lot of good sources of information
and was very enlightening.
Big Sailboats at the Show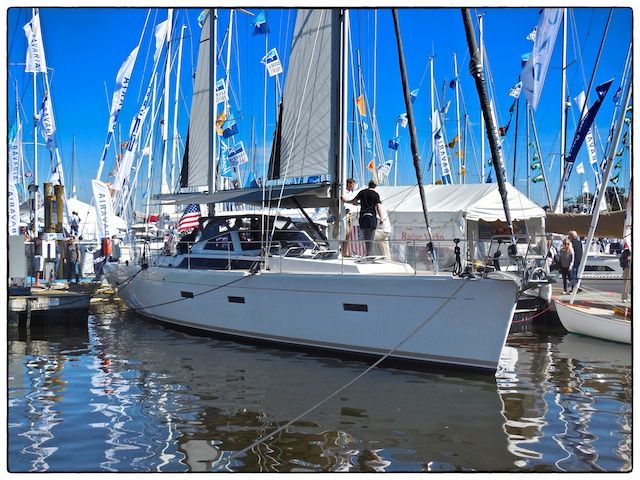 There were many large boats at the show this year, including this Amel 55.
For some reason the much anticipated Hinckley 50 was not at the show.
Summary
I came away from the boat show, thinking about all the large sailboats and their enormous price tags (1 to 3 million dollars) and wondering how any normal person can afford one. It wasn't just because it was the last thing we observed at the boat show--it was the most impressive of all the things at the boat show. Unfortunately, it probably reflects our society today where the wealth is concentrated in the upper 1% of the population.
Thanks for following our blog!