Rainwater Leaks: Part 2 (Bimini)
--Blogpost written by Bob
We've had a lot of rain recently! During one of those rains I watched as the rain actually came through our bimini. It was clearly time to address this leakage before we had to rely on the bimini for weather protection.
We keep our bimini in place all winter with a full enclosure for extra room--the
windows make it like a greenhouse. If we have water leaks from rain or
snow, we really couldn't use the extra space very effectively.
There are at least 3 companies who produce products to restore the water repellency to Sunbrella: MaryKate, Starbrite, and 303 Products.
We chose 303 Fabric Guard because it is recommended
by Sunbrella, the manufacturer of the fabric.
The upper surface area of the bimini is about 48 square feet. For heavy fabrics like Sunbrella, a 16-fluid ounce bottle is expected to cover 45 to 75 square feet, according to the label. We consumed about two-thirds of a 32-ounce bottle of 303 Fabric Guard on the bimini. We are going to use the remainder of the bottle on the main sail cover.
I sprayed the Fabric Guard onto the bimini until it looked wet in the area--it
soaked into the fabric very well. I lifted each solar panel to apply
the Fabric Guard under the solar panels.
This should solve the water leaks coming through the bimini fabric. It is supposed to rain again on Friday!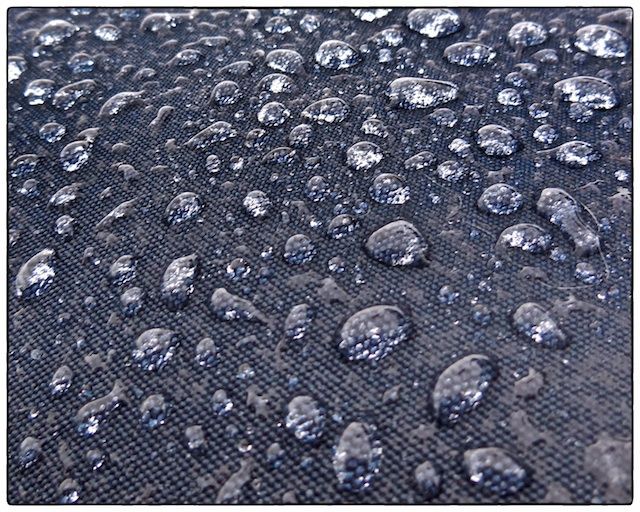 This is a close up view of how the rainwater beads up on the Sunbrella after
using the 303 Fabric Guard. This photo was taken about
three weeks after application.
Thanks for following our blog!