Rainwater Leaks: Part 1
--Blogpost written by Bob
We've been inundated with rain recently and there are a few more days of rain in the forecast as Hurricane Joaquin passes the east coast.
Looking forward thru the front window of our hard dodger during the rain
Heavy rains like we've experienced certainly make leaks more obvious. S/V Rainy Days is generally a pretty dry boat but there are three leaking areas that have my attention right now.
Mast Boot Area Leak
I have never before seen a leak at our mast boot but, sure enough, I have a one now. The water drips off the forward and aft edge of the aluminum frame around the base of the mast as well as down the mast.
Looking downward, the leakage of rainwater is obvious.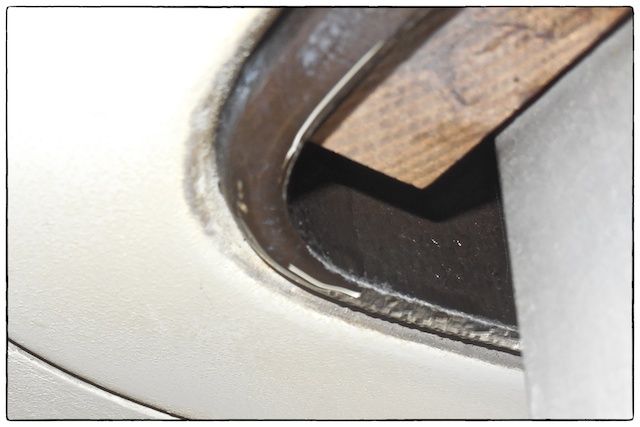 The leak is coming from this collar around the mast penetration in the ceiling.
You can actually see lots of rainwater running down the outside of the mast--I've never seen this before, even during the 10 years that I lived aboard.
Because of the amount of water leaking in this area, this is the highest priority area to be fixed.
Small Leak in Starboard Cabin Top
Every time it rains, we have seen a small leak dripping from an inverted channel (between ceiling panels) in the cabin top onto our settee cushion.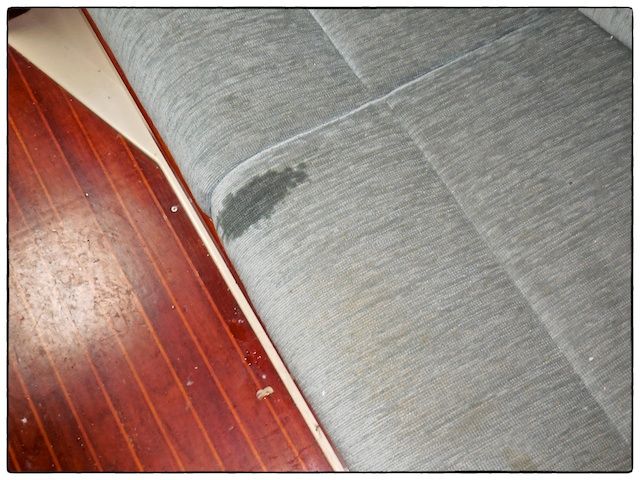 The wet spot on the inboard edge of the starboard settee is an indication of the overhead leak.
It appears that the water enters the area at a different area that it escapes. The escape is easy to identify--its a small teak cover over the internal access to the nuts on the aft bolt of the forward stainless steel handrail.
A drip of water is ready to drop from the teak cover over the aft bolt in the forward handrail.
However, I have pulled the handrail and resealed the bolts and the leak is not originating at the handrail connection holes (or the dorade mounting bolts)--its originating somewhere else. If I seal the escape area, I will merely chase the water damage to another (possibly more critical) area. So, it is important that I find the origin of the leak after the rain stops.
Leaks Thru Bimini Fabric
During one of the recent driving rains, I made a video of the water leaking through our bimini. The inside of our cockpit was very wet.
Fixing this will require applying some waterproofing material to the fabric once the rain finally stops.
I have to wait for the rain to stop to evaluate the source of the leaks. Meanwhile, I will just watch the tide rise, as it nears the tops of the dock...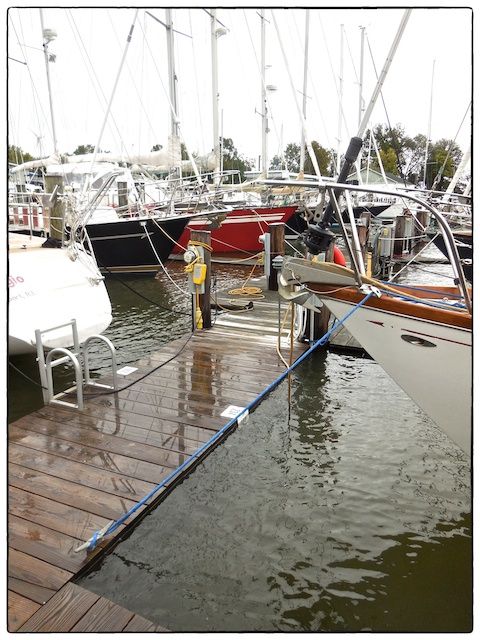 The high tide is just below the dock--this is the highest
I have seen it since Hurricane Isabel.
Thanks for following our blog!