New Sails: Part 1
--Blogpost written by Bob
One of the more expensive projects we've decided to undertake is to get new sails--a mainsail, a 135% self-furling jib, and a colorful cruising spinnaker We have selected Quantum Sails in Annapolis as our sailmaker based on their excellent reputation and some recommendations of other sailors.

The above images show two of the many worn areas on our mainsail--it's 32 years old!.
Our self-furling genoa was purchased as an upgraded replacement for the original 100% and 150% genoa but it was previously a used sail (from Bacon's) and has been repaired after being battered in a storm at night a couple years ago.
During our initial meeting with Quantum we discussed various features to be incorporated into our new sails:
(1) longer teflon-coated slides to make raising the mainsail easier
(2) making the upper two mainsail battens full length for better sail shape
(3) adding second set of reef points in the mainsail
(4) mainsail cloth weight of about 8 to 9 ounces/square yard
(5) dutchman flaking system for the mainsail
(6) foam luff in 135% self furling genoa
(7) red markers sewn into lower sun cover of genoa (at 115%, 100%, and 85%?)
(8) khaki (sunbrella) sun cover on genoa?
(9) dousing sock for (pole-less) cruising chute
(10) existing second halyard will be fine but need attachment point on bow
(11) cruising chute will be designed as "all purpose"
(12) we must determine colors of panels for cruising chute (using samples)
(13) changing mainsail cover to accommodate dutchman flaking system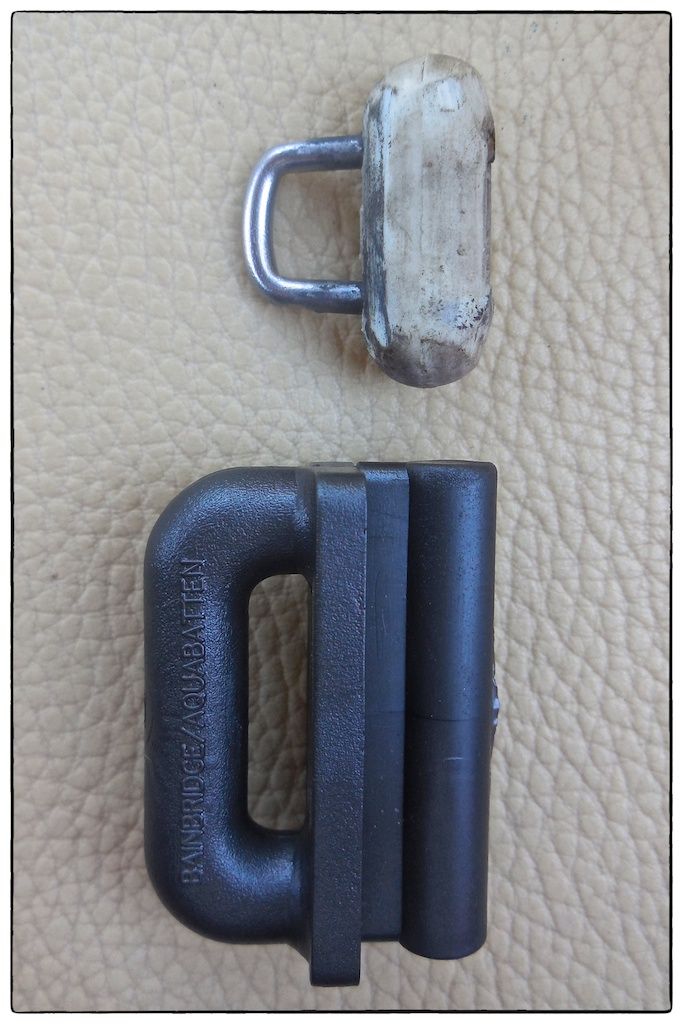 One of our old mainsail slides is on the top of this image while the new, longer,
TEFLON-coated slide is on the bottom of this image. The slides are fastened
to the leading edge of the mainsail and ride in a groove in the aft edge
of the mast. The new slides will be a big improvement!
The first step in this process of getting new sails was for me to remove the old sails so that good measurements can be taken on the boat by the sailmaker in December. It will be the last time I remove these sails (or any sails for the winter). (The new sails will be available in early spring and we will be cruising during the winters after next fall.)
As I recently found out, very few, if any, sails are actually made in the U.S. any longer. Quantum's sails are designed in their Annapolis loft but manufactured in Sri Lanka.
The next step in the process will be for Maggie and I to select the colors for the panels of our new cruising spinnaker.

The spinnaker is the large billowing sail like looks somewhat like a parachute.
It is constructed of very light weight sail cloth and is primarily used for downwind sailing.
(Image courtesy of Quantum Sails)
This is a very exciting project for me! While racers may buy new sails every year, buying all new sails is a once in a lifetime experience for me.
Thanks for following our blog!