Selling More Stuff
--Blogpost written by Bob
As our December 1 closing date on our house nears, we are actively selling most of our furniture that's still in our house. We spent this past weekend selling furniture and packing things and we still have a lot more to go.
We sold our living room and master bedroom furniture to the same individual.
As it was leaving to its new home, I couldn't help but feeling a little sad.


The Buyers of Our Red Shelves
We sold our red shelves from our living room to a young couple who drove from just outside D.C. to pick them up. They arrived in a dark red minivan that had several big dents in it. The couple had a girl who was in second grade and she was quite talkative, like her mother. They also had a very small puppy, about which we got the entire story.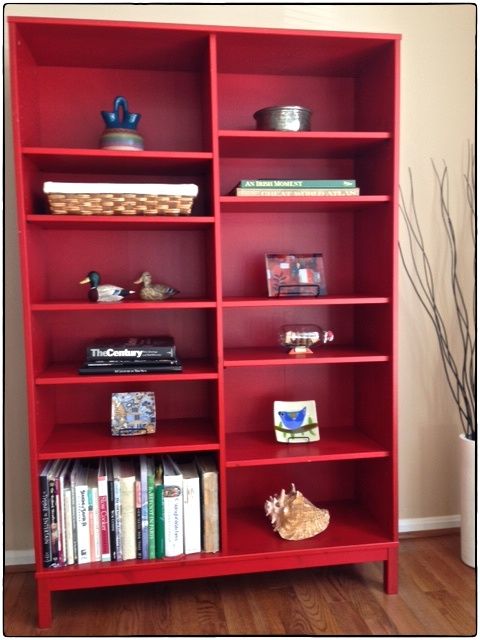 We advertised our red shelves for sale on Craig's List.
Within five minutes of meeting, the petite young woman shared that she had recently had a bad relationship which ended badly and her and her new companion (a chef) planned to be married soon and our red shelves were part of a new beginning for her. It was much more information than we needed. Sure, we wanted to know the shelves were going to a good home but we weren't ready to get all the intimate details of the young woman's life.
We removed the individual shelves and carried the box-like structure outside to load it into their minivan. As the young woman was putting down the seats in the back of the minivan her jeans slid down enough to partially expose a tattoo on her right buttocks. When all the back seats were down we realized that the shelves would not fit inside the minivan and we had to tie them to the roof rack--it took 100 feet of cotton rope from the hardware store down the road to secure them.
As they drove off with our red shelves tied to the roof of their minivan, I couldn't help but wonder if the young woman could ever keep anything secret. Does everything you do have to be shared with everyone you meet?
Two weeks Away: Thanksgiving Week in Bermuda!
As a celebration of the sale of our house we are planning on spending Thanksgiving week vacationing in Bermuda. Of course, we will be flying there and back--not sailing.
We all tend to think of Bermuda as a single island but Bermuda is comprised of
over a hundred islands, only the eight largest islands are connected by causeways.
Thanks for following our blog!