Thanksgiving Week in Bermuda
--Blogpost written by Bob
I have been in Bermuda just once before, many years ago. Bermuda has always been intriguing to me, partly because I'm a sailor and Bermuda is an important waypoint for sailors crossing the Atlantic, and because I love islands.
The last time I was in Bermuda, I spent a lot of time traveling around on a little red moped I called "Skippy"--named after a nerdy high school classmate of mine. After traversing most of the island throughout the week, I came across a hilly coastal area just east of St. George near Flatt's Village where I had this unusual feeling of familiarity, like I lived there before. I have never had this feeling anywhere else.
As our plane takes off from Philadelphia, I try to get in vacation mode. My wrist watch is in my checked duffel bag because I don't want us to be on a schedule of any kind. Our plane lifts off the ground at about a quarter past ten in the morning. I can't help feeling guilty about putting our two cats in a kennel for the week--they are not accustomed to being so confined. The weather forecast for Bermuda does not look good for the coming week: three days of rain and another day with 35 mph winds.
Two hours after takeoff, our plane touches down in sunny Bermuda and we make our way through customs. We hail a taxi to Greene's Guest House in Southampton Parish where we have reservations for the week. Once settled into our room we arrange for a rental scooter for the week. (Tourists can't rent cars in Bermuda and the other alternatives involve taxis or buses.) From the start, our rental scooter (we'll call her "Ethel", like a cranky old aunt) ran rough. After dinner at the Country Squire Pub in Southampton Parish, Ethel decides not to start--a fuel issue of some type. We hail a taxi for a ride back to the guest house. (Also, as it was getting dark, we wonder if we would be able to find our way back--in a way, the fuel issue may be a blessing. Oleander Cycles promptly replaced Ethel first thing the next morning.)
This little red (replacement) scooter we call Molly is our
primary form of transportation for the week.
On Monday, the replacement scooter ran fine and the sun was out--it was about 75 degrees! We used Molly (the replacement scooter) for the long ride to St. George for the day. Soon after we arrive it starts to drizzle, despite the forecast of zero chance of rain today. We had Bermuda fish chowder for lunch--it's very spicy! The drizzle turns into a downpour as we leave the historic little town. The rain continues for the remainder of the day, raining very hard at times. I don't think I have ever been so thoroughly wet without swimming.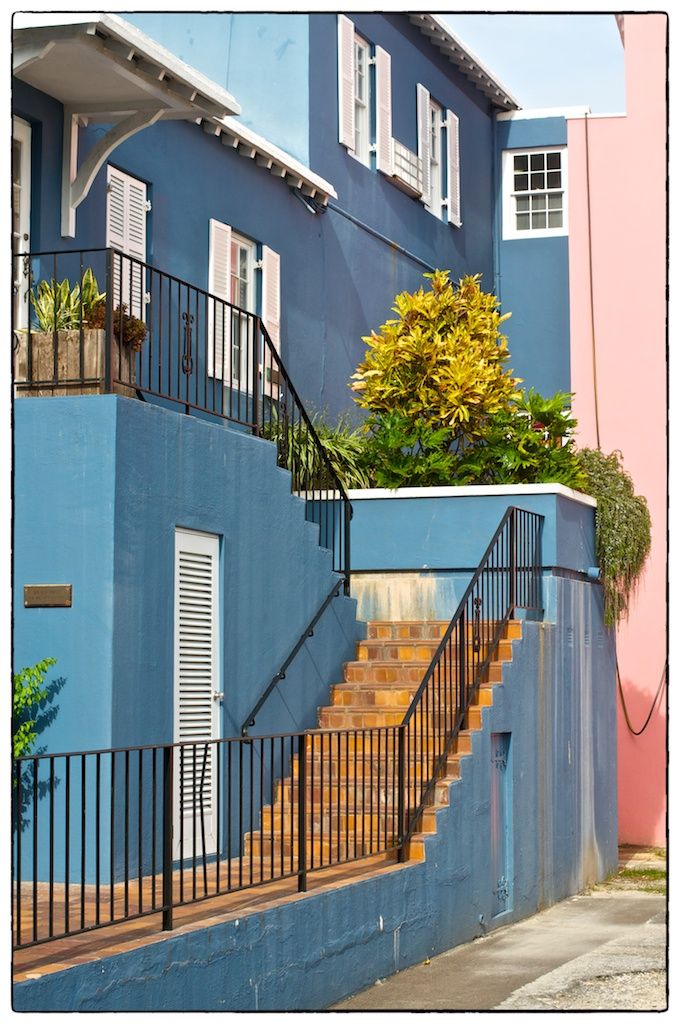 One of the many colorful buildings in St. George.
On Tuesday morning in better weather we travel by scooter to the Royal Navy Dockyard to meet the 9:30 AM ferry to Hamilton. The ferry is a modern aluminum catamaran which has a capacity of possibly 150 passengers or more--only about a dozen passengers are on board for this late-morning trip into Hamilton. (Most people who live in the outlying parishes use the ferry system to go to work in Hamilton.)
Shortly after we arrive in Hamilton by ferry, we have lattes in a cute
little cafe (called Common Ground) on an alley off of Front Street.
This image is the stairway in the alley just outside the cafe.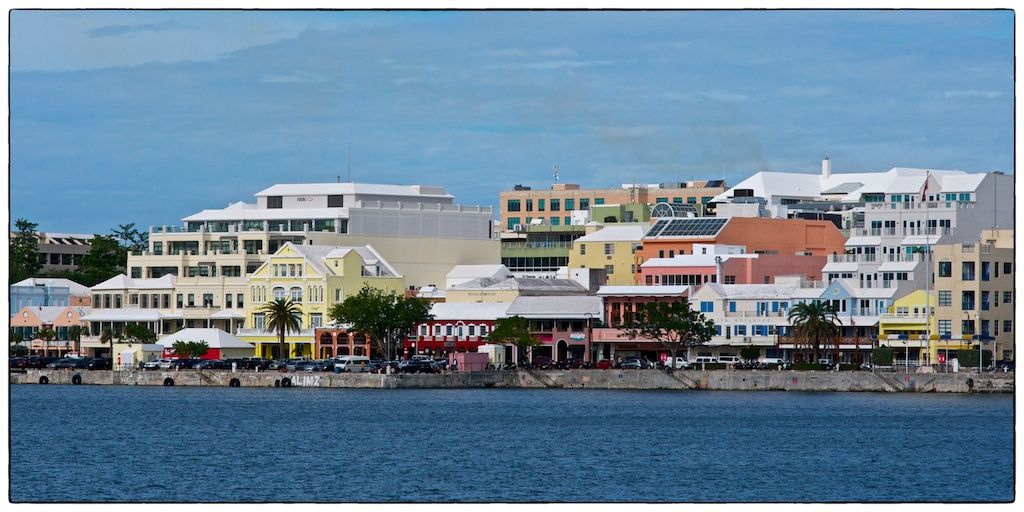 A photograph of Front Street taken from across the harbor on Harbour Road.
As we board the return ferry, a team member of the Oracle (USA) sailing team boards the ferry to the Dockyard. He is tall and very athletic--almost like a professional football player. He is training for the America's Cup races which will be held here in Bermuda in 2017, over a year away. He mentions that they are training on a 45-foot replica of the sailboats they will actually race.
Maggie on Horseshoe Bay Beach--one of the top 5 beaches in Bermuda.
According to Fodor's the top 5 beaches in Bermuda are Elbow Beach,
Warwick Long Bay, Chaplin Bay, Horseshoe Bay, and Church Bay.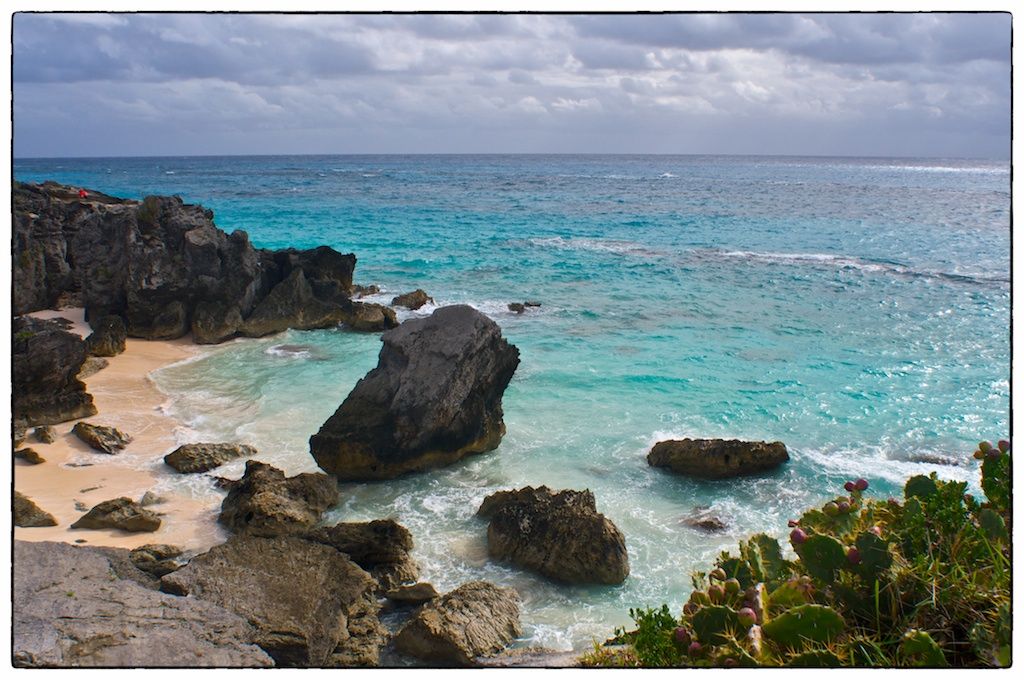 Another beautiful beach scene along the South Road. I think this was Astwood Park.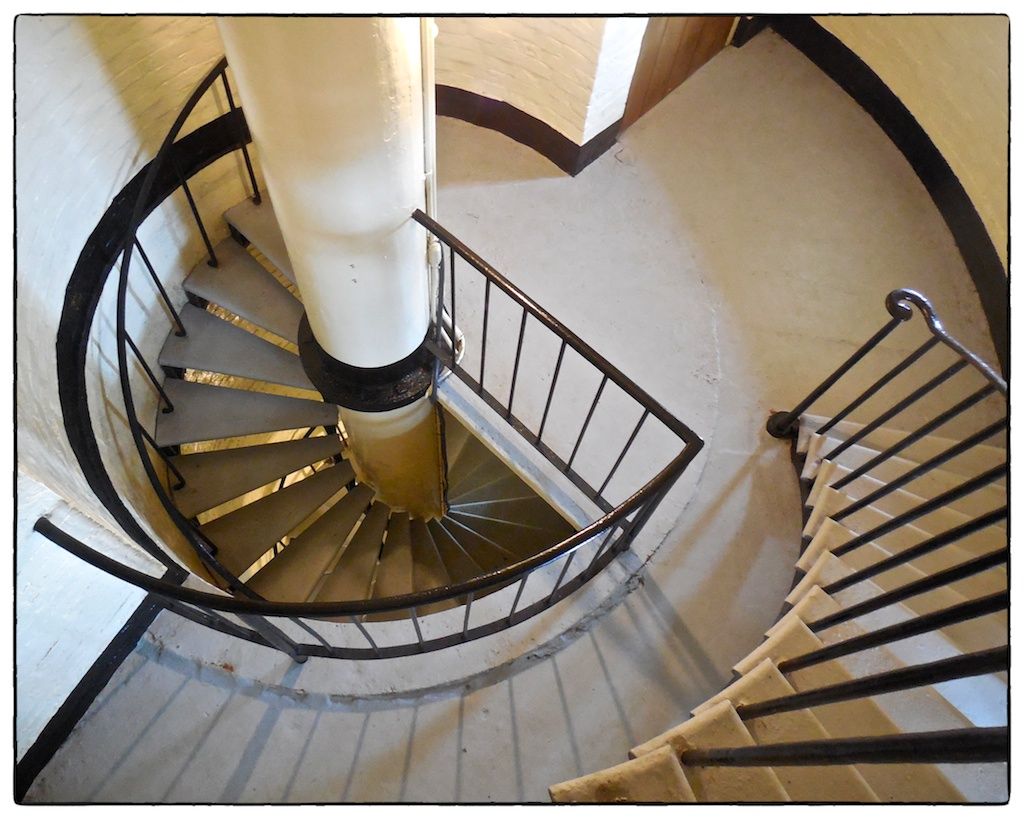 We climb Gibb's Hill Lighthouse (all 185 steps!) thursday morning while it is raining
very hard outside. Even though the lighthouse operation is completely
computerized, the present lighthouse keeper has been
on the job for the past 15 years.
On Friday, the weather starts out kind of gloomy but turns into a beautiful warm sunny day. We spend the morning in Hamilton and the afternoon at Horseshoe Bay Beach to finish our one-week vacation in Bermuda.
Our week's vacation is over today (Saturday) and we're sitting in the very small Bermuda
International Airport wondering when we will be able to come back to Bermuda again.
Thanks for following our blog!