New Firefly Oasis Batteries
-- Blogpost written by Bob
Two of our four onboard batteries are older than the other two and we decided to upgrade the two oldest ones before we leave to go cruising in October.

For the last 15 years or so, we have had AGM (Amalgamated Glass Mat) batteries and we like them.

One battery bank (the one with the oldest batteries) is on the port side of the engine under the quarter berth--it is very difficult to access.

AGM batteries are sealed and relatively maintenance-free--this makes access less of an issue.

A new type of AGM battery has come on the market and we will be putting them to the test on one battery bank of s/v Rainy Days.

(Our intention is to replace the newer batteries in the other battery bank with these new batteries in a couple years.)

The new Group 31 batteries each weigh 75 pounds. It is quite a task
(for an older guy) getting them from the floating dock, up onto the
boat's deck, down into the cabin, and under the quarter berth.
About the New Battery
The key ingredient in the new AGM battery is carbon foam current collectors (U.S. Patent #6,979,513) which dramatically increase the surface area within the battery.

This results in greater energy capacity, faster recharges, and deeper discharge capability.
This new battery will last over 3600 cycles at 50% depth of discharge--this means a life greater than 10 years at one 50% discharge cycle per day.

We don't normally allow our batteries to discharge quite that deeply but it is nice knowing we have the additional capability.
The new Firefly Oasis batteries are only available in Group 31 size for now. I purchased these two batteries from Coastal Climate Control in Bowie, Maryland.
About the Battery Maker
According to Firefly's website "Firefly's revolutionary battery technology was originally developed at the Research and Development laboratory of
CATERPILLAR
, Inc., a world-renowned manufacturer of heavy equipment, with significant internal investments and funding from major financial institutions.
When
CATERPILLAR
made a decision to shed its non-core equipment businesses in 2010, Firefly International Energy Co. acquired the technology along with all the existing patents, manufacturing equipment and key personnel.
With new investments, the company is now internally manufacturing the patented Microcell Carbon Foam, the key ingredient in the new revolutionary battery, at a fraction of the cost.
The company has also set up a large scale, world class manufacturing facility in India under a licensing arrangement.

The company's world headquarters are located at its original location in Peoria. Illinois, where R&D, process development and product customization are carried out.

Finished product inventory is maintained at the ware houses in Peoria, Illinois."
Installation
First, the old Group 27 batteries had to be removed.

They were placed on the floor in the main salon until I could deal with their disposal.

(They were later donated to the marina to use in their golf carts.)
At this point one of the two old batteries have been removed.
I was replacing Group 27 batteries which are only slightly smaller.
The battery holders were for Group 27--I had to cut off the lip on one end of each battery tray so that the Group 31 battery would fit.
Also, the Group 31 batteries are about 1.4 inches taller than the old Group 27 batteries--this means I had to make longer hold down bolts using 3/8-inch diameter stainless steel all-thread to replace the standard polymer bolts that came with the battery holders.
At this point, both new batteries are in place. You can see the long stainless steel
hold-down bolts I made from all-thread. I used two jam nuts locked
against each other to form a nut on the lower
end. I used wing nuts on the upper end.
While we had everything in this area apart we replaced all the old battery cables which were 4-gauge un-tinned cable with new (larger) 2-gauge tinned cable.
Apart from the fact that the batteries were heavy and difficult to maneuver into position, the installation went fairly well.
Both new batteries are in place at this point but
cables were not yet installed.
Summary
If all goes well, we won't be replacing these batteries for another 10 years or more.

At that time, I don't think my back could take lifting and maneuvering them around.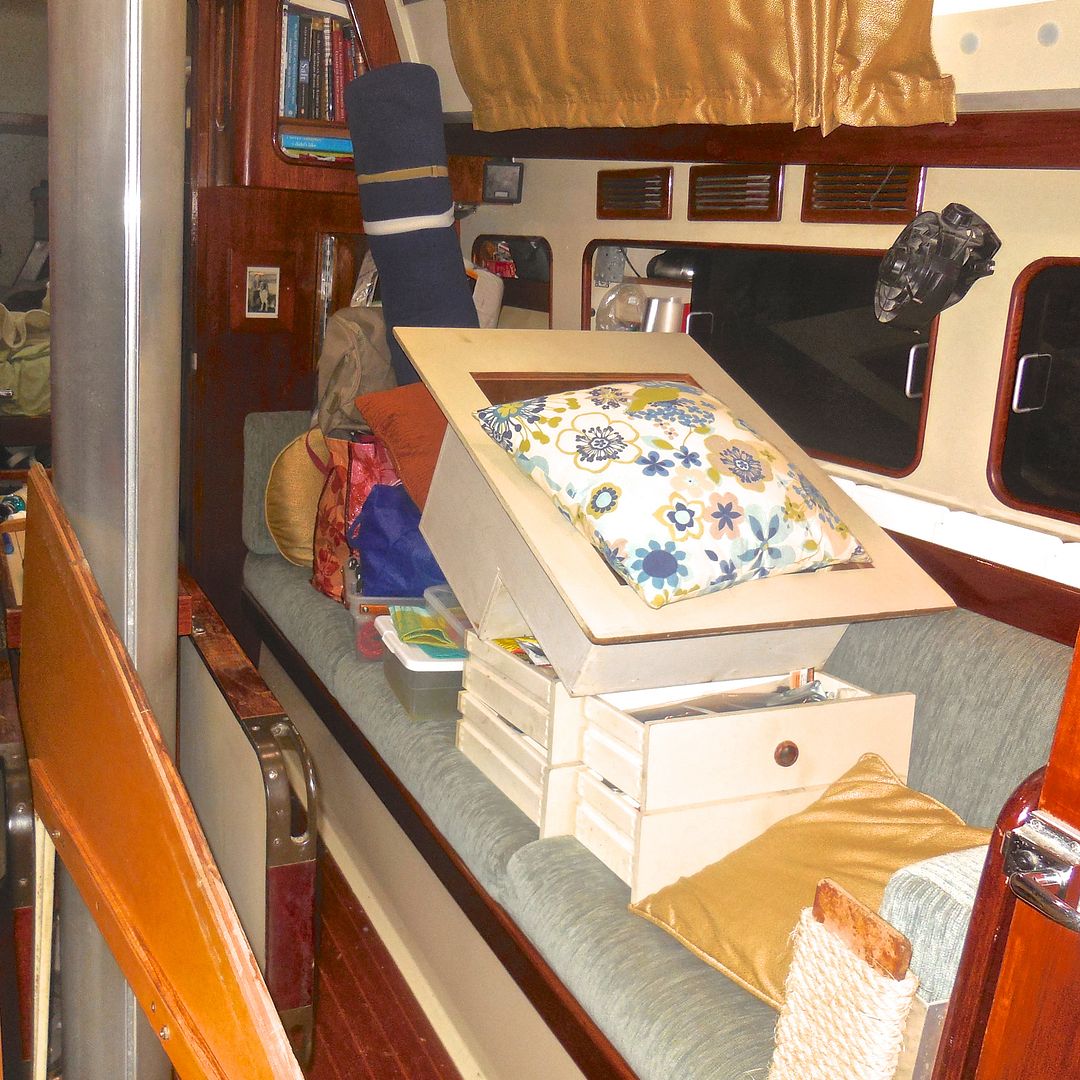 This is the mess in our main salon while we were working on the battery change outs.
Everything from the quarter berth plus all the drawers and panels from next to the
companionway had tp reside in the main salon during this work.
Thankfully, it is all back to normal now.
Thanks for following our blog!