2016 Month-long Sailing Trip - Part 9
--Blogpost written by Bob
In this blogpost we'll describe our morning in Whitehall Bay and the following three days we spent in Annapolis.
Tuesday, July 12
When we went to bed, we had a nice 5-knot breeze out of the south.

At midnight the wind stopped completely and the humid air condensed on almost anything and everything.

(I was sleeping on the bow at that point.)

Sometime later the wind picked up again and we experienced a rolling motion that made it difficult sleeping.

In the early morning the 5-knot southerly breeze returned and we could sleep again but the interrupted sleep pattern left us feeling tired and cranky.
S/V Rainy Days is anchored is Whitehall Bay.
After a breakfast onboard (quiche), we explored Meredith Creek off of Whitehall Bay in the dinghy.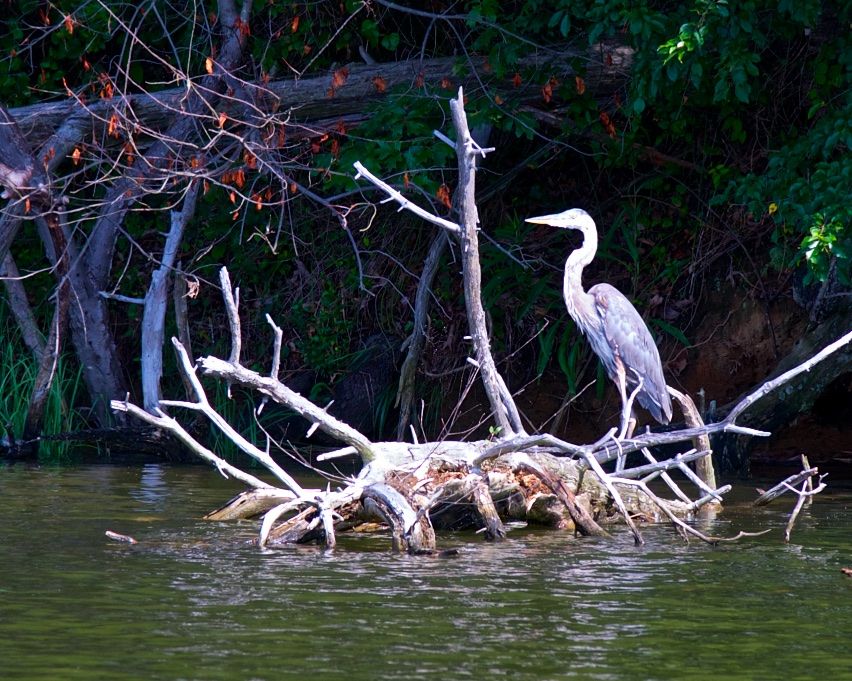 We saw about four great blue herons during our dinghy excursion up
this beautiful creek--they nest in the trees lining the creek.
This large brick home overlooks Whitehall Bay and is
located at the mouth of Meredith Creek.
About mid-morning we motored the short distance into Annapolis so we were sure to get a mooring ball.
As we get close to Annapolis, you can see why this beautiful town is a Mecca for sailors from all over the world.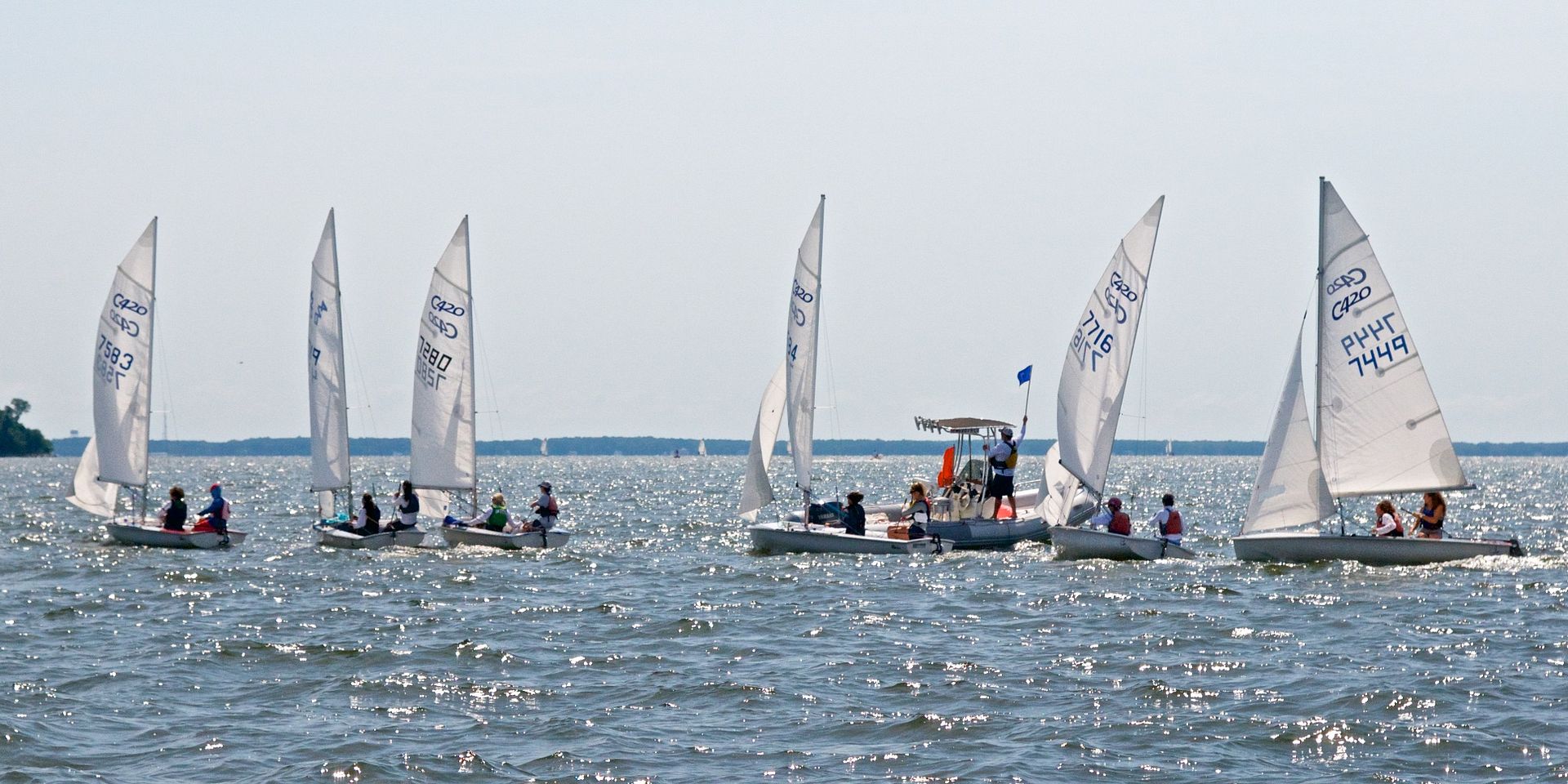 We motored through a sailboat race coming into Annapolis
Harbor--this was a Tuesday morning!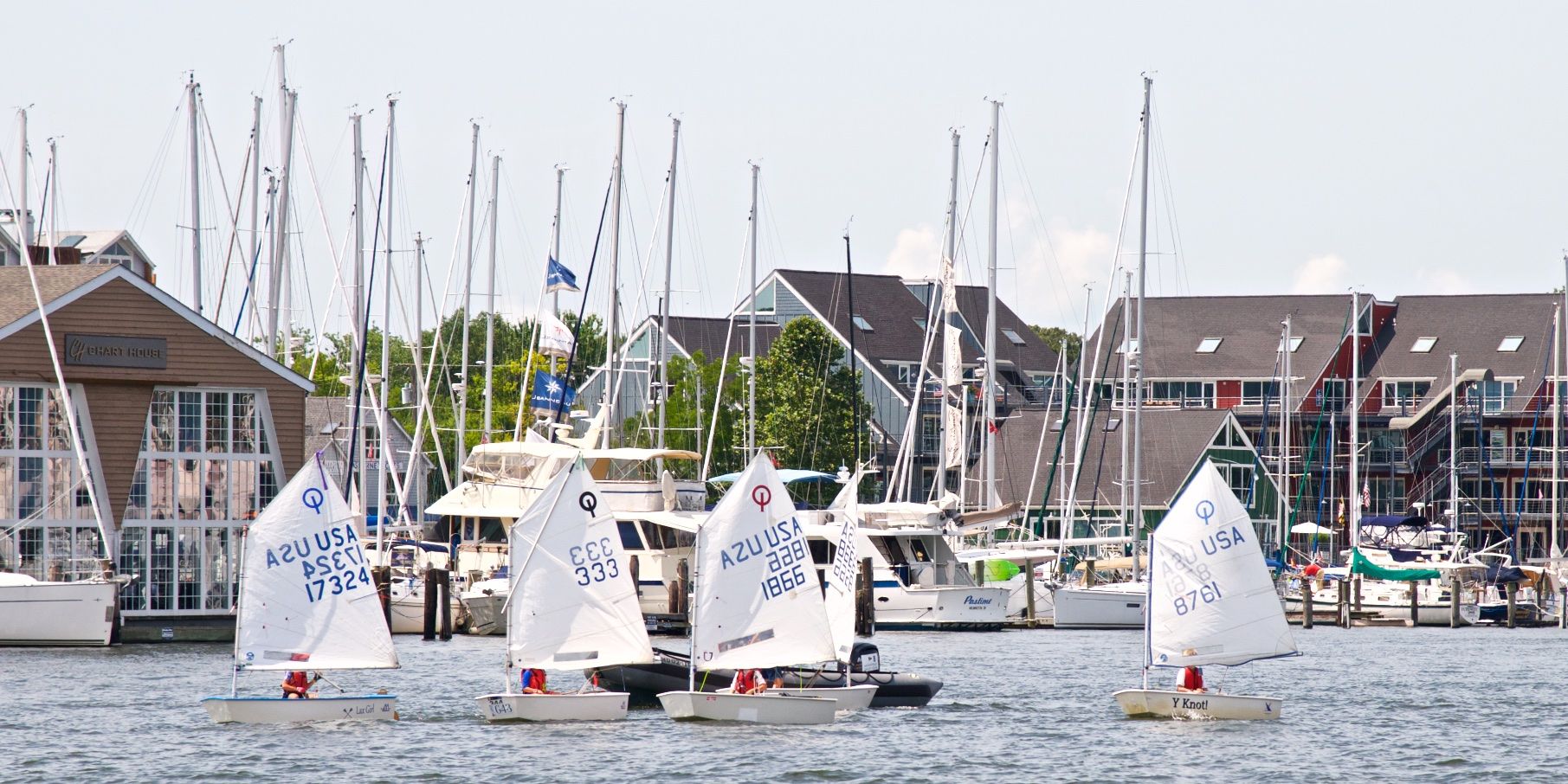 I couldn't believe all the sailboats sailing on a Tuesday morning around
Annapolis. These are some Opti's that are sailed in sailing camps.
We went into town and walked around and soon got the idea to get some more decals for on our outboard motor--we actually bought several and had a couple given to us as promotions for sunglasses.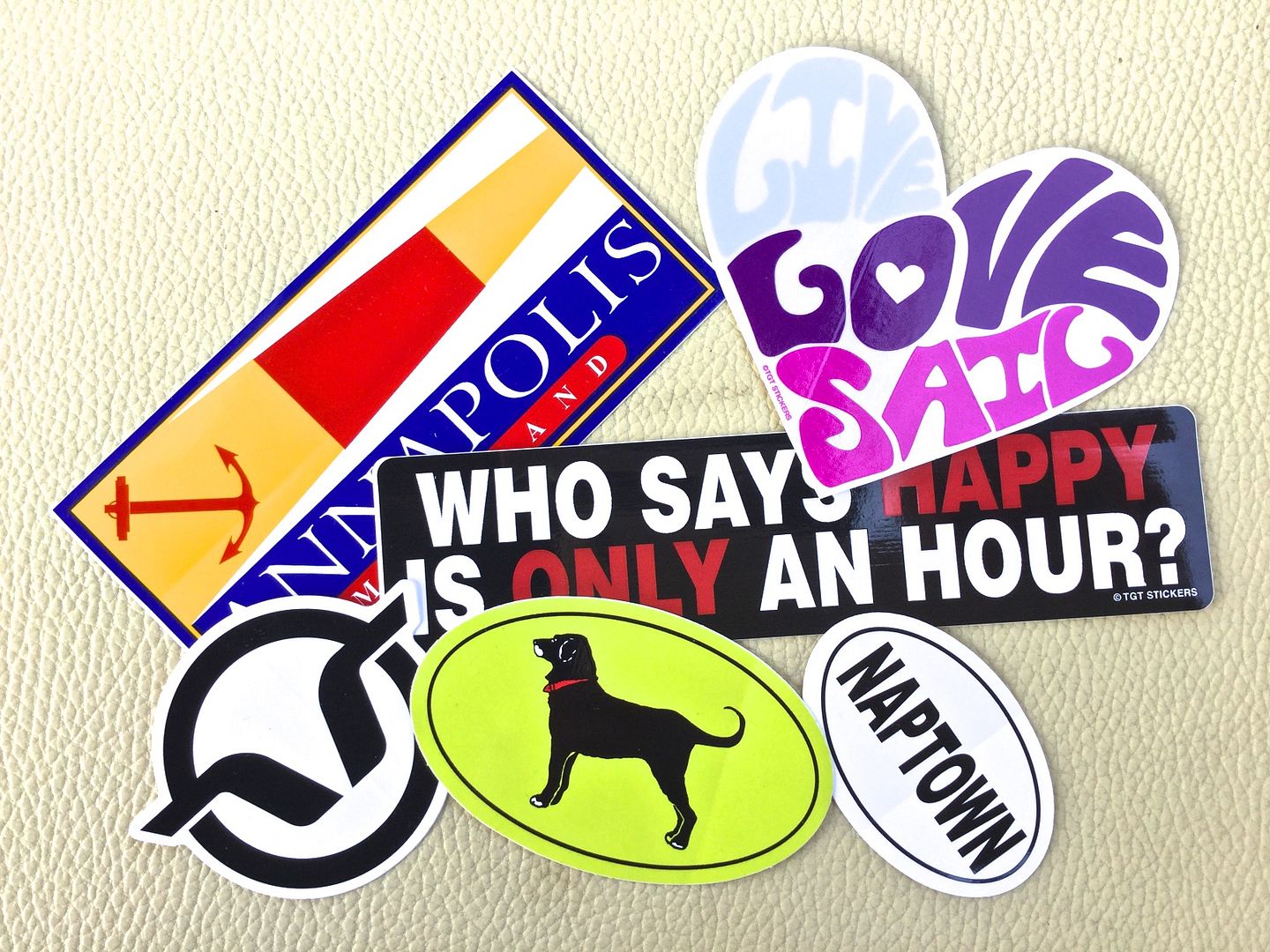 We got eight more decals for on our outboard motor
and we still have room for more.
Tired from our interrupted sleep the night before, we read a little in the cockpit and had dinner onboard.
Wednesday, July 13
We spent today rather leisurely, having a light breakfast at City Dock Cafe, doing some shopping for deals at the Sperry store, and had a terrific lunch at Carroll's Creek Cafe in Eastport
. We came back to the boat and read in the afternoon as some thunderstorms rolled through the harbor.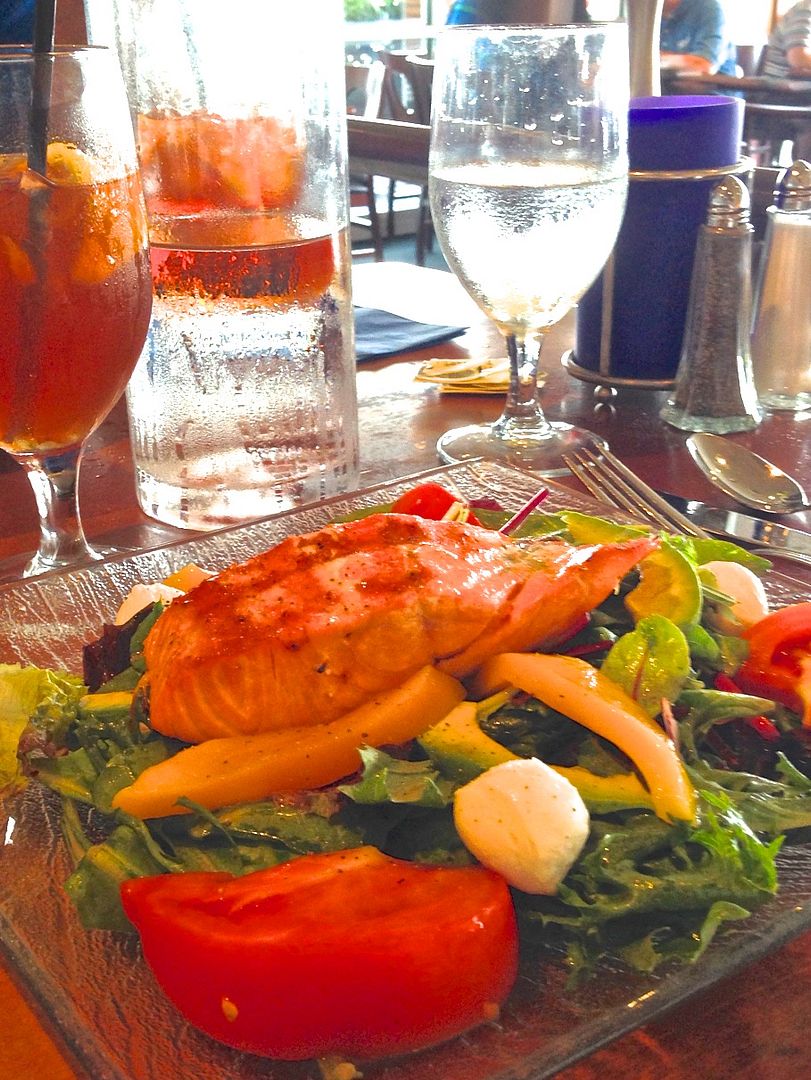 Maggie had grilled salmon over mixed greens with tomatoes and
raspberry vinaigrette dressing for lunch at
Carroll's Creek Cafe in Eastport.
Maggie reads a book on her Kindle as thunderstorms
roll through the harbor in the afternoon.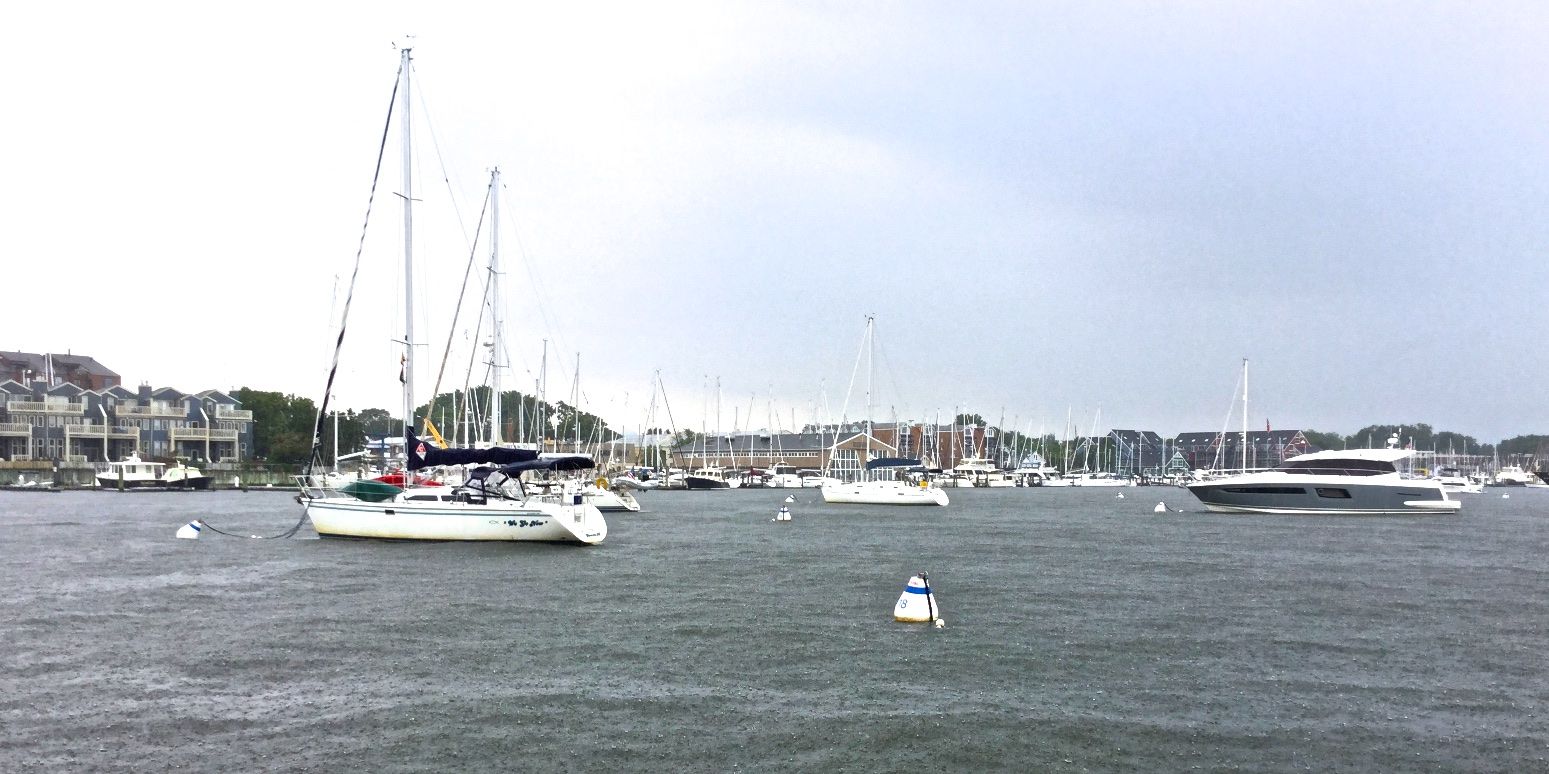 Late in the afternoon, the rain pelted the surface of the Annapolis harbor
as we continued to read in our nice dry cockpit. Even though there
was occasional thunder in the distance, the
rain was steady and refreshing.
Thursday, July 14
Today's heat and humidity (96 degrees F but feels like 118 degrees F) was too much to do much of anything. We went into City Dock Cafe for breakfast and had showers early in the morning. We took the dinghy to the Fifth Street dinghy landing and walked to Palate Pleasers in the Eastport Shopping Center to get some things for a light dinner with friends tonite. We lounged on the boat and read most of the afternoon.
Summary
We are headed back to Hartge's Yacht Harbor in Galesville and take a slip for a couple days. We'll use the time to work on some boat projects before taking our boat around the peninsula to Hartge's Yacht Yard for the week. This is officially the end of our month-long sailing trip, although we will do some more cruising after the repairs on our boat are completed next week.
Thanks for following our blog!