2016 Month-long Sailing Trip - Part 8
--Blogpost written by Bob
The weather for the last several days has been very hot and humid.

The typical afternoon thunderstorms have not made much of a difference.

We pulled into Galesville as a short break in our travels to run some errands and tackle a few little nagging boat projects.
Saturday, July 9
After a couple nights of very little sleep on moorings because of the heat and
humidity, we were so glad to tie up to a work dock (and pay slip rates) at
Hartge's Yacht Harbor to plug into shore power and fire up our
onboard air conditioner. All 16,000 Btu's
were really appreciated.
We had a light breakfast with other sailors at the marina's Saturday morning
"coffee and donuts". There was a light turnout at the marina this
weekend because of the hot and humid weather.
We ran some errands in the morning (since we left our car here) and worked on some small boat projects in the afternoon.
One of the projects we accomplished was cleaning the inlet grill on the fridge's compressor, thinking this may be impacting on the fridge's performance.
We removed some dust from it with a whisk broom--it was a minor very small amount of dust.
(
Of course, to get access to the compressor required tearing apart the forward half of the quarter berth.")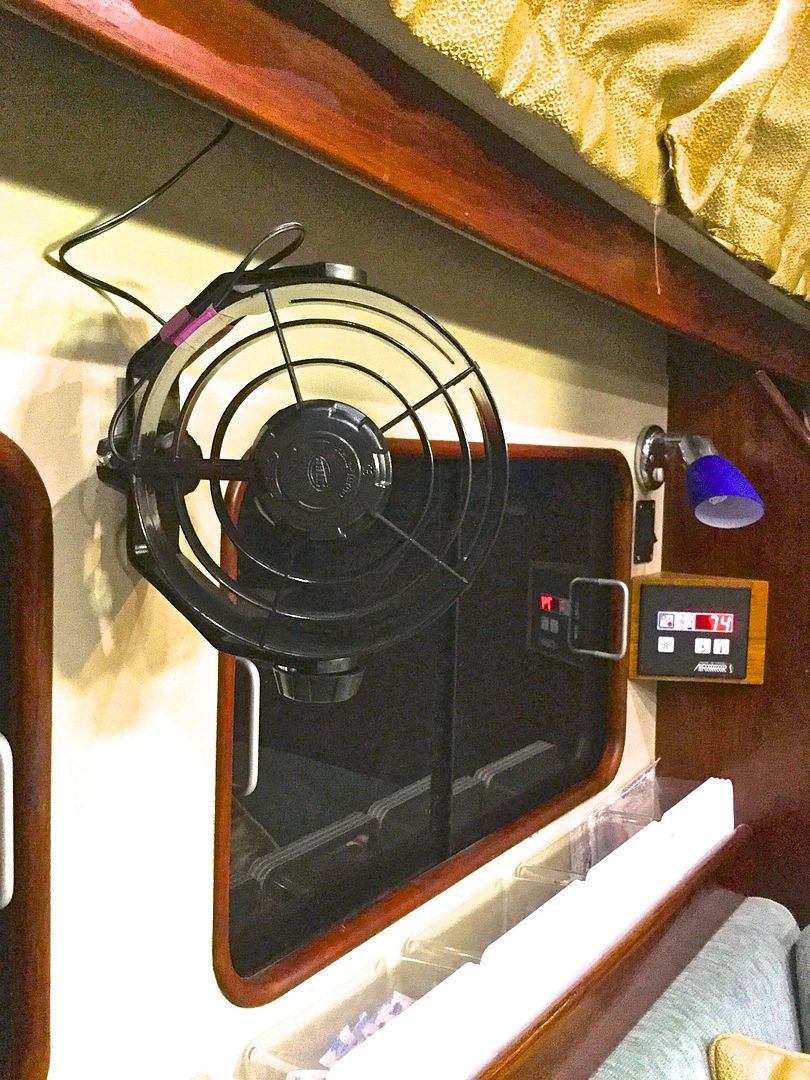 One of the things we accomplished was the replacement of a failed fan on the starboard
side of the main salon. We have several of these 2-speed Hella-brand
fans throughout the boat. They move a lot of air
with minimal power requirements.
We had a delightful dinner at Pirate's Cove in Galesville.
Sunday, July 10
The hot and humid weather finally broke as a cold front moved in overnight.

We had a leisurely breakfast onboard and showered in the marina's new bathroom facilities.
We read most of the morning and just relaxed.
Just before noon, we drove to our storage unit just south of Annapolis to drop off two bags of clothing for cool weather and to pick up another bag that contained some wire we need in the next couple days.

Then, we went to Paladar for lunch.

Maggie was given a gift card for Paladar when she retired and we wanted to use it before we forgot about it.
The blackened fish tacos at Paladar in Annapolis Towne Center are the
best I have ever eaten (and the prettiest). They are
accompanied by black beans and rice.
Later in the afternoon we decided to focus our attention on the dinghy.
We heard that in the Bahamas there have been a lot of thefts of outboard motors.
To deter thieves from stealing our brand new outboard motor, we decided to apply a lot of decals to the exterior to make it looked well used and not worth stealing.
We are placing decals all over our brand new outboard engine to deter thieves.
At this point we haven't added enough to make the outboard
look well used--we have more to add and
this is a work in progress.
Monday, July 11
During our sailing trip I was concerned about the painter (dinghy's tow line) wearing at the point of attachment to the aluminum lug on the bow of the dinghy.
When I untied the dinghy painter this is the wear that occurred
at the aluminum lug in just one month.
I aded a stainless steel D shackle between the dinghy's aluminum towing lug
and the dinghy painter. This practically eliminates wear on the rope.
About mid-afternoon we motor sailed toward Whitehall Bay just north of Annapolis--this is one of our favorite anchorages. The skies were very clear and the winds were light out of the southeast. It was a pleasure being out on the water again and underway after a little break.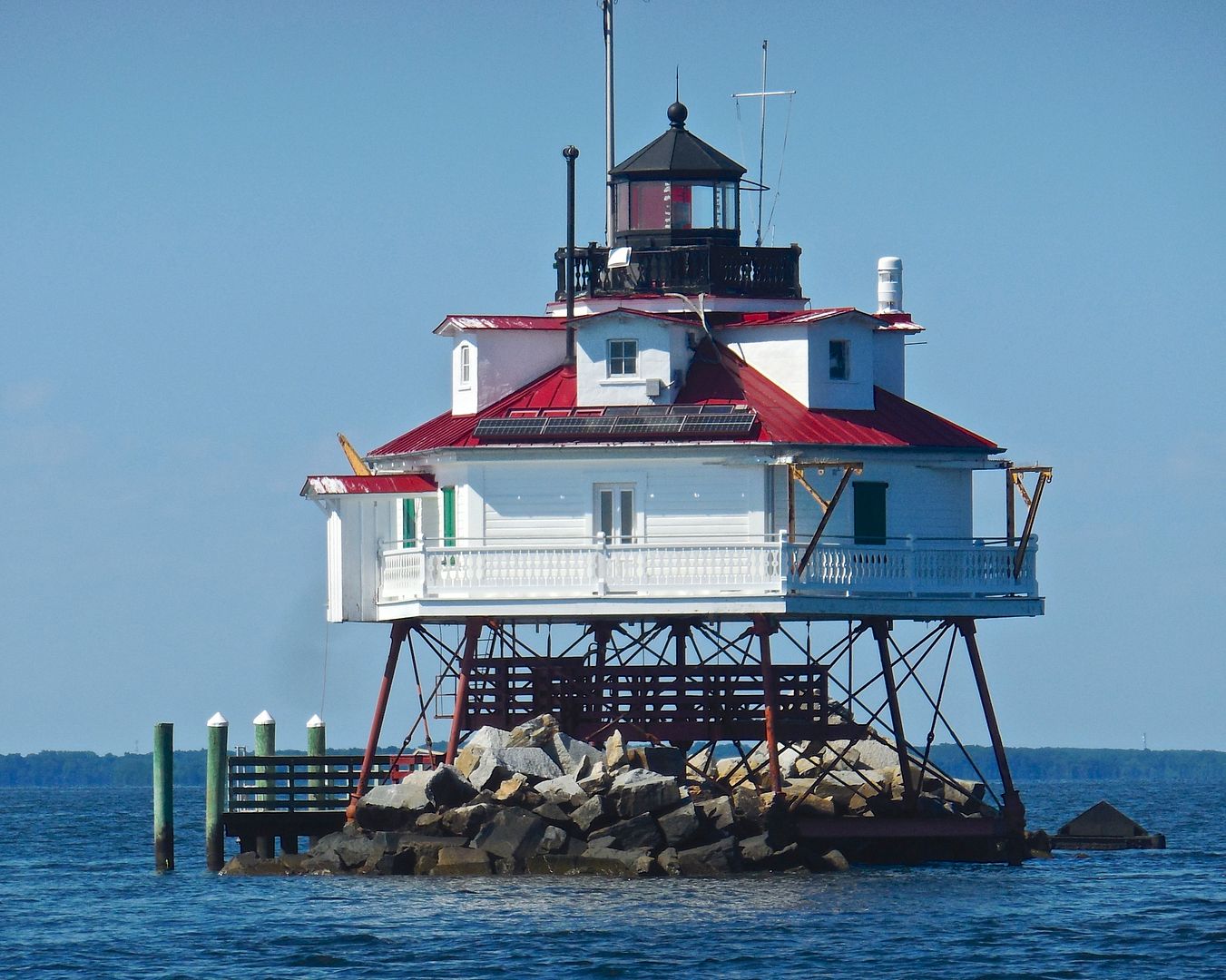 We can't go past Thomas Point Light without taking a photograph.
As we set our anchor in Whitehall Bay there were only three other boats anchored
in this little bay despite its close proximity to Annapolis. Whitehall Bay is
exposed to the south but well protected in other directions.
We cooked dinner on the grill (marinated pork chops, corn-on-the-cob, and cucumber salad).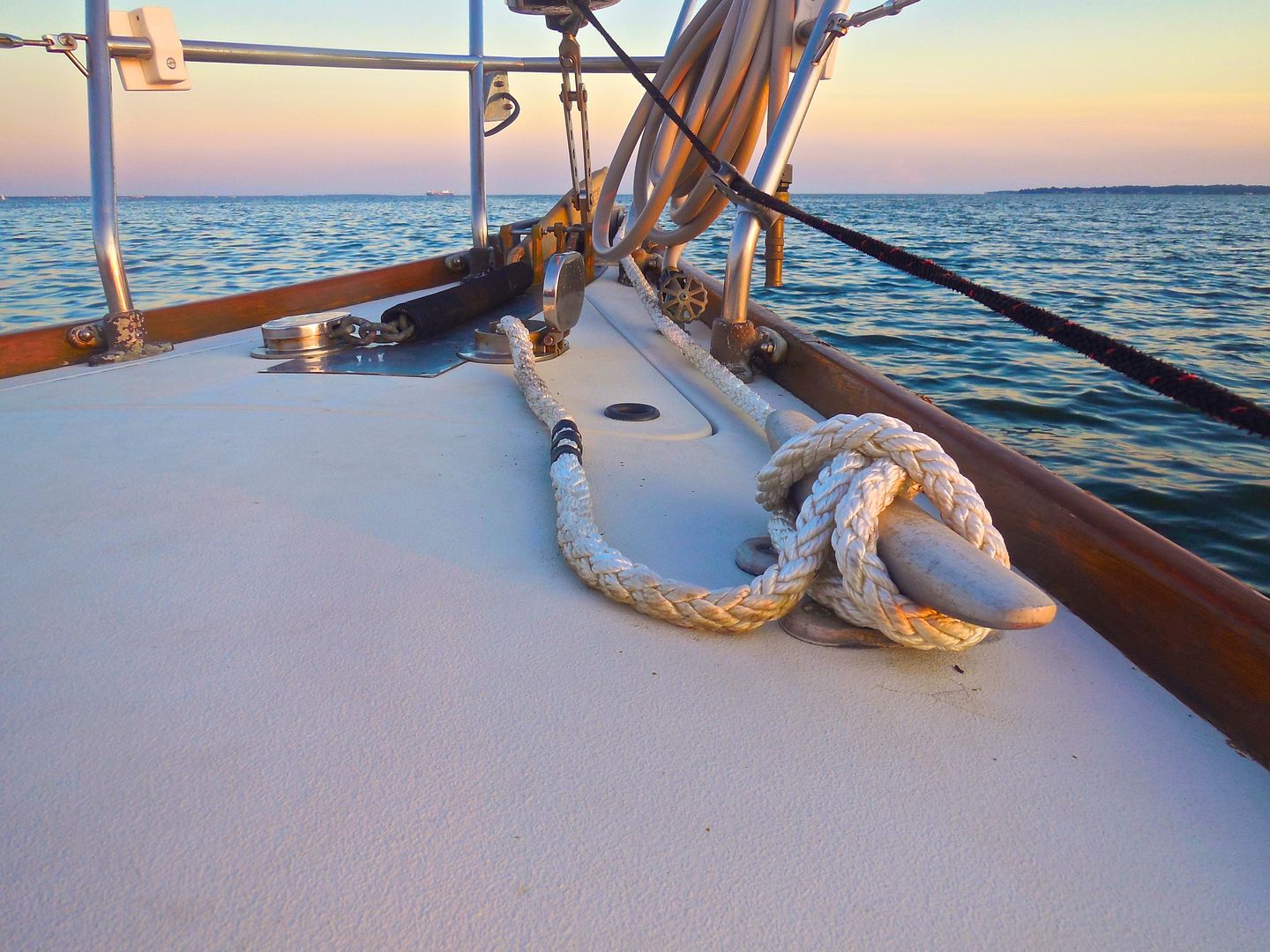 As the sun was setting, I realized that this will be one of the last times we
anchor without a windlass. Our new windlass has been delivered
at our boatyard and will be installed next week. This
photograph is looking south out of Whitehall
Bay into the Chesapeake Bay.
Summary
This week is technically the last week of our month-long sailing trip. We go from here to Annapolis, where we will be taking a mooring buoy for three days. We will be spending next week at Hartge's Yacht Yard again to have our windlass installed and having the cracks in our lower spreaders welded. After that we plan to leisurely head back to Baltimore, via Still Pond and possibly Rock Hall where we will thoroughly test our new windlass.
We only have 80 days until we leave to head south again!
Thanks for following our blog!