2016 Month-long Sailing Trip - Part 7
--Blogpost written by Bob
In this blogpost, we describe our travels from Crisfield to Solomon's Island and then onto Galesville.

At Galesville, we will take a 2 or 3 day break before continuing.
Wednesday, July 6
We were awake early and departed Somers Cove Marina in Crisfield by 7 AM
under overcast skies. After getting through the channel from Crisfield,
we motored northward on Tangier Sound. There was about 2 knots
of wind on our nose so this looks like a day of motoring.
This image is from our chart plotter as we approach Kedge's Strait. The red X's are
waypoints and the red X with the box around it is our current waypoint. Our
chart plotter is used like a GPS in a car except that there are no roads
to follow and we must plot our course around
obstacles and water depths.
Kedge's Strait is just north of Smith Island--it is a relatively deep water passage through
a line of low-lying islands and sand bars. The depth through Kedge's Strait is
about 15 feet. This lighthouse is the first of two points of interest on the leg
of our trip. At this point the skies were so overcast that you could
barely distinguish between the sky and the water.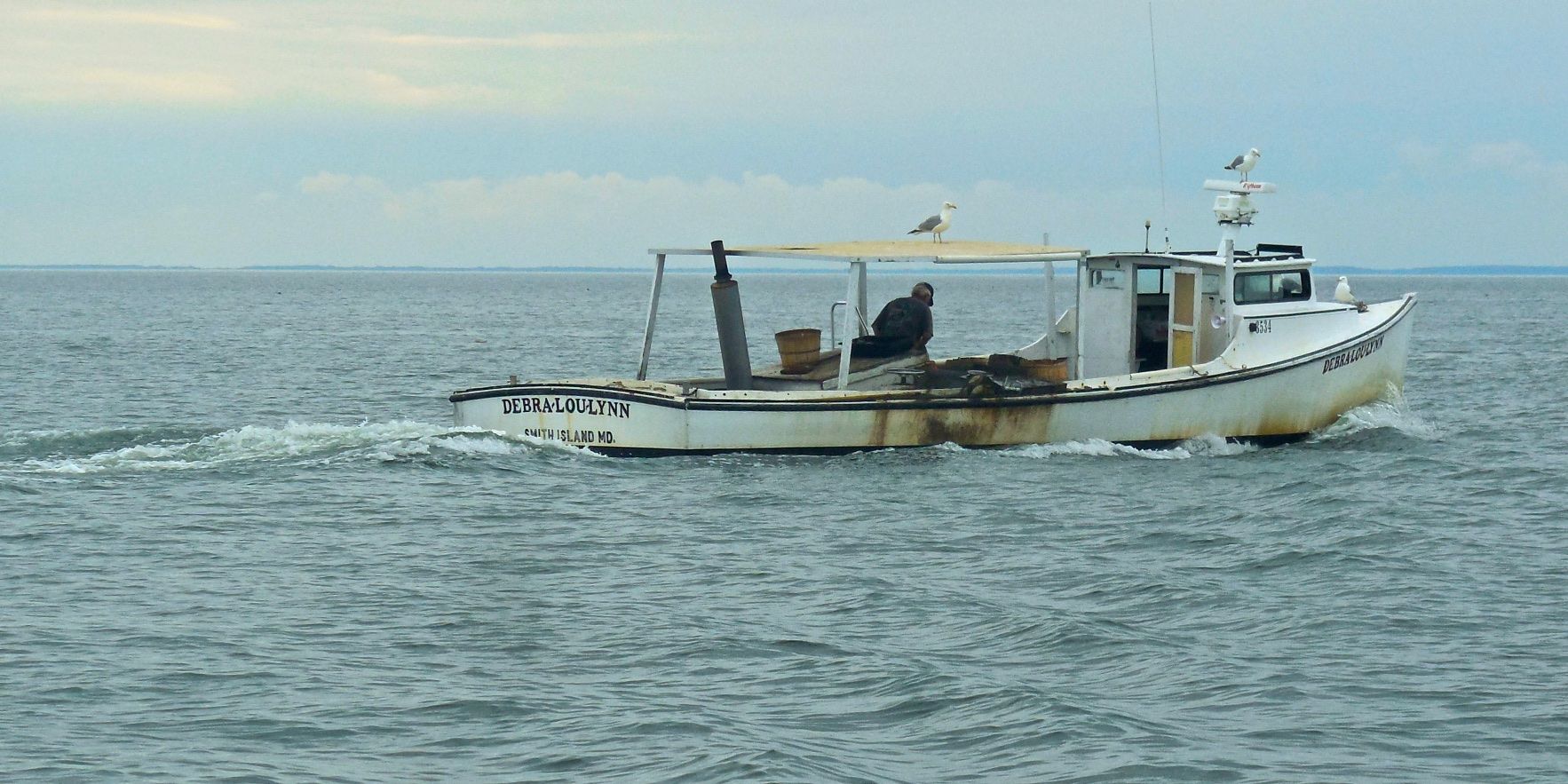 This is one of many work boats we saw as we traveled through this area.
This one was from Smith Island. The name of the boat is
probably the first names of his three daughters.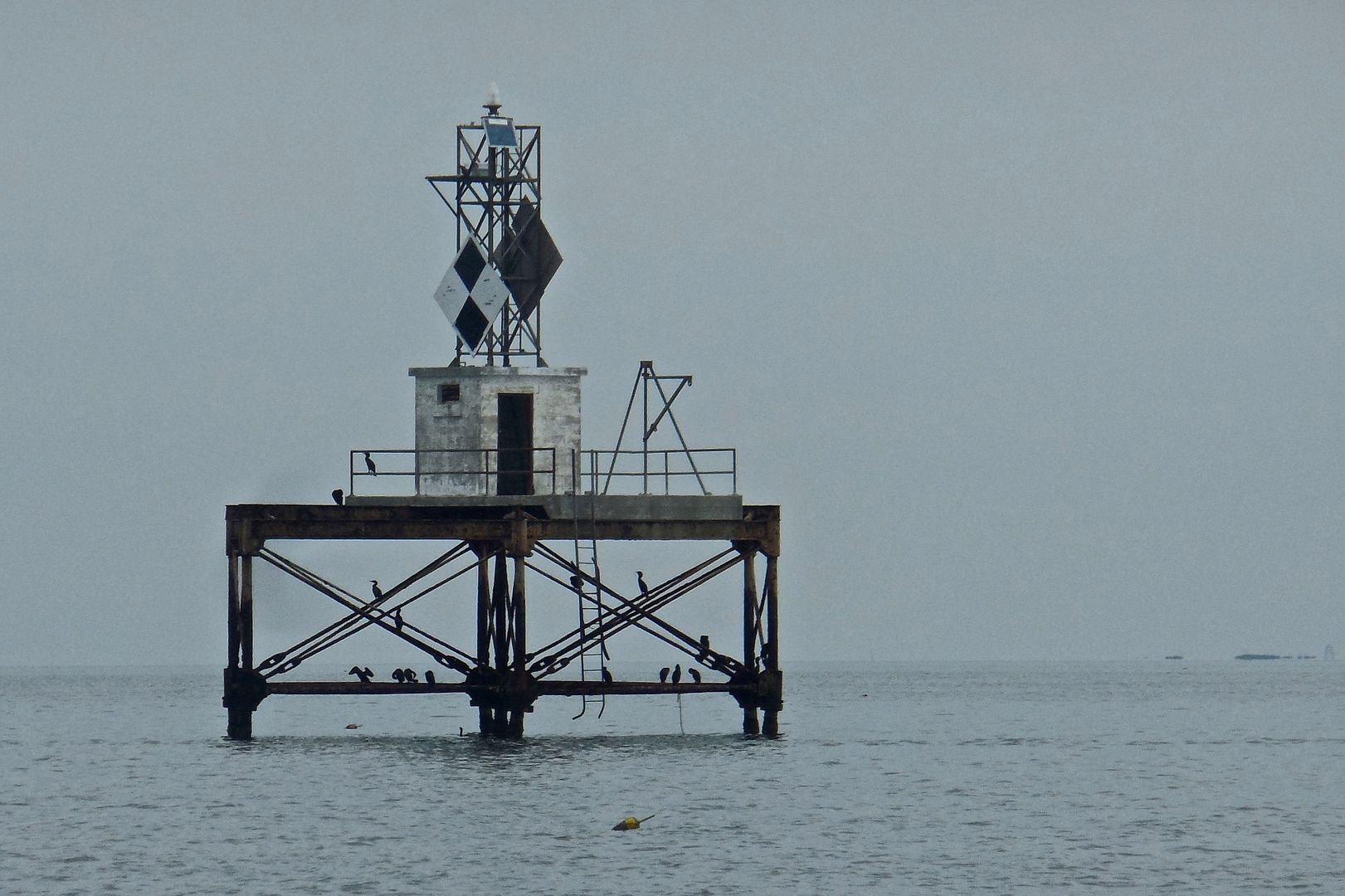 Holland Island Bar Light is the second point of interest on this leg of our trip. It marks
the southernmost point of a sand bar that protrudes out from the uninhabited
island. At this point, the skies were still overcast. Once around this light,
it was a straight 18-mile shot to our waypoint to Cedar
Point just outside the Patuxent River.
During the 18-mile straight shot between waypoints we took shifts at the helm. This was
one of Maggie's shifts at the helm. This morning was the first time we lifted the
outboard motor onto the stern mount (behind and to Maggie's left).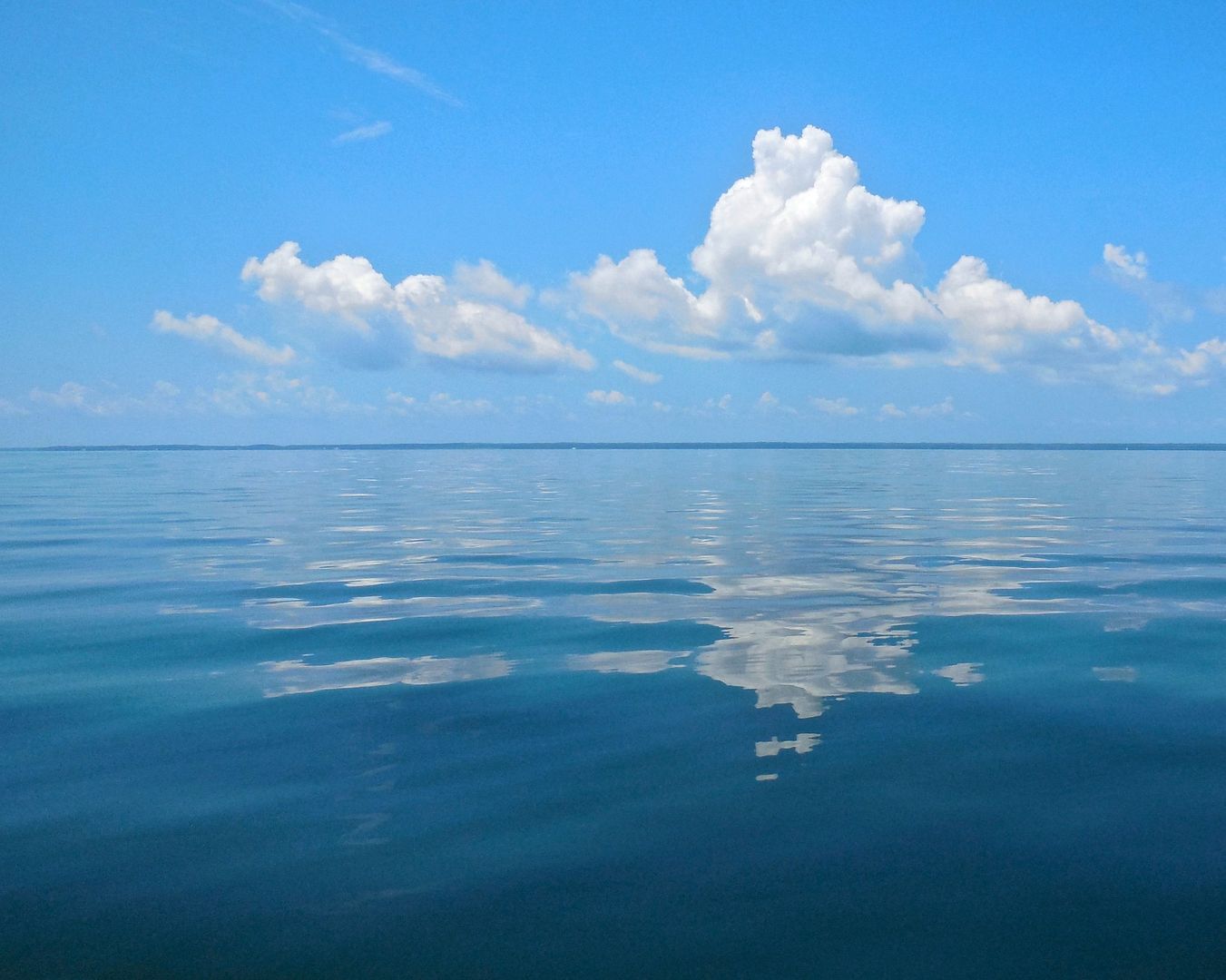 This photograph shows how little wind we had while crossing the mid-bay diagonally.
While it is rare to have this "shake-n-bake" weather, it happens sometimes in
the summer. A brief rainstorm developed later in the
day and the humidity dropped a little.
Our day's travels ended on mooring buoy "D" at Zanhiser's Yachting Center in the
Solomon's. We got showers and swam in the pool to cool off from a hot
and humid day. We made grilled ginger chicken and cucumber salad
for dinner onboard. We regularly ask ourselves why we eat out so
often when the dinners we cook onboard are so delicious.
As I write this blogpost using my iPad on our boat's foredeck, Lizzie is sleeping
between me and the whisker pole. She likes to be around people and
was in the boat's cockpit many times throughout today's trip.
Thursday, July 7
After a hot windless night of intermittent sleep and a light breakfast while on the mooring, we got showers and did laundry in the marina's air conditioned facility.

We had lunch at the pool bar and spent the remainder of the afternoon at the pool.

Thursday, though in the 90's, was a very relaxing day with a 5 to 7 knot breeze--it clocked completely around the compass during the day.
Maggie and I talked how this month-long trip has been more like an extended summer vacation than practice for our cruising lifestyle.

However, when we start cruising in October, it will be much cooler and less humid than it is now--the weather will make a big difference.

We still have a lot of preparation to do for the fall with only two months remaining to do it.
We discussed the need to double check our cat's dry food consumption so that we can plan accordingly.

Also, I've been trying different types of shave cream in a tube--the best one for me is Bath & Body Work's "Ocean." I'll have to estimate usage like I did for toothpaste.
I've tried these three different brands of shaving cream in a tube, Neutrogena,
Bath & Body Work's "Ocean", and Dr. Harris & Company's "Eucalyptus".
The advantage of using shaving cream in a tube is that it
requires much less onboard storage space.
Our relatively new fridge has been a nagging issue for me.
The small fan that circulates the air inside the fridge died.
I think Maggie may have poured water over it during one of the times she defrosted the fridge--this would certainly kill a little motor.
She didn't realize that there was a fan in the fridge.
This small fan (SeaFrost calls it a "widget fan") that circulates the air
inside the fridge died sometime during this trip.
Defrosting the fridge seems to be needed much more frequently than I would expect (we did it again this morning), partly because we have the door open too long while we dig through it looking for something.
The digital temperature reading has been as high as 45 degrees lately and this is too high.
I'm going to buy and install the little pump that SeaFrost offers to circulate water through the built-in supplemental cooling coils to improve refrigeration efficiency.
I hope to do this when we return to Galesville for our mid-trip break.
The forecast for tomorrow is 6 knots of wind out of the east.

Hopefully, we can at least motor sail (motoring with the sails up usually increases speed to a point and/or reduces engine power requirements) during our trip to Galesville.
Friday, July 8
Another travel day with an early start, we were underway by 6:15 AM--our earliest start yet.
Solomon's to Galesville is about 40 miles--it should take about 7.25
hours (at 5.5 knots cruising speed).
This time estimate turned out to be right on the money.
We left the Solomons at 6:15 AM as the sun was rising and
motored
to the mouth of the Patuxent River and out into the bay.
We motor sailed for a couple hours with the jib up and
the motor running. We were on autopilot.
The Cove Point Lighthouse is a beautifully restored and re-purposed active
lighthouse and keeper's home that sits on a seven acre point of land
in one of the narrowest parts of the Chesapeake Bay.
Built in 1828 at a cost of $5,625, it is
the oldest
continuously operating lighthouse
on the Chesapeake Bay.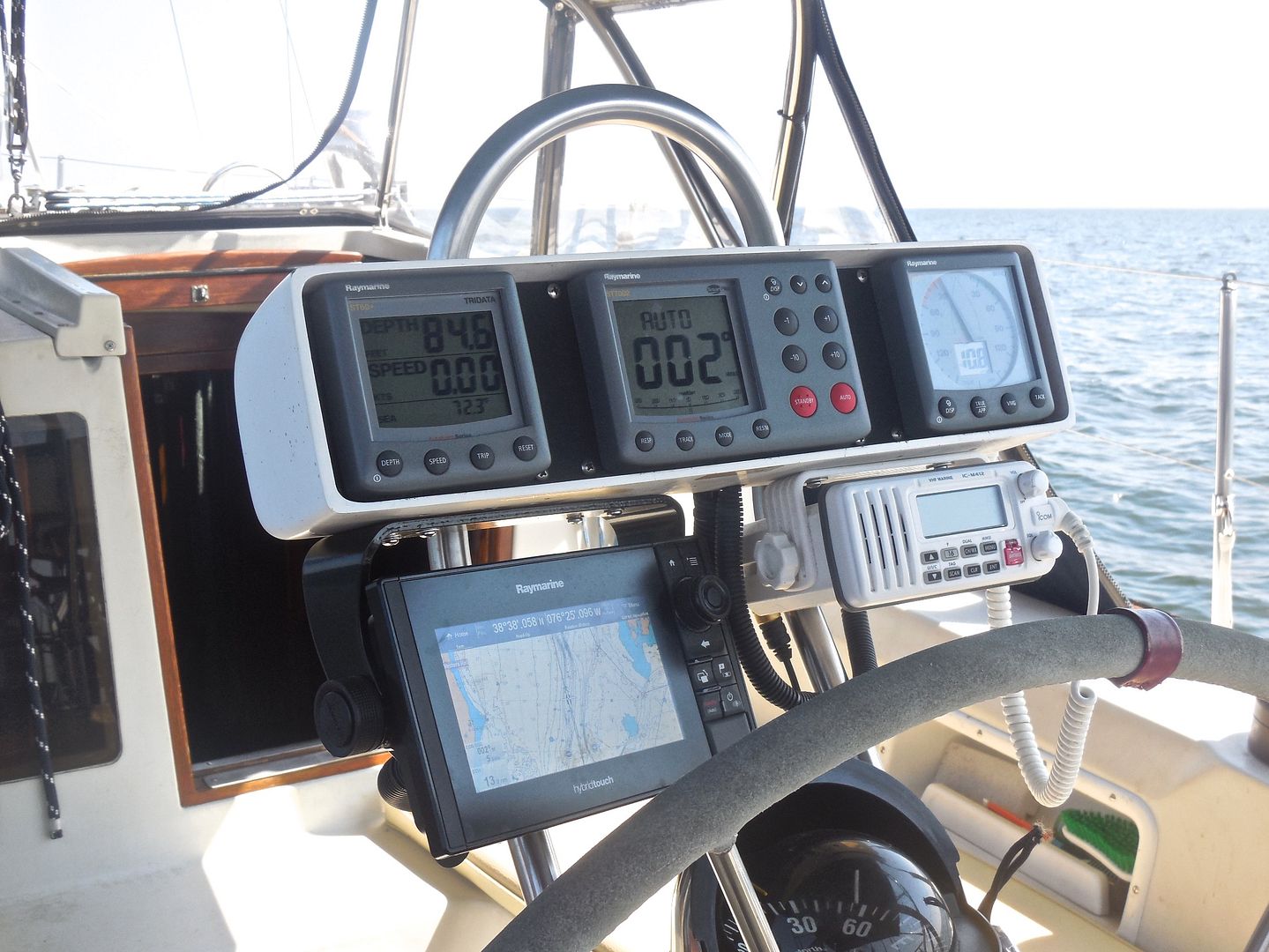 Motoring a sailboat for 7 hours in a straight line on autopilot is like having
your teeth cleaned for seven hours but at the end you don't
really have clean teeth, just a vibration sensation
throughout your head.
Throughout today we saw many pods of cownose rays. They travel alone or in pods up to four six in a pod. When we see them they are on the surface of the water, sometimes within ten feet of the boat. As often as I have tried, I couldn't get a photograph of them.
Summary
We are presently at Hartge's Yacht Harbor in Galesville, Maryland. We will be here for a few days to work on a couple boat projects that came up during our trip so far. Our current plan from here is to spend some time in Whitehall Bay (just north of Annapolis) and Annapolis Harbor but, who knows, things can change in a heartbeat.
We are back in Galesville for a few days.
Stay tuned as out month-long sailing trip continues.
Thanks for following our blog!