2016 Month-long Sailing Trip - Part 6
--Blogpost written by Bob
Rain was in the forecast for Monday and Tuesday, so we planned on sailing to Crisfield on Sunday in nice weather and hunkering down in a slip for a few days during the rainy period.

However, it was raining when we left Onancock and the forecast had changed significantly for the worse.
Sunday, July 3
We had poached eggs for breakfast while still in Onancock and used our PoachPods for the first time.

They were delicious and the PoachPods were easily cleaned up after use.
We used our new PoachPods for the first time.
Leaving about 9:30 AM, it took about an hour to motor out to the mouth of Onancock Creek.
Once out of the creek, we headed north across the mouth of Pocomoke Sound and into Tangier Sound.
It was a cold and wet motoring trip.
We should have put our full sets of foul weather gear on for the day but when we left Onancock it didn't seem that bad.
As a result, our clothes got wet before we put on our heavy foul weather jackets.
I feel like I'm a wimpy sailor because we didn't sail through the rain--it wasn't really because I'm wimpy, I just didn't want to get our new sails wet.
(I know, this may sound like a pretty lame excuse.)
We arrived in Crisfield at about 2:30 PM and checked into Somers Cove Marina.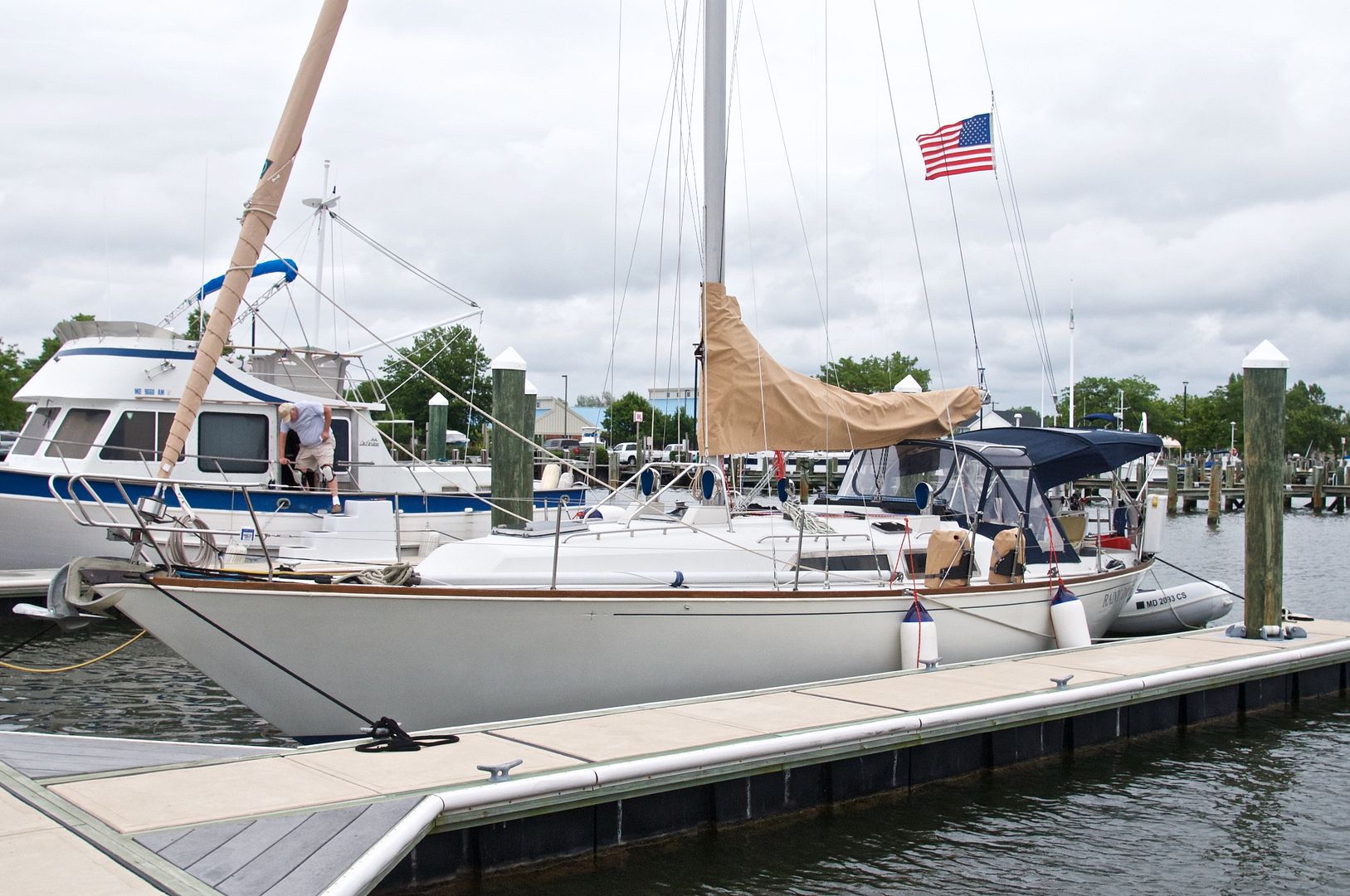 S/V Rainy Days is tied up to Slip G-12 on the floating docks
at Somers Cove Marina in Crisfield, Maryland.
We got a 3-for-2 deal on the slip, stay 2 nights and get the third night free--we decided to stay 3 nights.

We were also invited to a complimentary Fourth of July picnic the marina was sponsoring which included hot dogs, hamburgers, and crabs.
Maggie eats hard shell crabs at the marina's Fourth of July picnic.
The mayor of Crisfield gave a speech (dressed in shorts and a t-shirt) at the
marina's Fourth of July picnic and emphasized the town's history in
the seafood industry. Oysters are harvested in the cooler
months and crabs are harvested in the warmer months.
Maggie's father was born here in Crisfield--so, Crisfield is a special place for her.
(During our 2014 month-long sailing trip our boat had mechanical problems and we ended up staying here an entire week.)
It was nice to be dry and warm after a wet and cold day...the high temperature for today was only 71 degrees F.
Monday, July 4
The morning started with overcast skies and a light drizzle.

The seagulls made their usual loud cries from around the marina.

A very light breeze was coming from the east, a usual sign that it will continue to rain today and our WeatherUnderground app agrees.
We
walked into town for lunch about noon time and noticed for every new storefront that opened since we were last here in 2014, two storefronts had closed. This
town
is slowly dying but the town's people resist any kind of change.
Most of the soft crabs served in Maryland restaurants come from here.
Work boats still bring their catch to the packing house on holidays like today.
Even though the crabs are being depleted, there seems to be little effort
expended to farm them. This shortsightedness in the local seafood
industry is common in all matters related to this town.
Last night I read the Kindle version (on my iPad) of
What's Up Ditch: The Ins and Outs of Cruising the Atlantic ICW: America's Secret Highway
by Chris DiCroce. It is truly an entertaining and informative read! I highly recommend it to anyone considering a trip down the ICW. Even though I have done a trip up and down the ICW previously, I never realized the shape of the little yellow ICW markers on the buoys meant anything--they do!
Tuesday, July 5
Today started out much warmer than the cool days we've become accustomed to on this trip. The warm sun was shining through the scattered clouds in the morning and the afternoon was hot and humid.
We spent the better part of the morning putting the lifting harness on our outboard engine for the dinghy--this allows us to lift it off the dinghy and onto the stern mount on s/v Rainy Days using our outboard motor lift. For long passages,
the engine will be stored on the rail mount on our stern and
the dinghy will be stored upside down on the foredeck.
The contraption with the black straps around our outboard engine is
the outboard engine harness we installed in the morning.
This is how vehicles and heavy equipment get to the islands in the Chesapeake Bay.
This particular shipment of construction equipment was going to Smith Island.
We spent about an hour in the afternoon re-provisioning at the local grocery store. The marina's director was kind enough to give us a lift to the grocery store and back.
Summary
We will be traveling to the Solomons tomorrow (July 6), staying for two days, and then traveling onto Galesville on Friday for a short break in our travels. After our little break, we intend to head to St. Michaels for several days and then onto Annapolis harbor for a couple days, which are easy day trips from Galesville.
After turning northward, we left Virginia's eastern shore and reached
Crisfield, Maryland, the southernmost town in Maryland.
Stay tuned for more about our month-long sailing trip...
Thanks for following our blog!