2016 Month-long Sailing Trip - Part 5
--Blogpost written by Bob
This blogpost, the fifth in this series, covers our last two of the four days spent in Onancock, Virginia.

I'll reiterate my opinion that
this is one of the best cruising destinations on the bay
.

I don't know why it took me so long to discover this place but we're definitely coming back here for a short stay every spring on our return trip from the Bahamas.
Friday, July 1
After breakfast (Maggie made French toast using the powdered eggs and artisan whole grain bread--it was fantastic!) we went back into town to buy two more silicone PoachPods at North Street Market (also available on Amazon) since we mistakingly only bought two yesterday.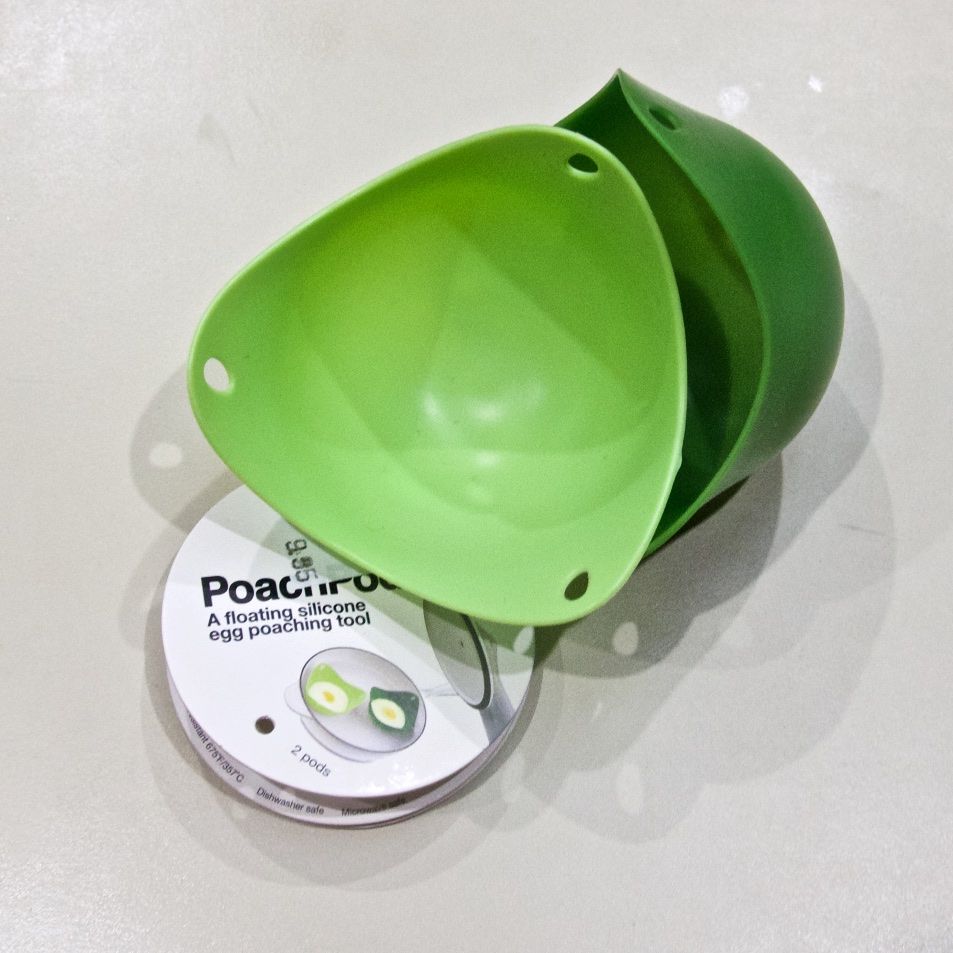 When we moved aboard, we got rid of an egg poaching pan because it took up a lot of
space and it was used so infrequently. Poaching an egg in simmering
water in a frying pan usually results in the egg coming apart in the
water. These PoachPods will take the place
of our old egg poaching pan.
To use the PoachPod simply follow the steps below:
(a) boil 1.5 inches deep water in a pan with a lid
(b) lightly oil internal surface of pod
(c) break open egg into pod
(d) float pod in simmering water
(g) remove pod from water (using a slotted spoon)
(h) run a spoon around edge of egg
(I) gently flip over (onto toast or plate) to serve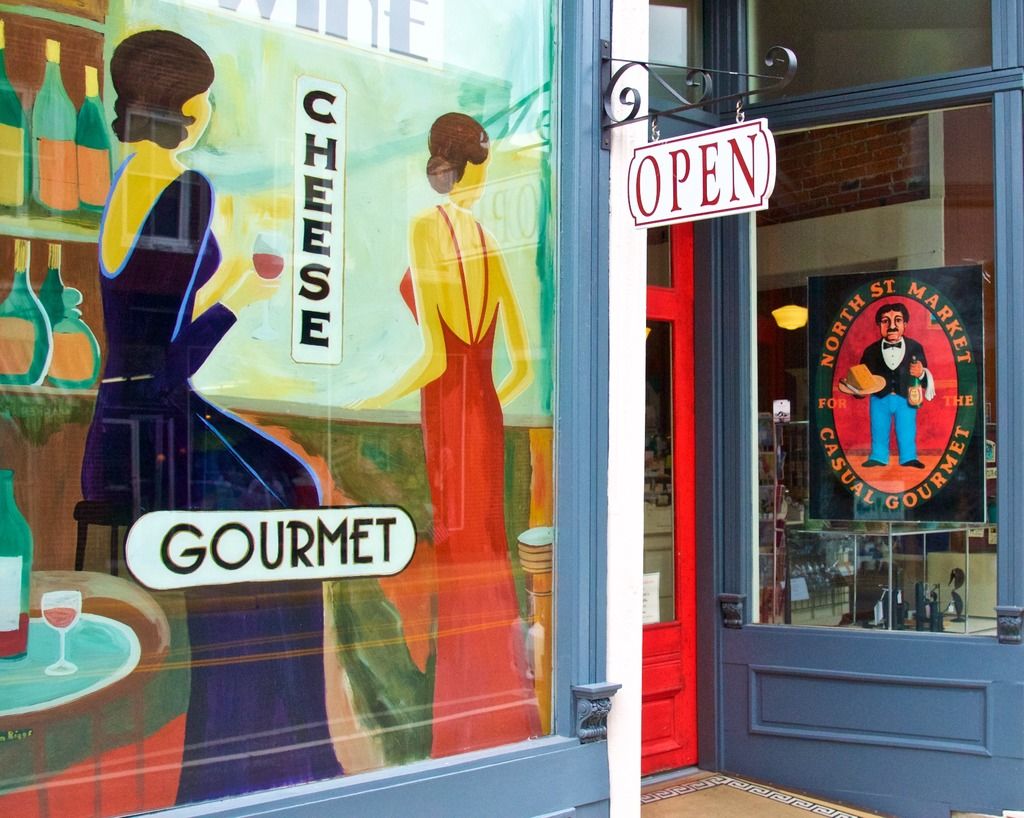 While at the North Street Market, we also picked up some wine and cheese.
After walking around town, we came back to the marina had a delicious lunch at Mallard's right next door.
Then the thunderstorms rolled through and it rained all afternoon.
After the rain cleared, we got all the rainwater out of the dinghy and went for a ride around the harbor.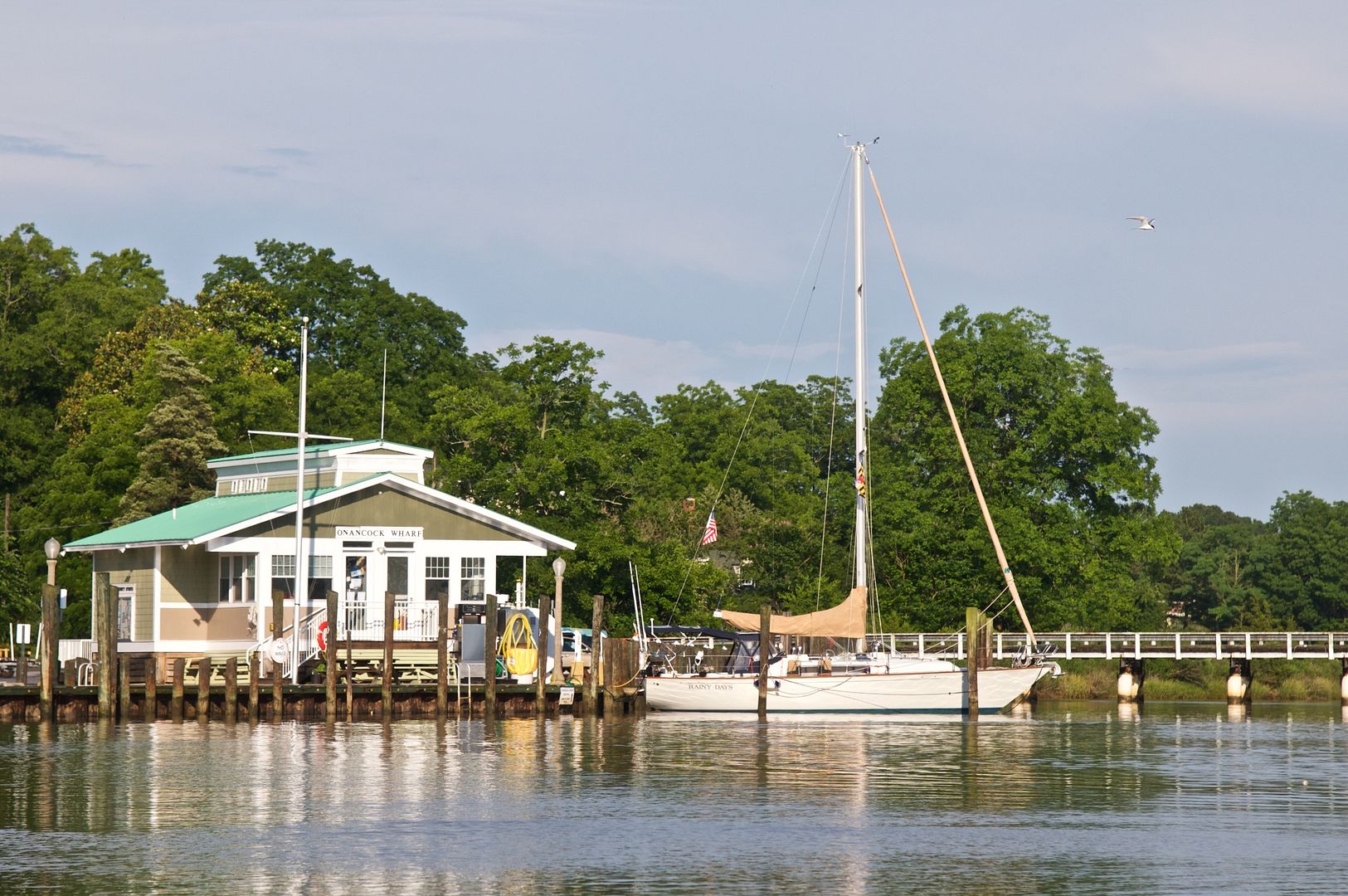 We are the only boat in the marina tonight!
Saturday, July 2
There is an open air farmer's market in Onancock on Saturday mornings in season. We took full advantage as we re-provisioned for another week.
The open air market even has music--someone played a keyboard while people shopped.
We bought a new cutting board made of exotic woods, fused glass earrings
for Maggie, onions, tomatoes, artisan bread, eggs, steaks,
and a meat-filled steamed bun.

For lunch we returned to Bizzotto's Gallery Cafe, visited the Red Queen Gallery, and another visit to the North Street Market for more wine and cheese.
I've been putting off a little boat project to find out why our deck wash system is not fully pressurized. I finally got around to looking into it this afternoon--the inlet hose was simply kinked which restricted flow to the pump.
Summary
Our progress map has not changed--so, no need to update it for this blogpost.

From here we intend to head north to Crisfield for a couple days, a brief stop in the Solomons, and then, onto St. Michael's, where we will stay several days.
I ordered our new electronic windlass (Maxwell RC8-8)
this
week online
and have added the installation to the list of work being done
by Hartge's Yacht Yard when we return from this trip.
Thanks for following our
sailing
foodie blog!