2016 Month-long Sailing Trip - Part 4
--Blogpost written by Bob
As the fourth blogpost in this series, we have been on Tangier Island, having traveled there from Solomon's Island.

We're now on our way to Onancock, Virginia, a destination where neither of us have been previously.
Wednesday, June 29
I awoke at 6 AM and took this photograph of the sunrise over the northern
part of Tangier Island. Since we had six sea scouts from a nearby
boat available to help us remove our dock lines
and spring lines, we departed by 7 AM.
We departed Tangier Island via the channel to the east of the island because it is closer to the entrance of Onancock Creek.
We are leaving Tangier Island through the eastern channel (on the right
side of this chart image). Even though the channel is about 150 feet wide,
it is silted in on both sides--so, you have to remain in the center of the
channel to avoid going aground. Our chart plotter with the chart
image zoomed in helped us stay in the center of the channel.
We had 10 feet of water (at high tide) the
entire length of the channel.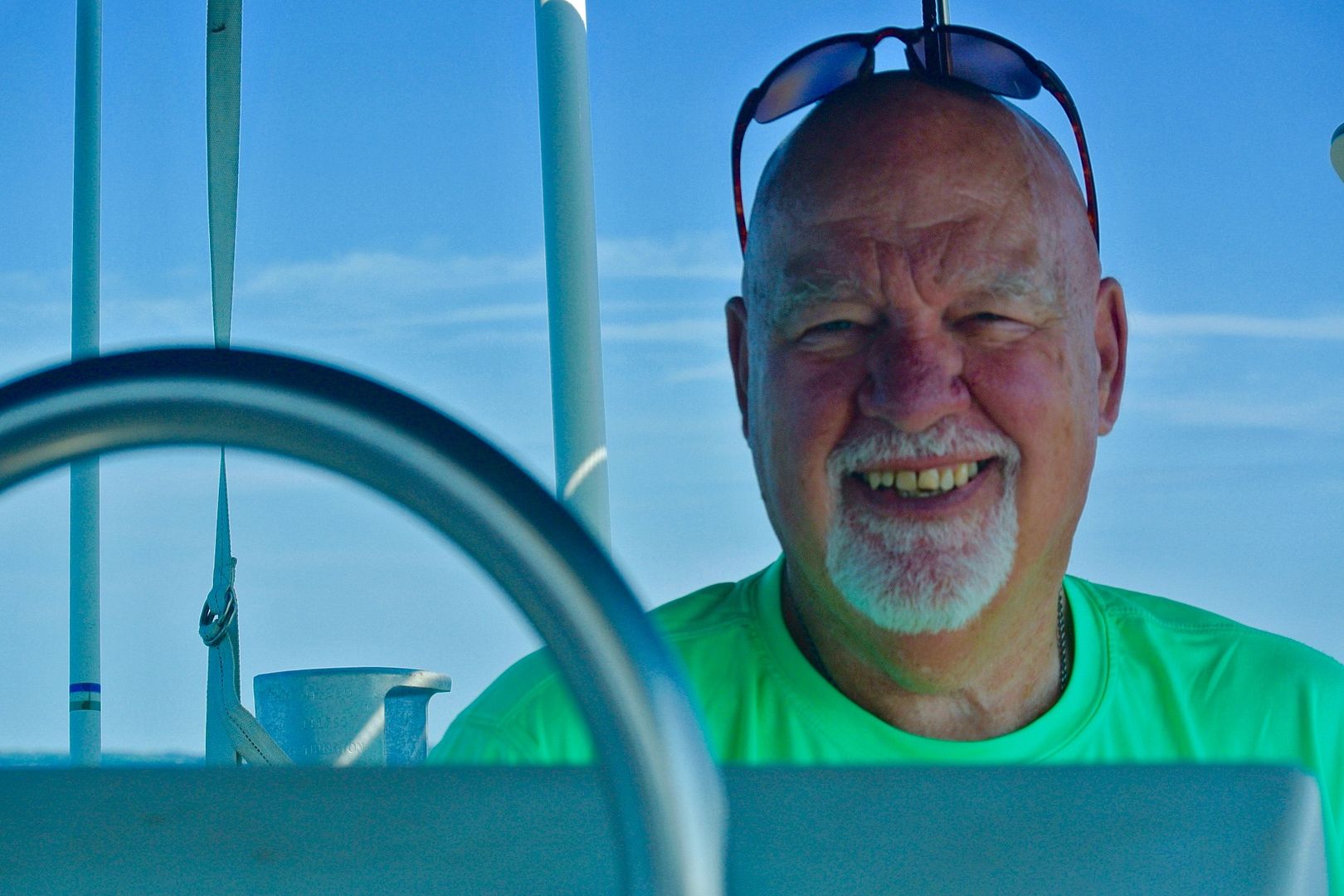 After successfully navigating the eastern channel out of Tangier Island,
I was pretty happy to be in the open water of
Pocomoke
Sound, even if it was motoring.
In just a few hours of motoring southeastward across the Pocomoke Sound, we were entering the long and curvy Onancock Creek.
The channel was very well marked and easy to follow.
Large homes were strategically placed along the banks of the creek but there was still a lot of farm land.
There were a myriad of crab pot markers along the way but, for the most part, they were not in the channel.
(This creek reminded me of the Sassafras River in the northern part of the bay but the homes are not nearly as old and it is not nearly as highly populated.)
Three or four boats, including s/v Rainy Days, are tied up at the Onancock Wharf.
Onancock Wharf is owned by the town of Onancock and the town is within a walkable distance from the marina.
Even though there are only 17 slips, the facilities are modern and very clean (4 full-size unisex restrooms and a complimentary laundry room).
The dock master is very attentive to the needs of the boaters and provides each guest with a list of marina neighbors who volunteer to help get boaters whatever they need while they are in town.
Since we had not had showers since we first arrived on Tangier Island, a hot shower was on the top of our list of things to do.

Lunch was second on our list.

After a nice hot shower, we walked into town and had lunch at the Blarney Stone Pub.

Lunch was excellent!

As we were finishing lunch, the owner came by, noticing my camera, and asked where we were from.

When he learned we came in by sailboat, he told us how he circumnavigated the Delmarva peninsula a number of years ago in a motor boat and, if there was anything we needed while in Onancock, to just let him know.

There are very few places I've been that have been this friendly to boaters!
When we arrived we pulled into the long dock in front of the marina office rather than use
one of the available slips because of our trailing our dinghy. Shortly thereafter,
a big trawler came in and couldn't fir into any of the slips and needed the
space at the bulkhead. So, we relinquished our spot and moved into
slip number 1--about 4 people helped us get tied up and
we tied our dinghy closely to our bow.
We had dinner onboard and Maggie did laundry (for the first time on this trip) in the evening.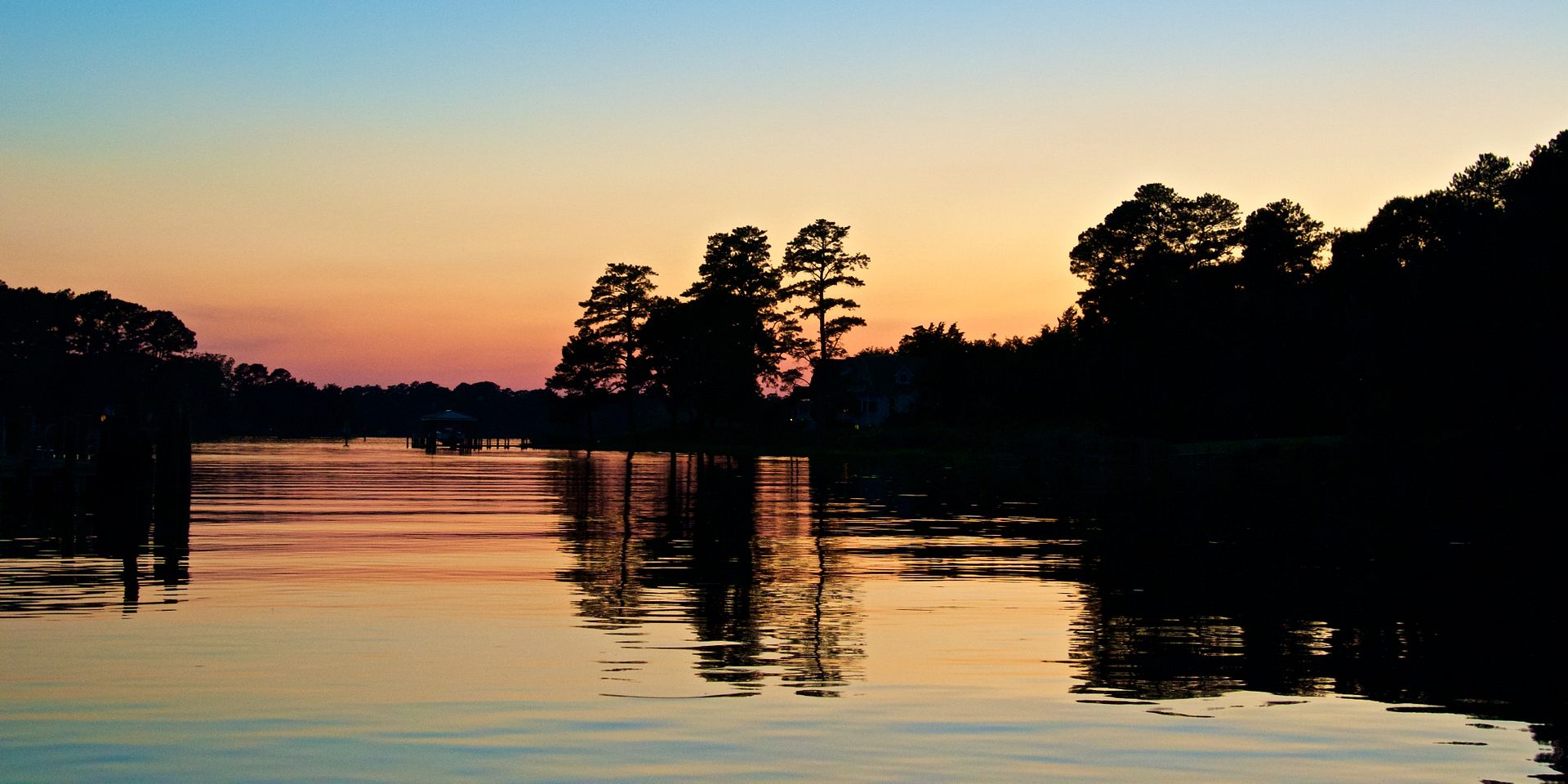 This was the end of our first day in Onancock, Virginia. We
decided to stay a little longer than we originally planned.
Thursday, June 30
In the morning we toured the Kerr House in Onancock and visited several shops--one in particular was exceptional--the North Street Market.

It had wines, cheeses, coffee, and all types of gourmet cooking utensils.

We bought two silicone egg poachers that float on the hot water in a pan (with the egg inside) and an attractive ceramic bottle for olive oil.
We went out for lunch at Bizzotto's Gallery Cafe on Market Street and each had cream of crab soup and a Cobb salad.

The cream of crab soup was exceptional!
Bizzotto's cream of crab soup was unique with an exceptional taste. It
contained a sparse amount of cut spinach leaves, a generous amount
of crab meat, lots of butter, and I'm sure other tasty ingredients
that I couldn't identify. It was much lighter than other
cream of crab soups I've had before.
It seems that this small town inspires the artist within. During lunch, we came up with the idea of painting the (now white) doors of our galley cabinets a coral color because it would be more colorful while providing a contrast to our blue-green upholstery, gold curtains, cream-colored ceiling panels, and the white fiberglass surrounding the area.

We also decided to paint the interior of the cabinets yellow. We were inspired by another blogger, Mike and Hilary of verywellsalted.com, who painted the interior of their boat, s/v Veruna, in a very tasteful and colorful manner as shown below.
This is the artsy interior of s/v Veruna that inspired us to be
more colorful with the interior of our boat.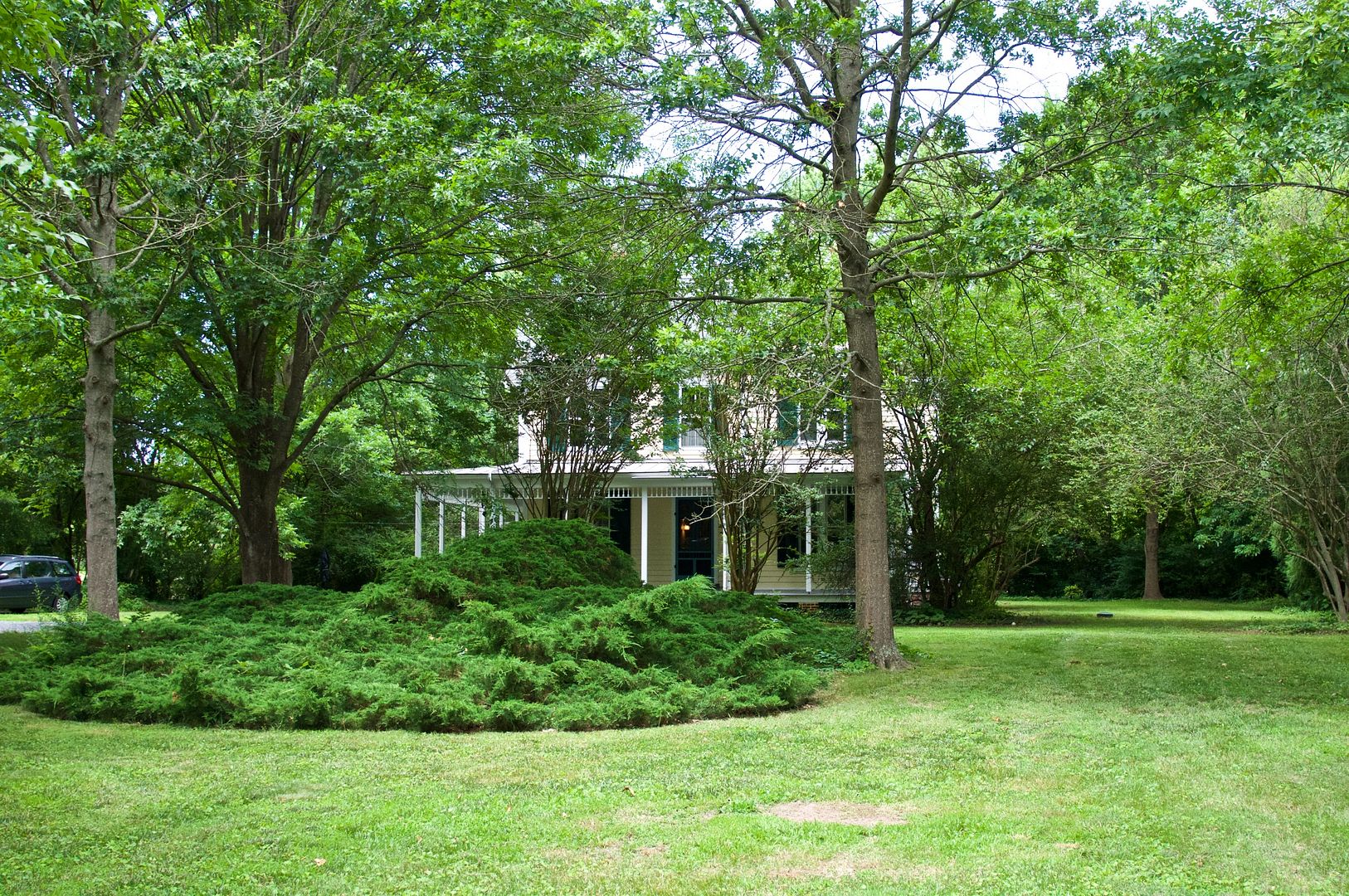 This is one of many large homes that line King Street in Onancock, Virginia.
In the afternoon, we decided to tackle some small projects on the boat--things we could handle in our diminished mental state after cruising the bay for almost two weeks now.
One of the projects was sorting my cooking sauces and getting rid of some that we are not likely to use in the future.
Getting rid of some cooking sauces that we didn't think we would use in
the future was nearly as difficult for me as getting
rid of old rope. These are the keepers.
Just to prove that cruising is not all fun and games, the other project we tackled was digging out our stock of coffee filters for our composting toilet, counting out the next batch, and numbering them.
We have found that the easiest way to manage our solids disposal is to number the coffee filters used for every use.
When we get to filter number 70 it is time to dispose of the solids content.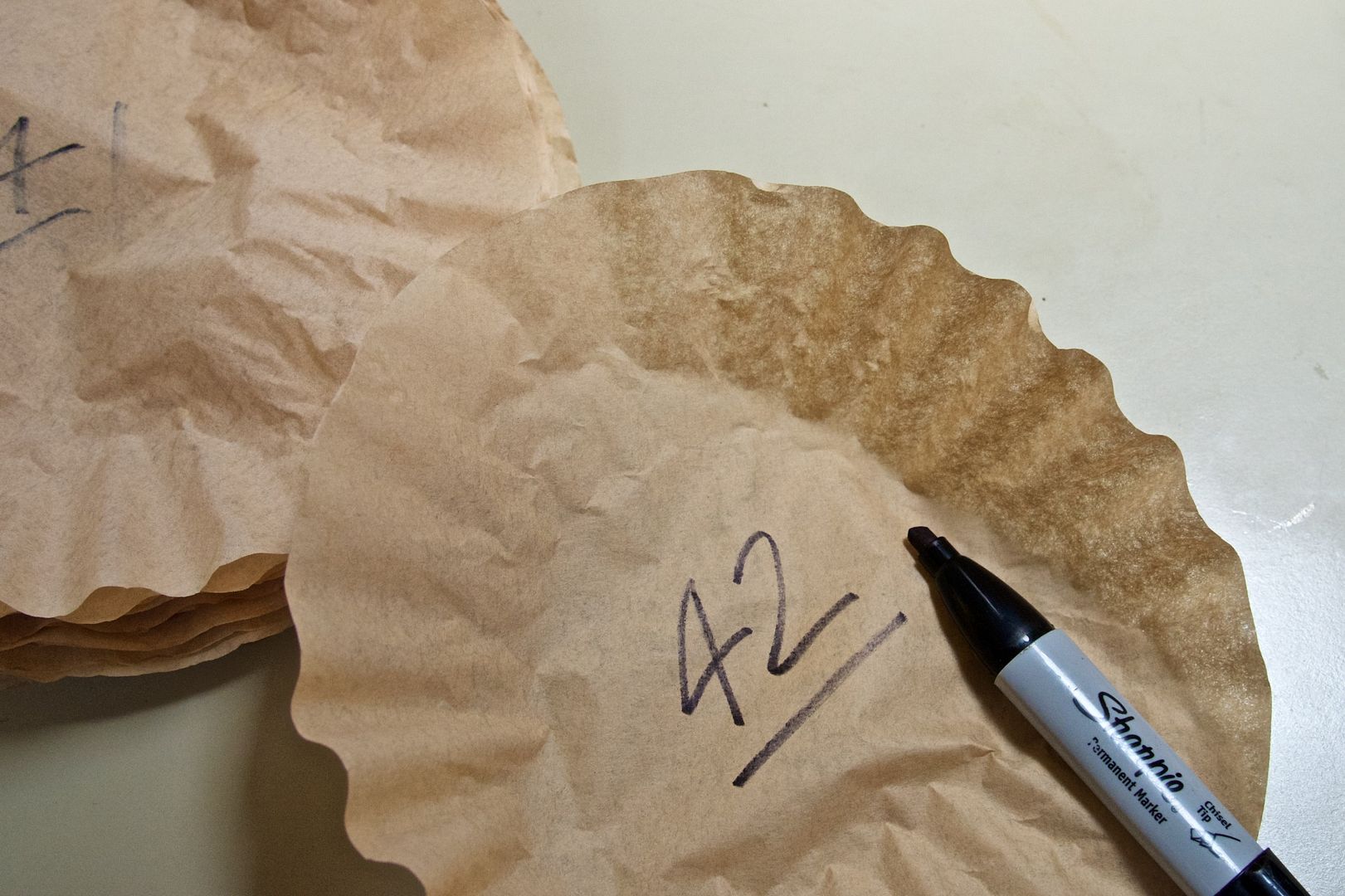 We number the coffee filters used with solids deposits in our composting toilet.
When we get to number 70, it is time to empty the solids container.
Coffee filters are placed over the solids trap door prior to make a deposit--it keeps
the toilet bowl from getting soiled. Remember that there is no water
used in a composting toilet like there is with a typical
marine toilet or a toilet at home.
Summary
We're making more southward progress as shown on the following updated map.
The red line shows our current progress down the bay.
This is one of the best cruising destinations on the bay! The modern facilities at the marina, the close proximity to town, and the friendliest people around make this destination so special. Since we've decided to stay an additional two days, the next blogpost will be made while we are still here in Onancock, Virginia. More on our month-long sailing trip on the Chesapeake Bay in our next blogpost...
Thanks for following our blog!