3-1/2 Weeks To Go!
--Blogpost written by Bob
We have now completed 310 boat projects (over the past 3 years) in preparation for our trip south, now only 3-1/2 weeks away.

There are seven projects remaining on our "to do" list--only one is a multi-day project, building the platform in the starboard locker for our RAINMAN water maker.

(We have already started a list of boat projects for next summer!)
Lately, we have been wrapping up small projects and this blogpost covers four of those small projects.
Supplemental Water Cooling for Fridge
When we purchased our new refrigeration unit from SeaFrost more than a year ago, we had the coils installed in the compressor unit for supplemental water cooling.

At most times, water temperatures are lower than ambient air temperatures--so, water cooling makes sense as long as you can keep the pumping energy minimized.

SeaFrost offers a tiny pump specifically for this purpose.

This past week, I installed the supplemental water cooling.
This tiny 12-volt pump is rated at 2.7 gallons per minute and is
manufactured by March Pumps in Glenview, Illinois.
We tapped into the inlet of the deck wash system (after the raw water strainer) for the supply of raw water for cooling.
I mounted the tiny pump about 18 inches away from the inlet water connection--it is mounted below the boat's waterline.
It uses 1/2-inch diameter inlet hose and a 3/8-inch outlet hose.
The 3/8-inch pump outlet hose runs to the coil in the fridge's compressor unit and then into the port-side deck drain system.
The pump is switched on when the compressor comes on, along with the internal fan for air cooling.
It is very quiet and, besides a light on the electronic controls, the only way to tell it's running is the small diameter stream of water exiting from the boat's deck drain system.
One way to tell if the fridge's compressor is running is observing
the small stream of water that exits from the
boat's deck wash drain at the stern.
The total cost of adding the supplemental cooling water pump was $350 (pump, hoses, hose clamps, and cables) and it took about 4 hours to install.
The reason it took 4 hours of installation time is because the quarter berth had to be pulled apart for access to the compressor unit and reassembled after all the hoses were installed.
(Everything you do on a sailboat is more difficult and time consuming than you think it should be.)
The reduced cycle time for the fridge's compressor is noticeable but we have also had a drop in ambient temperature this week which reduces the demand for the compressor.

The maximum demand on our refrigeration system will be during the summers we spend in the Chesapeake Bay--not the winters we will be spending in subtropical areas.
Polishing Flexible Solar Panels
We added our Solbian-brand flexible solar panels in stages early on during the 3 years of preparation we have undergone.

The first solar panel we installed is located on top of our hard dodger and the plastic covering was showing signs of haze.

One of the small projects I completed this week was removing the haze.

I applied Flitz-brand polish to the solar panel (one half panel at a time) and polished it off with an auto buffer--it did a fantastic job and they look brand new!
Covers for Outboard Gasoline Jugs
This past week, Maggie constructed beautiful SUNBRELLA covers for our two 3-gallon gasoline jugs for use while they are stored on deck.

(The gasoline jugs are for use on our outboard motor that powers our "go fast" rigid-hull inflatable dinghy.

We use strictly non-ethanol gasoline for this purpose.)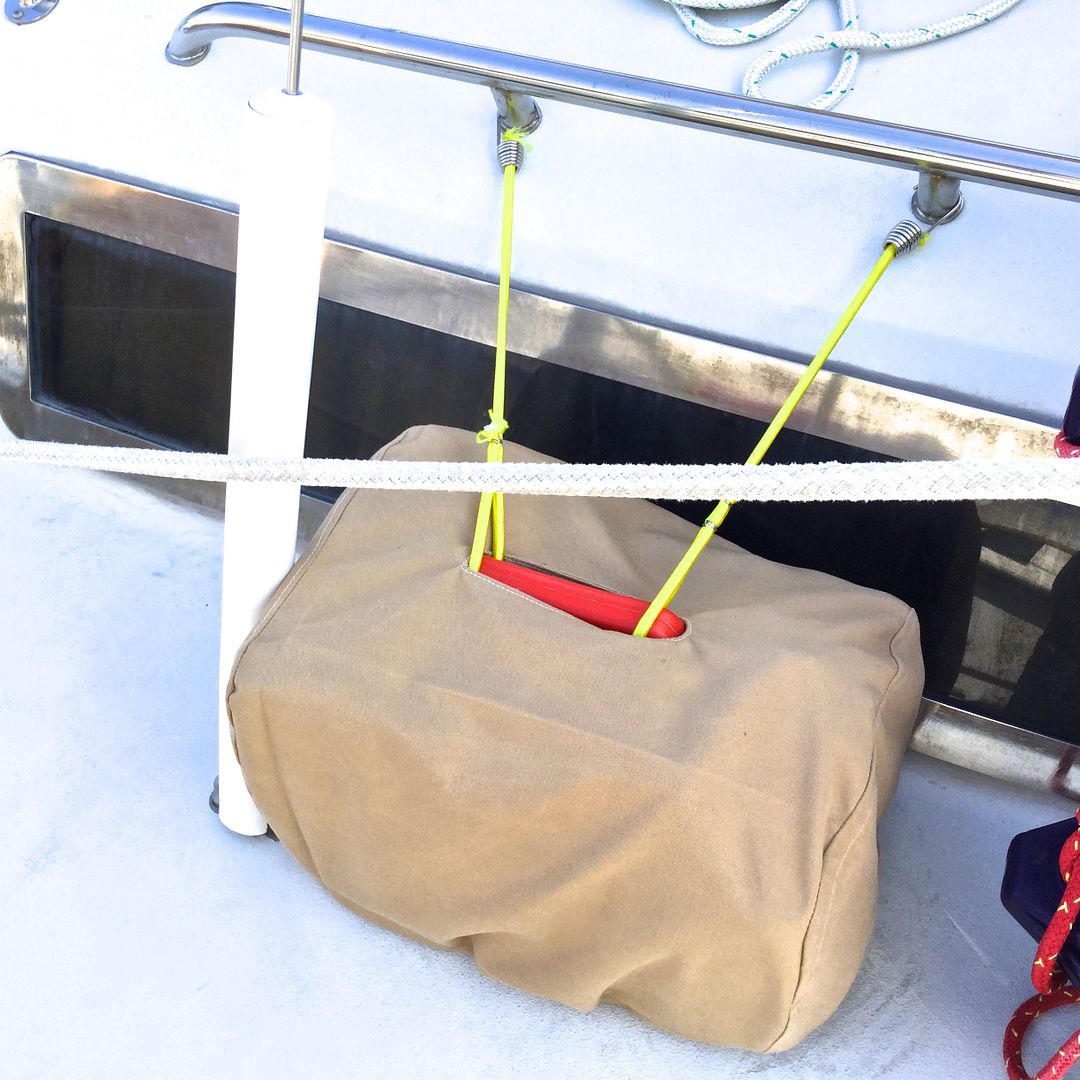 These covers match all our other canvas on the boat--it is Sunbrella's "toast" color.
Maggie spent two hours patterning and making the two covers.
The lower edge of the cover is held tightly to the gasoline jug with an elastic strap made from 3/16-inch shock cord.
We constructed straps to fasten the jugs to our stainless steel handrails using 1/4-inch yellow shock cord--this will keep them from going overboard in rough seas.
Replacement of Fresh Water Pump
Our fresh water pump seemed to be losing a little pressure and it was more than 5 years old (maybe more than ten years old) , so we replaced it with a new Shurflo Aqua-King.

It was rated the same as our old pump (3 GPM and 55 PSI) but it is a newer design.

This was one of those cases where it seemed better to replace an old pump rather than carrying a spare pump with us.

Of course, the quarter berth had to be completely disassembled to get access to this pump.
It should be pointed out that many sailboats use manually operated fresh water pumps to conserve fresh water--it is also lower maintenance. However, we decided to stick with our electric pumps for this purpose and achieve our fresh water conservation by using salt water for washing dishes and fresh water for rinsing (when in the Bahamas).
Summary
The hot weather is finally breaking on the Chesapeake Bay.

The humidity has been much lower and the mornings and evenings are cool.

We didn't need to use our air conditioner this week.

It's really time to wrap things up and start heading south soon!
Our next project will be building a platform in the starboard cockpit locker to store our RAINMAN water maker when not in use.

Stay tuned for the details...
Thanks for following our blog!