Provisioning Finds
--Blogpost written by Bob
While we only have about one week remaining until we leave, we have been working on provisioning for more than a month.
Of course, we intend to occasionally eat at restaurants along the way down the ICW and get fresh provisions when possible.
We will be anchoring out most of the way down the ICW and we will be cooking most of our meals on board.
Rather than go into great detail on all our provisioning, we'd like to simply highlight a few of our finds that we have already tried (to make sure they will work for us).
I should preface our selections by saying that our diet is always low-carb and, secondarily, low fat.
Pacific Seafood Bisque
This is our favorite provisioning find--we discovered it on Amazon.

While it is somewhat expensive at $6.25 per serving, it makes a very special lunch or light dinner.

It comes in a foil pouch that you simply drop into boiling water for a few minutes and then pour into a bowl.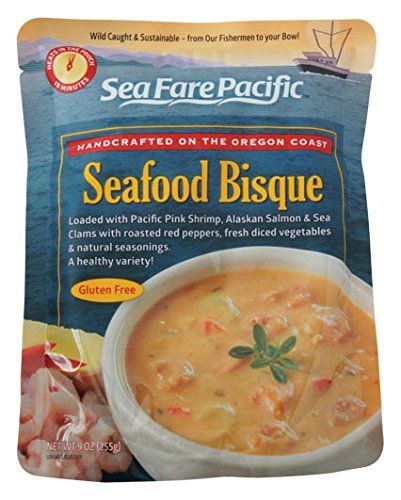 One envelope is one generous serving. Simply heat the
envelope
in boiling water and serve in a bowl.
The seafood bisque contains Pacific pink shrimp, Alaskan salmon, clams, roasted red peppers, and diced vegetables--it is very rich and filling!
This tasty bisque, available on Amazon, is currently rated at 4.5 out of 5 on Amazon product reviews.
Canned Bacon
I'm sure you have heard the saying that "everything tastes better with bacon."

Bacon usually takes a lot of time to prepare.

We found Yoder's canned bacon on Amazon and tried a can before ordering more.
The can of bacon that we sampled lasted us six weeks,
using it in various meals in various ways.
It is amazing that 50 slices of pre-cooked bacon (weighing 9 ounces) can be placed in a normal 14-ounce can.
The pieces of bacon are folded and are arranged in layers separated by waxed paper.
Once the can is opened, we refrigerate the remaining pieces in a separate container.
At $17.68 for a 9-ounce can, the unit price is $31.53 per pound on Amazon. Like many other similar items on our list of finds, it can be stored indefinitely and does not require refrigeration.
Though it comes in a rather plain can, this canned bacon can be used as a breakfast protein, in a sandwich for lunch, or even as an addition to certain evening meals.

We noticed that it is somewhat salty as it comes from the can but still very tasty.
Canned Ground Beef
We use ground beef in many different dishes.

Canned ground beef is best suited for chili, pasta sauce, stroganoff, or protein added to a soup.

(It is not suited for making hamburgers on the grill).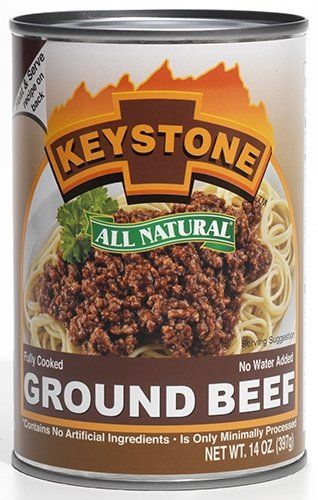 Using one can of canned ground beef in chili generally
makes three meals for the two of us.
Some fat separates from the ground beef while it is in the can--we generally remove this fat prior to using the ground beef in a
meal.
At $7.08 per can, the unit price works out to be $8.09 per pound on Amazon which is certainly more expensive than fresh ground beef but the canned ground beef is already cooked and can be stored for a long time and doesn't require refrigeration.
Powdered Whole Eggs
We bought several jars of Hoosier Hill Farm-brand whole egg powder on Amazon. The instruction for the powdered eggs couldn't be any simpler: "Two teaspoons egg powder plus two teaspoons of water equals one egg."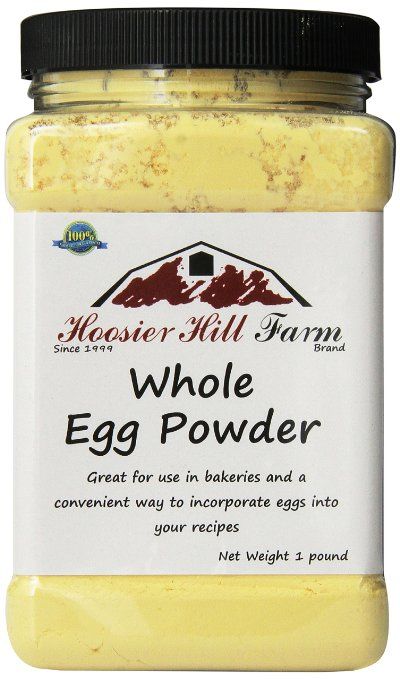 The jar of whole egg powder wights one pound and makes about 48
eggs. We have used the egg powder to make scrambled
eggs and various dishes requiring breading.
The jar of whole egg powder weighs one pound and makes about 48 eggs. At a cost of $24.95, it equates to about $6.25 per dozen eggs--about two times the cost of fresh eggs. The advantage is that it can be stored for a long time and it takes very little space.
Kodiak Cakes
These are high-protein, low-carb pancakes made by simply adding water to the boxed mix and cooking in a fry pan like any other pancakes. Kodak cakes are available on Amazon as well as in most Target stores. When you look for them in Target, they are usually in a different area than other pancake mixes.
While there are several available types, we prefer the
power cakes with added protein.
Maggie made these pancakes this morning using the Kodiak Cakes mix.
We use Land-O-Lakes Light butter and Vermont sugar-free
syrup to maintain our low-carb diet.
Salmon in Pouches
Pouches provide a lower volume of waste than cans--so, we searched to find salmon in pouches. We purchased them from Amazon.
You can used salmon in almost any recipe that you would
normally use canned tuna, like casseroles.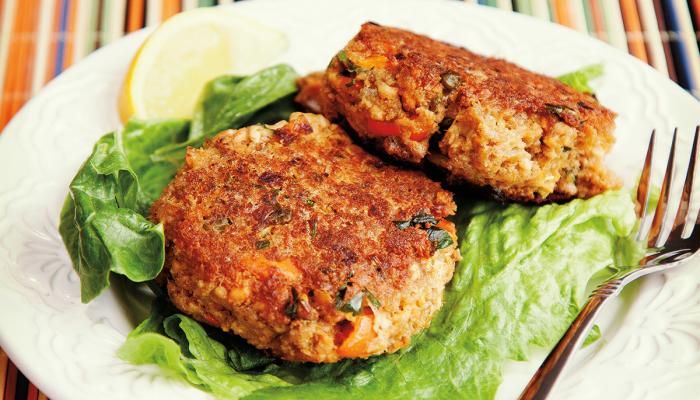 We used salmon in pouches to make salmon cakes from a recipe from
Splendid Table. (Photo from Splendid Table)
We used the salmon in pouches to make salmon patties from a recipe from Splendid Table and they turned out great.
Chicken Sausages
We discovered these chicken sausages at our local supermarket and there are several good brands each with several different flavors available--we like Aidells-brand spicy mango flavor the best.
These sausages are relatively low in fat compared to pork sausages and they are pre-cooked.
They simply have to be heated up for a meal and they are great for grilling on board.
Summary
Again, our so-called finds are low-carb to suit our dietary restrictions. Everyone's tastes are different but we think these are worth a try if you are provisioning for a long-term cruise on a sailboat like we are.
Thanks for following our blog!