Beaufort NC to Wrightsville Beach - 2016
--Blogpost written by Bob
Beaufort NC to Mile Hammock Bay
We left Beaufort NC at slack low tide at 7:30 AM to avoid the tidal current when leaving the slip.

We have much less steering control in reverse (needed in leaving the slip) than in forward--so, eliminating the negative effects of the tidal current is very important.

The dock hands helped us with line handling as we left the marina.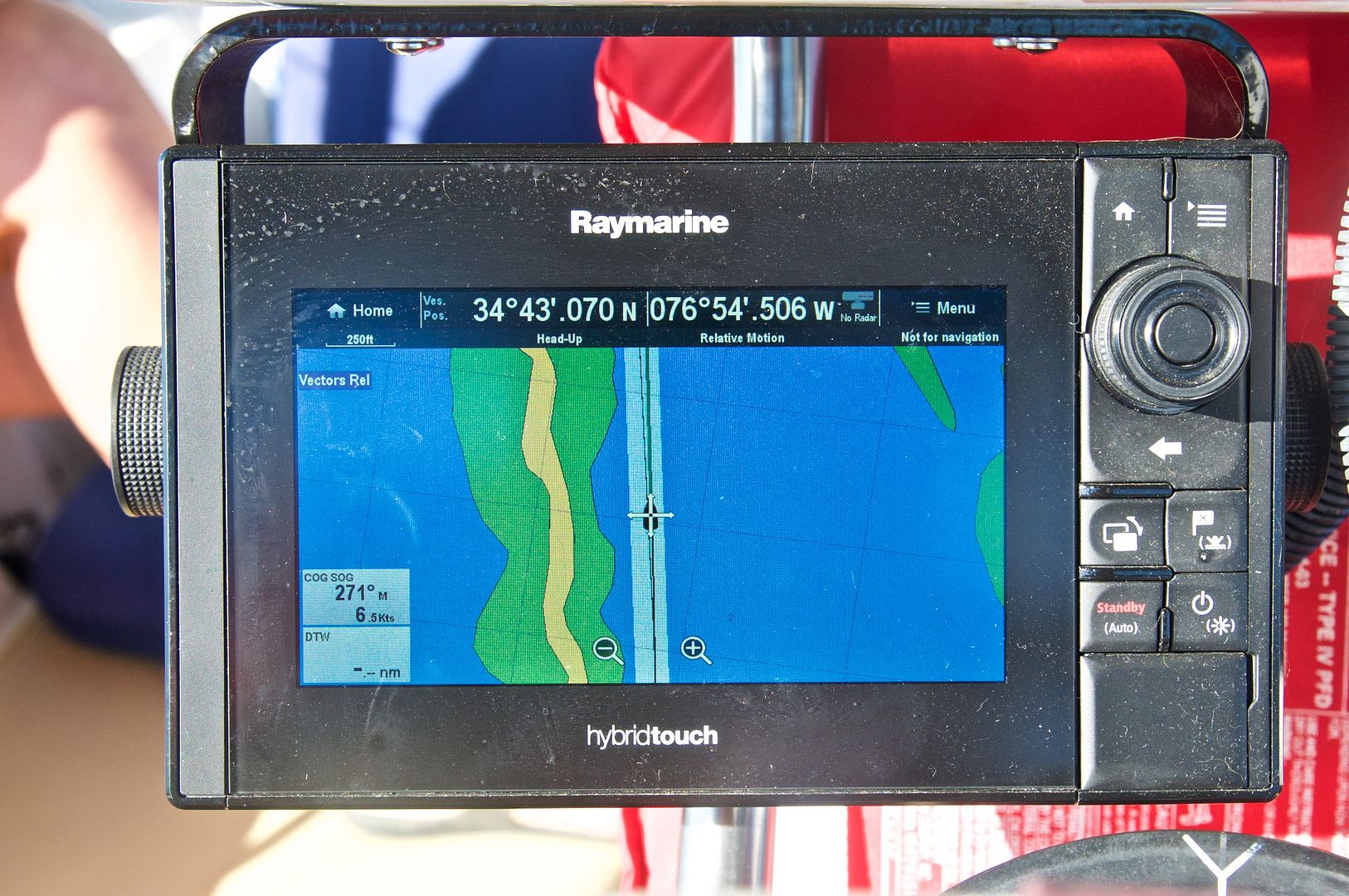 Most of the day was spent traveling down the long and narrow ICW channel
going through Bogue Sound. Here you can se the image of our
chart plotter as we proceed along Bogue Sound south of
Beaufort NC. At some points today while closely
following the channel markers, our chart plotter
showed us well outside the channel--I'm
not sure how this mistaken
location happens.
This sand bar full of seagulls and brown pelicans was
only 100 yards or so off the ICW channel.
A shrimper dragged his nets very close to
the ICW channel in Bogue Sound.
We just missed the 1:30 PM opening and had to wait for the 2:00 PM
opening of the Onslo Beach Swing Bridge. This was the
only bridge that had to open for us today.
We shared the Mile Hammock Bay anchorage (on Camp LeJuene property) with three other sailboats and four trawlers.
A mast-less sailboat that we had seen aground earlier in the day arrived in the anchorage as well--he didn't seem to have much use for charts or depth sounders.
We anchored at 2:45 PM in about 11 feet of water.
During today's travels we passed a few inlets from the ocean.

The tidal currents were opposing us at times and our speed was reduced as low as 4.5 knots and other times it helped us and our speed increased to nearly 8 knots.

These were our speeds over ground as measured by our GPS.

When the current was against us, it seemed like we were motoring uphill because the engine was working hard and we didn't have the boat speed to show for it.
This photograph shows the tide; current that we
were up against at times today.
Even though we only spent a little more than 7 hours motoring on the ICW, it was a tiring day because of the close attention at the helm that this leg required.

After we arrived I reworked our plan to make each day less than 7 or 8 hours.
Mile Hammock Bay to Wrightsville Beach
We raised our trusty Rocna 20 kg (Vulcan) anchor at 8:00 AM

(I'm loving this new windlass!

We gave her the nickname, Wendy.)
Shortly after we got underway we were tested by the intersection of the ICW channel and the channel coming in from the ocean called the New River Inlet.
We passed this test but I have found that all information for navigation must be questioned.
(1) We ran into a green buoy that was way outside the channel on the opposite side of the channel--the buoy must have been displaced by Hurricane Matthew.

(Here I made the wrong call to follow the buoy and we barely got away with it--our depth read only 7 feet.")
(2) In several areas we were in deep water in the ICW channel but our chart plotter showed us outside the channel in 4 feet of water.

(In these areas I used my eyes and followed the day marks but it irked me that my chart plotter provided unreliable results too.)
(3) Most of the time the day marks are 25 to 35 yards outside of the ICW channel but sometimes they are within the channel.
The US Highway 210 fixed bridge was the first bridge we came to on this leg.
The great thing about fixed bridges is that there is no
waiting for marine traffic or automobile traffic.
We saw a lot of very expensive homes along the ICW but this pink island
house was the most exotic. It was painted pink with blue trim.
There
was even a wrecked motor boat on the property
that was painted pink with blue trim too.
As we approached this bridge we couldn't help but sing the Beach Boys
song "Surf City USA." We waited 20 minutes for this bridge to open
for us. The last bridge of the day was the Wrightsville Beach
bascule bridge. The radio communications with the
bridges that have to open for us is PRICELESS.
We arrived at our anchorage in Wrightsville Beach at 3:30 PM.
At this anchorage we faced wind and tidal current from two different directions.
We have 90 feet of chain out in roughly 15 feet of water (a 6 to 1 scope) and the anchor chain is at an angle under our boat.
We took a couple of bearings and set a waypoint at the position of the boat when we anchored.
Today, we traveled 40 statute miles.
Most of the day was in the 80's and sunny--the weather couldn't be much better but the forecast tells is it will be cooler during the next couple days.
It's always nice to safely anchor for the night, leaving all the possible
dangers of the day behind. We sleep much better at an
anchorage
han in a slip. Also, our evening meals at
anchor are usually much better than we can
find at any restaurant.
Wrightsville Beach Anchorage
Overnight at anchor we had winds that ranged from 15 to 30 knots, first out of the south and eventually clocking around to west northwest.

The temperature dropped to 54 degrees this morning but it feels like it is freezing to us after almost an entire week in the 80's.
As we were coming into the Wrightsville Beach anchorage yesterday, we saw the large red inflatable buoys set up in Mott's Channel for an IRONMAN competition today (October 22).

The IRONMAN competition features a 2.4 mile swim (a lot of it within sight of our anchorage) with water temperatures in the upper 60's to low 70's--I believe the participants are wearing light wetsuits for this swim but I can't tell for sure from our vantage point.

The low incoming tidal current is expected to produce some great results in the swimming part of this competition.

After the swim, the participants bike for 56 miles.

As if that isn't enough, the last leg of the IRONMAN is a 26.2 mile run (full marathon).
Because the IRONMAN competition was taking place in the channel we had to leave through, we delayed our morning departure and ultimately decided to stay here in the anchorage today--this means a slight revision to our 10-day travel plan.

We put the side windows in to keep the cockpit warmer, did some trip planning, and got caught up on some boat chores that we've been neglecting until now.
This image is looking south at the Wrightsville Beach anchorage. This
shot was taken with my little point-and-shoot camera
since my Nikon D300 suddenly died.
We've been traveling for seventeen days and one thing we have learned is that planning ahead is very important and having the flexibility to change your plan according to the weather is equally important.
This sailor didn't plan very well and had to tie up to a day mark in
the Alligator River-Pungo River Canal for the night. It
pays to plan around areas that don't have
good anchorage opportunities.
Our current 10-day plan is as follows:
Sun: Wrightsville Beach (MM 283) to Southport (MM 308) - 25 miles
Mon: Southport (MM 308) to NC/SC border (MM 342) - 34 miles
Tues: NC/SC border (MM 342) to Bull Creek (MM 383) - 41 miles
Wed: Bull Creek (MM 383) to South Santee River (MM 420) - 37 miles
Thurs: South Santee River (MM 420) to Charleston (MM 469) - 49 miles
Fri: Charleston (MM 469) to Rock Creek (MM 516) - 47 miles
Sat: Rock Creek (MM 516) to Beaufort SC (MM 536) - 20 miles
Sun & Mon: Stay in Beaufort SC couple days
Tues: Beaufort SC (MM 536) to Wright River anchorage (MM 573) - 37 miles
Thanks for following our blog!