Wrightsville Beach to Southport - 2016
--Blogpost written by Bob
Wrightsville Beach to Southport
Despite the fact that we only have a 25-mile day ahead of us today, we raised anchor and got underway at 8:30 AM on Sunday, October 23.

It was 46 degrees when we left our anchorage this morning!
Today, we proceeded south through Myrtle Grove Sound, passing Masonboro Inlet and Carolina Beach Inlet.

At both inlets, we felt the effects of the tidal currents coming in from the ocean and shoaling that had occurred.

At the south end of Myrtle Grove Sound, we almost missed Snows Cut off to the starboard.

Snows Cut leads to the Cape Fear River.
It was still cold and we had a westerly wind which chilled us to the bone, maybe that's an exaggeration but it felt that way after temperatures in the 80's last week. The Cape Fear River was a nasty body of water this day.
A dredge works in the channel in the Cape Fear River.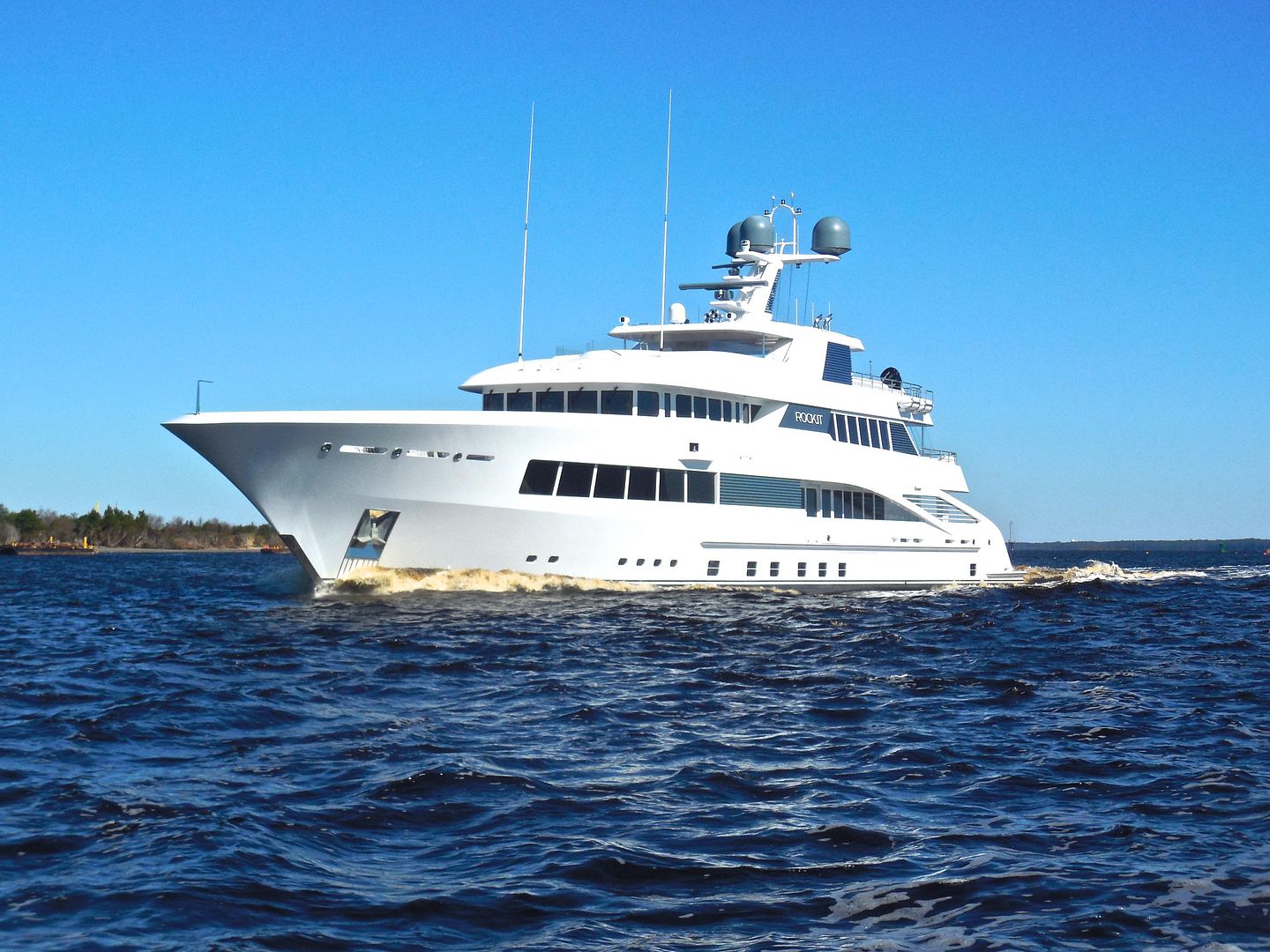 This large private motor yacht passed us coming down the Cape Fear
River. Instead of hailing us on the radio, he just gave us a
single blast of his horn to indicate he was
going to pass on our starboard.
After following the Cape Fear River for about 10 miles, we turned to starboard into the ICW canal at Southport.
We decided to rent a slip for the night at Southport Marina and called for a reservation as we were coming down the Cape Fear River.
We found the marina easily--simply turn to starboard at red day mark #2A and come in between the two small red and green buoys.
We made this stop (Southport) at the recommendation of the author of
What's Up Ditch
--the recommendation was for the restaurant, Provision Company and their free docks. In the process, we discovered one of the best marinas we've found on our trip, Southport Marina, one of the handiest services for cruisers, Carolina Yacht Care, and a very nice small town, Southport NC.
This is a shot of some of the waterfront businesses in Southport. The Provisions
Company is the low building on the right of this image with the red
roof. There are several restaurants in this area.
We are well ahead of schedule in terms of making it to St. Augustine for our slip reservation, starting the Monday after Thanksgiving.
We feel we can afford a few distractions.
Southport NC
The first thing we did after tying up to the dock was to take showers--either we really needed a shower badly, OR the shower facilities were outstanding, OR both.

The fantastic shower made me forget all about the fact that Maggie dropped one of our dock lines overboard when coming into the marina.

The second thing we did was to use a shuttle service offered by Carolina Yacht Care to get groceries.

The third thing was to have "dunch" (our meal between lunch and dinner) at the Provisions Company--we both had "Thee Dinner Special" which included 1/2-pound of boiled shrimp, a deviled crab cake, and 1/2 ear of corn-on-the-cob. The boiled shrimp was amazing!
The Provisions Company is a seasonal outdoor restaurant--it closes for the
season in early November. At this restaurant, you place your order
after walking in the front door, pick out your drink (soda, beer,
or wine) and then sit down at an outdoor table (under
a roof) that overlooks the water.
At 6:00 PM we attended an excellent courtesy briefing of the conditions (weather and shoaling) for traveling down ICW, south of Southport--this was given by Hank Pomeranz (of Carolina Yacht Care) who is a meteorologist by training and a cruising sailor who now resides in Southport.
This was an invaluable briefing!
There are two inlets from the ocean along the ICW south of Southport that concern us--Lockwood Folly and Shallotte Inlet.
We got very detailed information that will help us get through these areas and many others ahead.
On Monday morning, October 24, we decided to go out for breakfast at a restaurant another sailor recommended to us, Locals Diner.

After breakfast, a

s we walked back to the marina we stopped in several of the unique shops on Howe Street.

I also wanted to pick up a t-shirt from Southport and we stopped at a t-shirt shop near the waterfront but it wasn't open yet at 11:15 AM.

So, we decided to go out to lunch while we were waiting for the t-shirt shop to open.
The Fishy Fishy Cafe was right across the street--so, that's where we had lunch and it was fabulous!
The food and service was actually better than the Provision Company which was our original reason for stopping in Southport.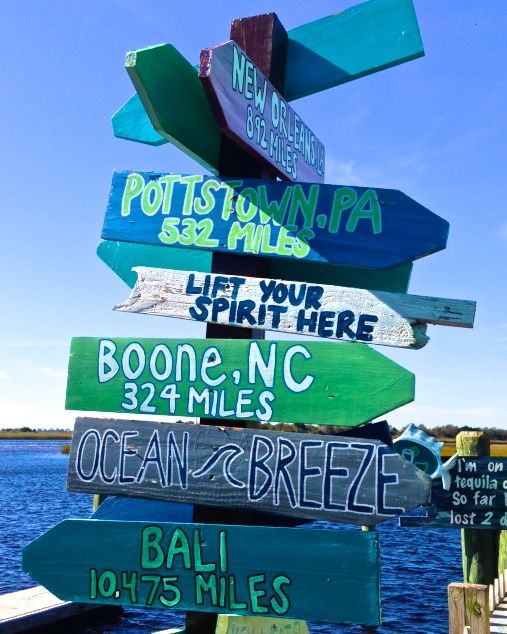 This sign post is outside on the deck at the Fishy Fishy Cafe. It is
unusual to see Pottstown, PA on this sign post along with
other more well known cities around the world.
(I was born in Pottstown, PA.)
This classic old fishing/shrimp boat, named Alice Belle, was built in 1946.
There are many beautiful old homes like this one built in the late 1800's to the
early 1900's in Southport--this one is nicely shadowed by live oaks. There
are also a lot of mature palm trees around the historic homes.
Some homes are very colorful like this blue house with the yellow front door.
Most of these old homes are in an area known by
the locals as "Old Southport."
Southport has a population of 2,833 but swells to more than twice that number during the summer. The town can be seen in the television series Dawson's Creek, Under the Dome, Revenge, and Matlock. There have also been a number of movies filmed here, including Safe Haven.
A beautiful sunset on October 25 from Southport Marina. The ICW channel
can be seen on the far left side of this image. In this area of
North Carolina a lot of the ICW runs east-west.
Summary
I realize we haven't traveled much over the past couple days--we just kind of fell in love with Southport and decided to stay a while--in fact we stayed three days.
On Saturday, October 22 my trusty Nikon D300 DSLR camera failed to power up--this was after a couple instances of false low battery indications during previous days.

I tried cleaning the contacts in the camera with a pencil eraser and then with denatured alcohol on a q-tip to no avail.

So, for this blogpost (and probably several more in the future I am using a little (Nikon) point-and-shoot camera.

I bid on one Nikon D700 (a slight upgrade over my D300) on eBay and lost it to another bidder.

I then bid on another Nikon D700 and won this one. Now, I have to figure out where I will be long enough to have it sent to me.
We'll get back on the ICW
tomorrow (October 26) around noon because we need to work around the tides for transiting the ICW by the next two ocean inlets.
Thanks for following our blog!