Our Last Bagel in Baltimore
--Blogpost written by Bob
We were all set for a October 4 (Tuesday) departure until I got bronchitis only days before departure.

The hacking cough and inability to speak due to the inflammation of my airways was sufficiently uncomfortable to cause us to delay our scheduled departure.

It took a visit to the doctor to get medication to bring it under control quickly.

I felt like my throat was on fire and part of my head was missing.
We now intend to leave the dock tomorrow morning, October 5.
Last Minute Adjustments
We had the dinghy upside down on the foredeck prior to departure but decided it interfered too much with visibility from the helm.

We took it off the foredeck and decided to tow it instead.

(We still plan to stow it on top the foredeck for crossing the Gulf Stream since the reduced visibility during the night passage using instruments to navigate is not much of a concern.)
We purchased a SnapIt single drink holder at West Marine to use as a holder for our signal horn, located at the helm.
We used a beverage cozy to make it fit a little more snugly.
When sailing the Chesapeake, we kept the signal horn below in the cabin but we thought it should be a little more accessible since we will be more likely to use it going down the ICW with all the boat traffic headed south.
We purchased and installed a SnapIt single drink holder on the
steering pedestal to use as a mount for our signal horn.
The rainstorm that lasted several days during the weekend just prior to our departure convinced us that it was a good idea to bring our cockpit enclosure along for the trip. Several days of continuous rain during this time of the year is not uncommon and it would be nice to be able to keep our cockpit dry and warm. We intend to use the enclosure only when it's necessary to keep dry and warm--hopefully, not for the entire trip down the ICW. The down side of bringing it along is storing it in our quarter berth when not being used.
Another SeaFrost ice cube tray failed (our fifth failure with a year)--so I removed all the rubber and adhesive from around the outside and had the two halves welded together.
We'll see how long this fix lasts.
The last day at the dock was consumed by last minute provisioning of fresh foods, stowing our fresh water hose and shore power cable, and
taking our car to it's indoor long-term storage facility near BWI airport.
With the 225 feet of anchor chain in the anchor locker, full water and fuel tanks, our portable water maker onboard, and all our provisions loaded, the boat is sitting right on the bottom edge of it's waterline--this is now as heavy as
Rainy Days
has ever been loaded.
Hurricane Matthew
Hurricane Matthew can still mess with our plans sailing south but it won't be in our sailing area until late on the weekend. Not to sound nonchalant about it but we will deal with it appropriately when the danger becomes more defined.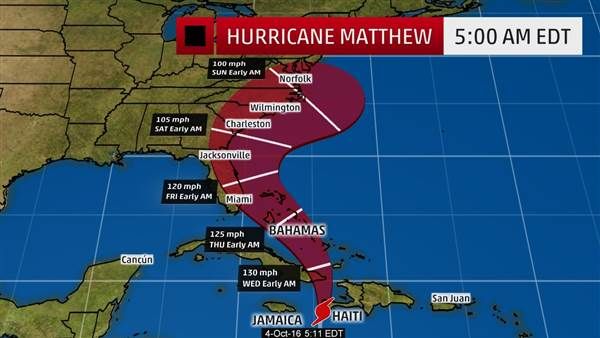 From the projected path of Hurricane Matthew, our paths will intersect
near Norfolk, Virginia on early Sunday morning, October 9.
Summary
We are headed to Onancock, Virginia via Galesville and the Solomons and will be publishing our next blogpost sometime over the weekend.
Thanks for following our blog!