Butler Island to Isle of Palms - 2016
--Blogpost written by Bob
Butler Island to Isle of Palms
This was just before sunrise on the Waccamaw River
in
South Carolina. The colors were simply beautiful!
We were underway on the Waccamaw River by 8:00 AM as we continue our trek down the ICW.
It began like any other day on the ICW.
There was a mist over Butler Island as we left
our
anchorage.
We only went under one fixed bridge (the Lafayette Fixed Bridge) just after leaving our anchorage.

We passed by Georgetown SC and motored through Winyah Bay and entered the Estherville Minim Creek Canal.

We crossed the North Santee River, went through the Four Isle Creek Canal, and then crossed the South Santee River.

After entering another narrow canal area of the ICW we saw an alligator along the ICW in a marshy area!
We passed McClellanville, got through the Harbor River, and came into a very shallow area of the ICW called Jeremy Creek.

It was low tide and it was touch and go, many times nearly going aground.

The depth sounder alarm (set at 6 feet) was sounding more often than not through this area. This area should only be traversed at high tide.

I went very slowly and hand steered, feeling our way into deep enough water but many times depth sounder showed only 5.5 feet.
Just as we cleared day mark #42 (the end of the shoaled area) our engine ground to a halt, almost like when a crab pot wraps around the prop and chokes the engine.

It would not restart--it just went "thud" when I turned on the starter.

I immediately dropped our anchor at the edge of the ICW channel to avoid going aground.
This is where our engine stopped, at day mark 42 (this photo looking
back) in Jeremy Creek, after we cleared the shoaled areas.
Maggie and I each dove in the water to check if something was wrapped around the propeller--we didn't find anything! This was a hair-raising experience after seeing an alligator earlier in the day!
We called TowboatUS for a tow to Isle of Palms Marina--Towboat US had to come from Charleston.
As we were waiting a couple hours for TowboatUS, I called Isle of Palms Marina for a slip and then I called a diesel mechanic near the marina.
The diesel mechanic, Aaron Vickers, offered to come to our boat on Sunday afternoon (a Sunday!) to analyze our engine problem and help us get on our way.
As we waited for TowboatUS, we listened to the last half of the Penn State-Purdue football game--Penn State (my alma mater) won 62-24!
The good news is that we have unlimited towing coverage with BoatUS and we
were
towed
further
south than we planned for the day--the bad
news
is that it took 2-1/2 hours to get towed to a marina at Isle
of Palms and we have to incur the expense
of fixing whatever is wrong.
As we were being towed, we saw a bald eagle sitting atop a day mark and a dolphin breaking the surface of the water in the ICW.
So, after all is said and done, we traveled 62 miles today, ending our day at MM 458--it was the most we traveled in any day so far, thanks to TowboatUS. (MM stands for Mile Marker, starting at zero in Norfolk, VA.)
Isle of Palms: Oct 30 thru Oct 31
Knowing that our engine issue will take some time, we rented the slip at Isle of Palms Marina for the week (only $353, including electric). We cancelled our slip reservation at Beaufort SC for Monday.
Sunday morning we took (much needed) showers and then removed things from the quarter berth, the starboard cockpit locker, and the drawers by the companionway for engine access. My initial thoughts are that a piece of equipment connected to the engine by a v-belt froze up and it preventing the engine from turning--this means it is either the alternator, the raw water pump, or the fresh water/glycol pump.
Saturday morning after passing Georgetown, I noticed an (
unusual
) additional vibration and I thought it was something caught on our propeller. This must have been related to whatever froze up.
Aaron Vickers showed up about noon on Sunday to analyze our engine problem.

H

e was able to turn each individual piece of connected equipment by hand--this left the engine itself as the problem.

Aaron checked the oil level before proceeding any further--the engine was completely out of oil!

We added 3 quarts of oil from my onboard stock and were able to start the engine!

However, it had this severe "metallic scraping" noise which we assumed was scored pistons.

At this point, we were looking at an engine rebuild OR an engine replacement.

Leaning toward a replacement, we found Marine Propulsions in Rockville SC (about 40 miles away by water) who was recommended by Aaron and a host of boaters on ActiveCaptain.

We sent them an email on Sunday (October 30) to inquire about a rough estimate and timetable.
We are still at a loss to explain how the engine ran out of oil.

The oil was last changed in mid-June and our boat was not used much until we left in early-October.

There was no evidence of oil leaking into the bilge and no signs of it burning oil anywhere along the way. However, somehow I missed the 100-hour oil change in Beaufort, NC. We have accumulated at least 144 engine hours since the last oil change--this wasn't good!.

(I will definitely be more diligent about oil changes and about checking the oil level before each day's run!)
I considered a preventative engine replacement about a year ago but couldn't justify it because my engine hours were relatively low for the age of the boat. Still, the engine is now 33 years old.
Regardless of how we got to Isle of Palms Marina and that we are facing an engine replacement ($$$$), we decided to make the best of it. We are in warm weather surrounded by palm trees, the beach is less than 2 miles away, and Charleston (one of our favorite cities) is within driving distance! Our 10-day plan is completely out the window now.
S/V Rainy Days is on the face dock
at Isle of Palms Marina.
The slips shown here are connected to Wild Dunes Yacht Harbor.
The homes are illuminated by the last light of the
day, just before sunset.
On Monday (October 31), we had further communications with Marine Propulsions in Rockville, SC about our engine replacement--it will cost us $18,000 to $20,000 and take 2 to 4 weeks to do the changeout.

However, they can't start on our project for one month because of other projects that are underway.

(We have to allow a 2-week delay because of the Christmas holidays too.).

So, we will be staying at Isle of Palms Marina for 4 weeks, then get towed to Rockville SC (about 50 miles away), then find another place to live while the work is being done on our boat, possibly into the middle of January.
We have considered several possibilities for living arrangements for 4 to 6 weeks while our boat is being re-powered:
(1) a room in someone's house near Marine Propulsions
(2) a room at an extended stay hotel somewhere in the area
(3) an (off season) vacation rental near the beach
(4) an RV that gives us some travel possibilities (and saves the cost of a rental car)
(5) a houseboat rental in Charleston
We have made a lot of phone calls, sent a lot of emails, and are awaiting information to allow us to make a decision between these five alternatives.
We explored a little bit of Isle of Palms today when we traveled to the Harris Teeter grocery store using rented bikes--it's about 2 miles away from the marina.
Isle of Palms (commonly abbreviated as IOP) in a city in Charleston County SC located on a barrier island. In the 2010 census it had a population of 4,133. It is an affluent community comprised of vacation homes and year-round homes.
The terrain is very flat--so, biking was easy.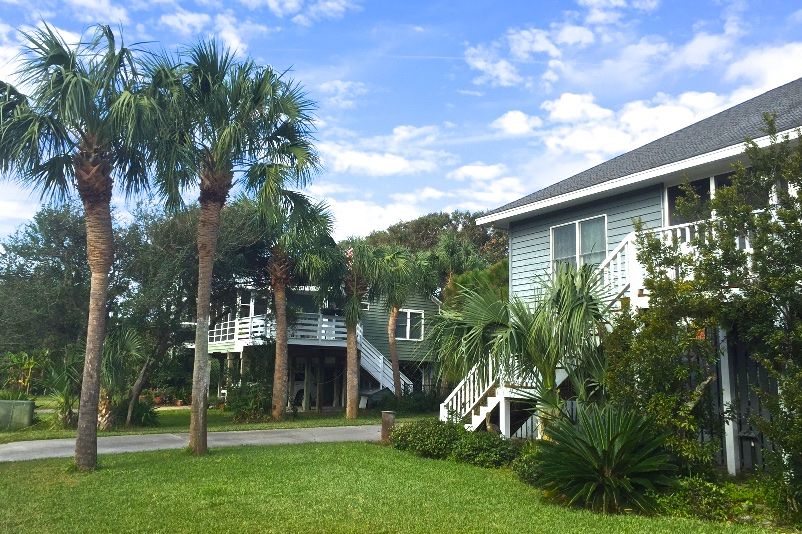 These are some homes on the least expensive side
of Palm Blvd--the more expensive homes are
between Palm Blvd and the ocean.
Today was a day of lots of little things going wrong.
First, the tuner on our satellite radio failed (I ordered a replacement), then we noticed the refrigerator's performance was dropping off (it turned out to be a clogged raw water filter), and we killed two huge cockroaches that apparently flew into the boat.
I've had more time to reflect on the loss of oil in our engine and realized that it's been happening over several years.

In the Chesapeake Bay, our engine is never used more than 100 hours per year and oil changes are done once per year.

The last couple seasons I remember the oil level being down to maybe 1 quart (from 3 quarts in the full state) just before I changed the oil.

We had a little less than 150 hours of engine time on this trip when the engine seized up.

I had planned to change oil while in Beaufort NC (at 100 hours) and somehow I got side tracked and it didn't happen.

I'm still at a loss to explain the complete loss of oil though. Although more frequent oil level checks could have avoided the sudden breakdown, it would not have changed the ultimate need for re-powering since I suspect that something was going bad for some time.
Summary
Since we will be in Isle of Palms for 4 weeks we will continue our blog posts every 3 or 4 days but there won't be much boating travel to report. We are kinda bummed out about our engine troubles but we are committed to make the best of it.
Thanks for following our blog!