Isle of Palms - 2016
Nov 4 thru Nov 6
--Blogpost written by Bob
November 4
This was our first overcast morning since
coming to Isle of Palms Marina.
This seems to be typical of South Carolina along the
ICW--palm trees and long piers out into the ICW.
Today we rented a car (for Friday, Saturday, and Sunday from Enterprise at $10/day) and got one of our propane tanks refilled, replaced Maggie's iPhone which has been on the fritz lately, drove to Marine Propulsions in Rockville SC (where our re-powering will be done) to drop off our deposit check and meet the owner (Anthony Black), and then drove to Folly Beach to check out our newly rented December residence--nice little beach town! All in all, it was a very productive day!
The $10/day car rental rate is a good deal until you consider the $25/day for insurance and the $5/day to park it at Isle of Palms Marina. Next time, we will use the insurance company for our personal car (GEICO).
We have firmed up some dates for working around our upcoming re-powering of our sailboat:
Now until Nov 28 - we stay here at Isle of Palms Marina
Nov 28 - we get towed to Rockville SC (weather permitting)
Nov 29 - our beach house rental & longer-term car rental begins
Nov 30 - work starts to re-power our sailboat
Jan 13 - re-power work on our sailboat is complete
Jan 14 - beach house rental ends
Jan 15 - we resume our trip southward on the ICW
November 5 (Sullivan's Island)
The northerly wind brought some cooler temperatures today--it was in the high 50's last night which seems almost like freezing to us now. The sun is shining brightly and the afternoon temperatures were in the low-70's, which is not bad for November.
This is the second of our three days having a rental car. Since driving in rush hour traffic was so hectic for us yesterday (after moving at a speed of only about 6 miles per hour for the entire last month or more) we decided to just drive to easy, close-by, places today.
We decided to explore Sullivan's Island, the next island to the south of Isle of Palms. We used TripAdvisor to come up with a list of places that sounded interesting to us.
We started our day by driving all the way to the southern
end of Sullivan's Island--to Fort Moultrie.
Fort Moultrie has seen service from the war for independence to
World War II. Shown above the the flag of the original
13 colonies and a cannon from World War II.
These arches in the fort are very much like those in
forts in Puerto Rico built by the Spain.
A fisherman casts from the surf just to the south
of Fort Moultrie on Sullivan's Island.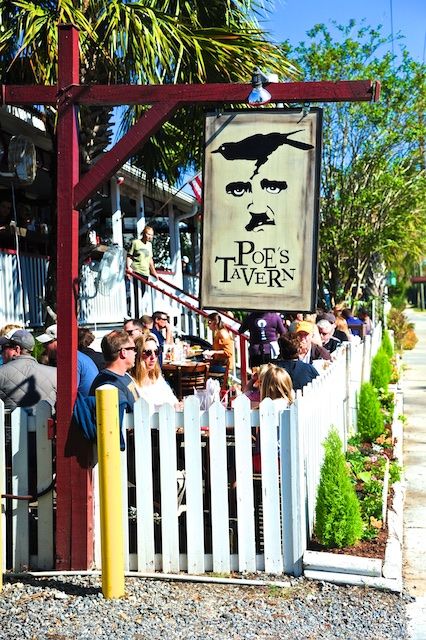 We had a great lunch at Poe's Tavern. Poe's short story
"The Gold Bug" was set on Sullivan's Island. It was
published in 1843 and he was paid $100 for his
story--the most he was paid for any of his
writings. In fact, it was his most
popular story while he lived.
Sullivan's Island has a lot of character, unlike Isle of Palms where many of the homes on the palm-lined boulevard look alike. (The southern end of Isle of Palms is more like Sullivan's Island.) I really like this island!
We finished up the day by going to Walmart in Mount Pleasant for some groceries and a liquor store to replenish our dwindling supply of Gosling's Black Rum (for our Dark 'N' Stormy drinks).
November 6 (Charleston)
For our third day with a rental car, we decided to go into Charleston (about 10 miles from Isle of Palms Marina).
This is a view
looking
northward from the Route 517 bridge. Isle of Palms
is on the right side of this image while Goat Island is n the
left side
of the image. The ICW is right in the
center between the two islands.
One of the prettiest streets in Charleston, Vendue Range which
leads to Waterfront Park.
This
photograph was
taken from East Bay Street.
There are many fine restaurants in Charleston. We chose
Henry's on North Market Street for lunch.
Maggie's salad at Henry's restaurant was a work of art. Note
how the cherry tomatoes are cut into
quarters
but not completely separated.
This is the inside of one of the market house buildings. There are four
almost-identical buildings in a row running East to West
and they are filled with small businesses selling
their wares. It should be noted that we
did
our share of supporting
the local economy.
These beautiful flowers outside the windows at Magnolia's
restaurant were blooming in November!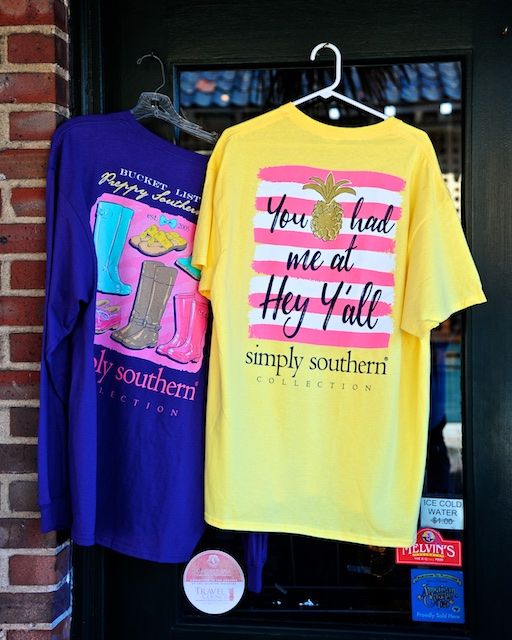 There was no shortage of t-shirts shops in Charleston.
A very clever quote on a tea towel--"ALCOHOL because
no good story ever started with eating a salad."
The colors and atmosphere in Charleston seemed to inspire the
artist within for me. This is simply a yellow delivery truck
in front of a building. I loved the color contrast!
We finished the day back at the marina, watching the end of the Ravens-Steelers game in the upstairs bar of Morgan Creek Grill and met a guy named Wally who lives on Dewees Island. He was a Pittsburgh fan, originally from the Pittsburgh area. We learned a lot about the neighboring island which can only be accessed by private ferry.
These last three days have been a nice diversion from our concerns about getting a new engine installed in our boat.
Thanks for following our blog!