Isle of Palms - 2016
Nov 7 thru 10
--Blogpost written by Bob
November 7
This is the beginning of our second week at Isle of Palms Marina. We've been stuck here since our engine seized up and we were towed here by TowBoatUS. We are awaiting re-powering by Marine Propulsions in Rockville SC.
Since we returned our weekend rental car, we traveled down island by rented bikes in the morning. We rode from the Isle of Palms Marina on 41st Avenue to the Public Beach on 14th Avenue. After walking on the beach a short while, we stopped at Coconut Joe's for lunch.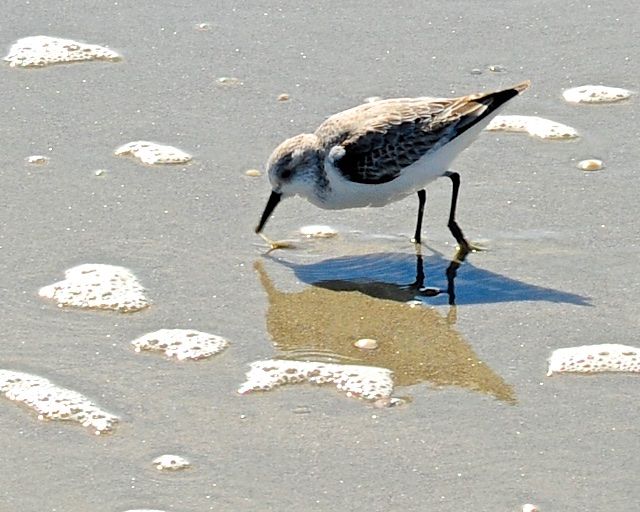 This sandpiper was rummaging for his late
breakfast on the beach.
This structure is beneath a long fishing pier that
runs out into the ocean from the beach.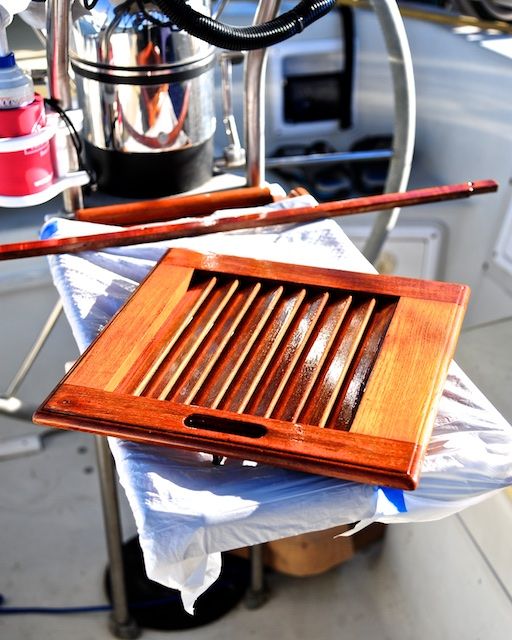 Since we are going to be here in Isle of Palms for another 3 weeks,
I started a varnishing project for the louvered door for access
to the area under the forward section of the quarter berth.
In the afternoon, Maggie did some laundry and I started a varnishing project. Late this afternoon we were surprised by my old friend, Jerry Mann, who showed up at our boat and took us out for dinner at Coda del Pesce, probably the best restaurant in Isle of Palms. It was a shock to see him show up at our boat, to learn that he has lived in the Charleston area for the past 13 years, that somehow he found my blog, and located us. It was a very nice surprise!
November 8
It was cool last night (53 degrees F) and we used our reverse-cycle AC to keep the cabin nice and warm.
Today is Election Day here in the U.S. (We've already voted by absentee ballots in Florida.) and we decided to stay around the marina today and do some chores.
Lizzie is confined to quarters today because she hid from view in
a battery compartment of a neighboring fishing boat while
we frantically searched for her. A dog alerted us
to her hiding place and she had to
be coaxed out with treats.
Nice mug shot, huh?
I applied the second coat of Epifanes-brand varnish on our under quarter berth cabinet door and frame this morning.
Of course, I lightly sanded the surface again before re-coating and thinned the varnish before application.
It takes a lot of patience to make a smooth varnished surface.
It is also very important that there are no areas of heavy varnish build-up because these areas won't cure fully.
Because we have lots of time here, I'll wait a full 24 hours before applying the next coat of varnish.
This is a magnified view of the varnished surface after two coats.
As expected, you can still see the crevices in the grain after
the second coat of varnish was applied. After
applying several more coats
(and sanding
between coats) these grainy crevices
will eventually disappear.
One of the prettiest sounds we've heard throughout the Carolinas is the songs of the grackles (a black bird with iridescent feathers).
There are many of them here at Isle of Palms Marina and they seem to be most active in the mornings.
Their songs create a soothing tropical atmosphere.
November 9
We woke up and were shocked by the election results, like many other people.

Our mood today is like the day's weather, overcast and cool.

Fortunately, our current lifestyle is relatively unimpaired by politics.
Last weekend we rented a car for $10 per day (Enterprise's weekend special) and paid an additional $25 per day for insurance coverage--this is the equivalent of $9,125 per year!
Since last weekend, we have successfully tackled the problematic high cost of insurance from the rental car company.
Our personal car is in storage while we are cruising and our auto insurance was reduced to minimal coverage during this time.
However, by activating our car insurance for the time we are renting a car, we get full rental car coverage and it only costs $2.55 per day!
(Of course, your mileage may vary but this is a HUGE difference!)
We walked along the beach at the County Park today.
This is a sand-level view of the beach.
One of many nice homes along Palm
Boulevard in Isle of Palms.
November 10 (Spanish Moss)
Our lack of activity today has allowed me to research and write about something that is unique to the southeastern states (where we are now located), Spanish moss.
Spanish moss has had a number of different names as various early settlers have encountered the mysterious plant.

The French called it "Spanish beard" while the Spanish called the plant "French hair."

The name "Spanish moss" was derived from the original "Spanish beard" and is the name that has stuck and is most commonly used today.
This photograph of Spanish moss was taken
along the road leading into the
Isle of Palms Marina.
Spanish moss is not really a moss-
-
it is a bromeliad that prefers to grow on one of two common southern trees: live oaks and bald cypress. (It will, however, grow on almost any tree if the conditions are right.)
Spanish moss does not have any roots.

Instead, Spanish moss uses tiny scales on its leaves and its curved structure to cling to its host tree.

Although Spanish moss grows on trees, it is not a parasite.

It doesn't put down roots in the host tree, nor does it take nutrients from it.
Spanish moss prefers warm climates with high humidity.

Humidity and rain are essential for the plant to be able to grow.

The same tiny gray scales which anchor the plant to the host tree also trap water until the plant can absorb it.

The plant's tissues can hold more water than the plant needs so that it can withstand dry periods. When the tissues plump up after a rain, Spanish moss appears more green.

As more of the trapped water is used by the plant, it returns to a gray hue.
Spanish moss reproduces in two ways: through seed and, like many other bromeliads, by producing pups (small plants).
The seeds of the moss have a feathery appearance, like dandelion seeds, that allows them to float through the air until they land on another suitable tree.
Many different kinds of wildlife use Spanish moss.

Birds use it to build nests.

Frogs, small snakes, and spiders live in it.

There is one species of spider,
Pelegrina tillandsia,
that can only be found living in Spanish moss.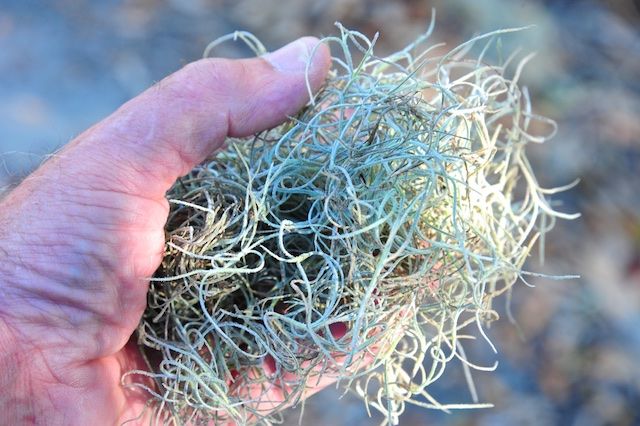 It is obvious that Spanish moss would
make a great bird nest.
(Material for this section came from The Story Behind Spanish Moss and Ten Things You Should Know About Spanish Moss. All of the photos were taken by me within 1/4-mile of Isle of Palms Marina.)
Summary



We have a plan for touring some local sites this weekend, possibly Georgetown, Beaufort SC, and maybe a little bit more of Charleston. Stay tuned...
Thanks for following our blog!