Isle of Palms - 2016
Nov 11 thru Nov 13
--Blogpost written by Bob
November 11 (Beaufort SC)
Since we are stranded here at Isle of Palms Marina due to our engine breaking down along the ICW, we rented a car again this weekend and did some more exploring by land. Today, we explored Beaufort SC.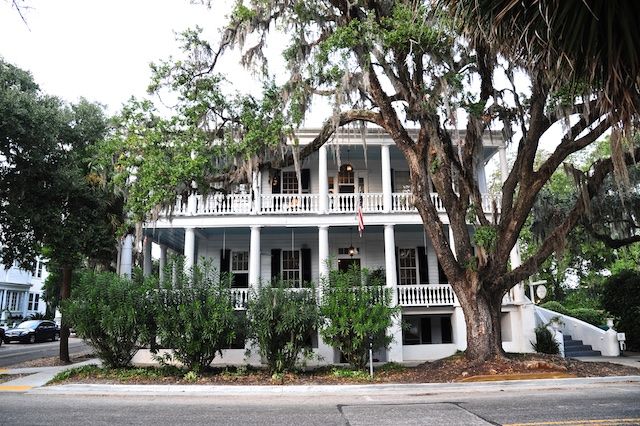 There are many old mansions like this one
in the historic district of Beaufort SC.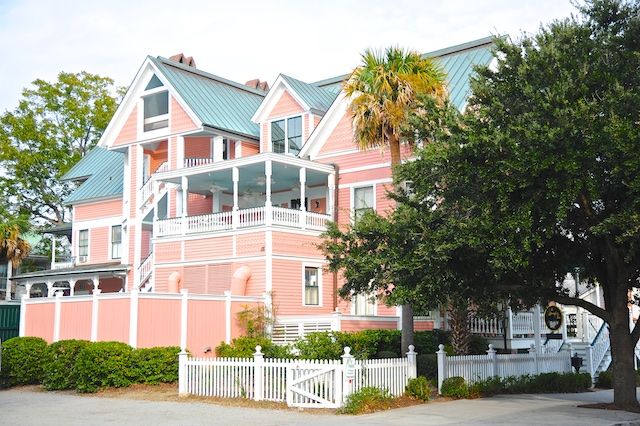 This is the Beaufort Inn, located on Port Republic Street. There
are 34 individually decorated guest rooms. The building
was originally built as a home in 1897 by attorney
and congressman William Sidney.
This is an old cottage in the historic district of Beaufort SC.
The colorful history of Beaufort SC includes the revolutionary
war and the civil war. This sign on a building is
just one example of it's colorful history.
This is the Beaufort Municipal Marina as
viewed from Waterfront Park.
This is the Ladies Island Swing Bridge as viewed from Waterfront
Park--it is opening for a southbound boat. This bridge
is just north of the Beaufort Municipal Marina.
The fixed bridge south of the Beaufort Municipal Marina is the
J.E. McTear Memorial Highway Bridge. This photograph
was taken from Waterfront Park in Beaufort SC
November 12 (Farmer's Market)
We have always liked the Farmer's Market in Annapolis and we bought some fresh eggs and veggies from the one in Elizabeth City NC on our way down the ICW. We decided to visit the Charleston Farmer's Market on this Saturday morning.
The Charleston Farmer's Market uses a park that is near the junction of
Calhoun Street and Meeting Street right in downtown Charleston.
There are dozens of tents with many different
types of merchandise--not just veggies.
Even in mid-November many different veggies
are available fresh from the farms.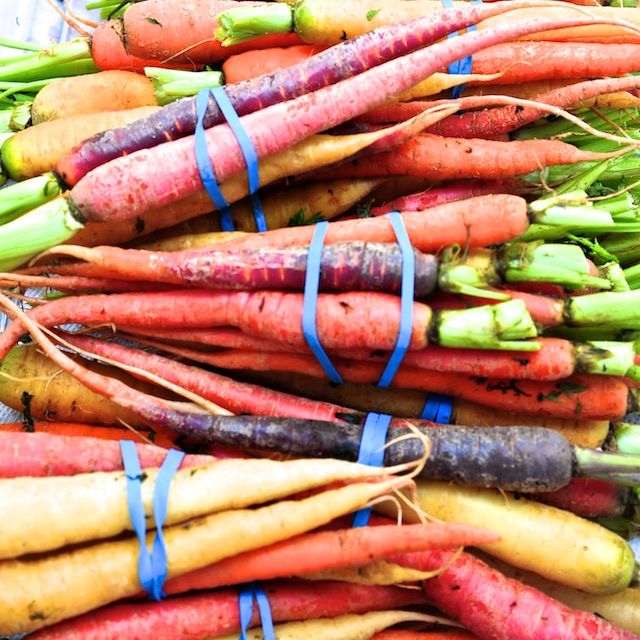 These are bunches of multi-colored small carrots.
I have never seen breakfast radishes before. They
are very mild radishes but very tasty.
This colorful display was a listing
of the
fresh pasta
for
sale. We purchased
some roasted
red pepper fettuccini.
On the way to the Farmer's Market, we walked past the Emanuel A.M.E Church on Calhuon Street where the senseless killing of nine people occurred on June 17, 2015.
November 13 (Charleston SC)
For our third day of having a rental car, we opted to spend another day in Charleston, first visiting the South Carolina Aquarium and then some general sightseeing.

This is the Arthur Ravenal Jr. Bridge which connects Mount Pleasant
to Charleston. It is currently listed as #3 of 224 things
to do in Charleston by TripAdvisor because
of its unique structure.
This comical metal sculpture of a frog leisurely sitting on a bench
greeted us as we arrived at the South Carolina
Aquarium in Charleston.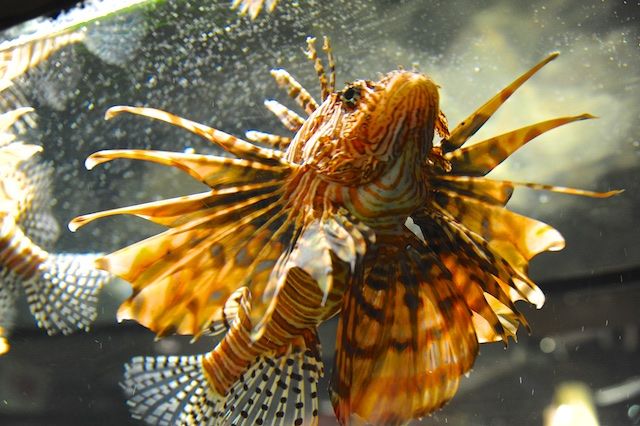 There was a tank of lion fish as one of the first displays in the
aquarium. Lion fish are, of course, an invasive
species, venomous, and delicious.
This is one of many moon jelly fish
at the aquarium.
A large sea turtle was an occupant in the large
tank with a lot of big fish.
This is a photograph of Rainbow Row during a rainstorm. The
heavy rain cut short our afternoon sight seeing.
We had lunch at the Charleston Crab House on South Market Street and had absolutely delicious she crab soup!
Summary
Trying to make the best of our situation, this week we will be taking a tour boat trip to nearby Caper's Island. We also hope we have good weather to see and photograph the super moon on Monday evening!
Thanks for following our blog!