Isle of Palms - 2016
Nov 14 thru Nov 17
--Blogpost written by Bob
November 14
Just a reminder that we are still here at Isle of Palms Marina after our engine seized up along the ICW. At the end of this month we will be towed to Marine Propulsions in Rockville SC where our engine will be replaced. We have rented an (off-season) oceanfront apartment in Folly Beach SC for the month of December and the first half of January.
I spent most of this morning replacing our
faulty
satellite radio antenna
.
I originally installed it at the end of September 2015--so, it lasted just over one year (the warranty period). I never would have thought that a sealed antenna would fail. This is the third electronic device that has failed so far on our trip down the ICW--the other two include Maggie's iPhone and my Nikon D300 DSLR camera.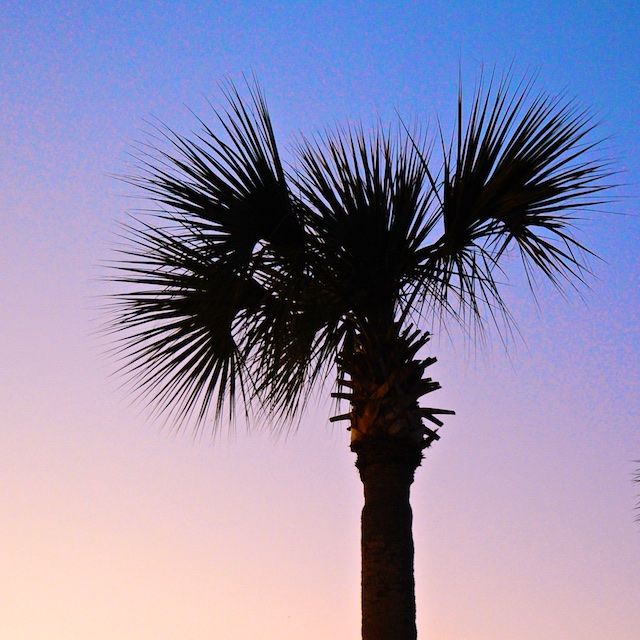 Shortly after the sun went down as we were waiting for the
super moon to come up, this palm tree stood out on
the background of rapidly changing colors.
We had selected a spot at the marina where we intended to watch the super moon rise over the homes in Wild Dunes. However, as it came time for the moon to rise (5:50 PM), a barge with two semi's and a front end loader pulled into the area at the Dewees Island ferry dock and completely blocked our view. We quickly scrambled to find another spot but we couldn't find one stable enough for us to take photographs without a tripod.
November 15
The sun was rising in the sky on November 15 over Isle of
Palms. Moments later, it was obscured by cloud cover.
The palm tress and the parking lot in the
foreground
are on the Isle of Palms Marina while
the boats in the background
are berthed in Wild Dunes
Yacht Harbor.
The low tide exposes shellfish on the mud banks. At high
tide, these are completely covered with water. South
Carolina's riverbanks, salt marshes, and
creeks
are rich with Eastern Oysters.
A close up view of the oysters that attach
them
selves to the bulkheads and
pilings
around the marina. It
takes
three
to
four years
for them to mature.
November 16
Today was a very relaxing day for us, reading, going out for lunch, some biking, and walking on the beach.
This type of beach access trail is very
common on Isle of Palms.
Maggie walks toward the ocean on the
beach access trail on 51st Avenue.

The beach near 51st Avenue
at low tide this afternoon.
We waited for this moment, when the sun
makes
its
magical
colors as i
t
sets. I took 66 photographs
over
about 20 minutes to get this one
good one. It was worth the effort!
November 17 (Dewees Island)
We were originally scheduled to take our eco tour of Capers Island today but it was cancelled because the tide was too high this morning (no exposed beach at the island)--it was rescheduled for late afternoon tomorrow.
Dewess Island is very intriguing to me.

It is a barrier island just to the north of Isle of Palms, where we are currently located. We have NOT visited Dewees Island because we are not allowed there unless invited by a property owner.
This sign for the ferry to Dewes Island is just
next door to Isle of Palms Marina
on 41st Avenue.
The Dewees Island Ferry Terminal is simple and unassuming
with palm trees and live oaks providing
cover in the parking lot.
The
Dewees Islander
passenger-only ferry runs between the Isle of Palms and Dewees Island, a 20-minute trip. The ferry is private transportation for the owners, their families and guests, renters on the island and service providers. Everyone who rides the ferry must be pre-registered by an owner in order to be allowed entry to the island.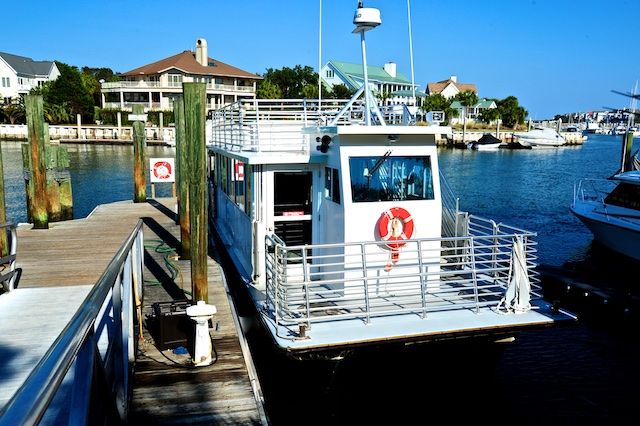 The ferry to Dewees Island is solely a passenger
ferry--a private one at that. It is powered
by two large outboard motors.
The primary mode of transportation on Dewees is electric golf carts; the use of gas-powered vehicles is prohibited, with exceptions for some work vehicles used for construction and maintenance.
The first modern residential homes on Dewees were built in the 1980s on the south end of the island.

The island was devastated by Hurricane Hugo, in 1989.

The "Island Preservation Partnership" was formed in 1991.

With great sensitivity to "living in harmony with nature", the island was laid out to accommodate 150 building lots and the infrastructure was put in place.

In 2015, the island had 150 home sites and very strict building codes requiring a "small footprint and very little clearing of natural vegetation."
This is the south end of Dewees Island. On the right side
of this image you can see the power lines that feed
the island from Isle of Palms. The ferry
terminal is in the middle of this image.
Building lots are offered at prices ranging from $175,000 to $1,000,000 and homes are for sale in the range of $600,000 to a couple million dollars. The home construction appears to be similar to that of Isle of Palms and Sullivan's Island, except for the lack of garages. There are no grocery stores nor restaurants on the island.
A resident of Dewees Island that we recently met, keeps a car at the ferry terminal at Isle of Palms.

His two golf carts (used on the island) were recently destroyed by Hurricane Matthew.

His replacement golf carts must be delivered to the island by barge.
Summary
This is our 250th blogpost and we are now over 25,000 page views! This means we are averaging 100 views per blogpost. However, some blogposts (like those involving our flexible solar panels and our composting toilet, believe it or not) have many more than 100 views but most are much less than 100 views.
We are still scheduled to be towed to Rockville SC on November 28 for our re-powering.
We are replacing our defunct Yanmar 3HMF engine with a
brand new Yanmar 3YM30AE. The new engine
has a
rating
of 29 HP at 3200 RPM, very
similar to our old engine.
Thanks for following our blog!