Folly Beach - 2016
Dec 19 thru Dec 22
--Blogpost written by Bob
December 19
I talked to Maggie briefly on the phone this morning--she's now in Baltimore visiting her oldest daughter.

Then, I drove to Rockville to check on the progress of our sailboat's re-powering.

Specifically, I wanted to make sure that my existing analog instruments for water temperature and electrical voltage were going to be hooked up, despite the fact that the new engine control panel included the same capability digitally.

My instrument lights have to be maintained as well.
This small seafood company with a shrimp boat and a small
seafood processing shed in Rockville is a sight that is
becoming less common in the low country. There
are two similar seafood companies in
Rockville--the other one is larger.
I got back to Folly Beach just before lunchtime.

The outdoor sign announcing a lunch special of Bison Chili caught my attention as I passed the Irish pub in town.

I parked the rental car at our oceanfront apartment and walked up to the Irish pub for lunch.

The Bison Chili with a Guinness to wash it down was simply fantastic!
The Bison Chili caught me eye as I drove home from
Rockville. It was absolutely delicious!
As I've mentioned previously, Folly Beach reminds me of a little village (Villas) outside of Cape May NJ about 55 years ago.
While my aunt Mabel was socializing with the owners of the cottage we shared, I would endlessly walk along the (Delaware Bay) beach and look for treasures.
Despite the fact that I loved the beach, it was lonely for a ten or twelve year old kid--it's the same kind of loneliness that I've felt here this past week.
December 20
It was much cooler today--in the low 40's. I drove to the far east end of Folly Island today--this is the second time I've been there. The road ends about 1/2 mile from the beach and I had to walk the remainder of the way there on a paved path. Just inland of the beach, the vegetation is very thick--that is where this island got its name since a "folly" is a "thicket."
The thick brush on the eastern end of the island consists
of palm trees, deciduous trees, marsh
grass, and some pine trees.
The erosion of the beach causes nearby trees to die.
First the dead trees fall over and expose their roots.
Then the upper parts of the tree decay, leaving the
roots as the last remnants of the tree.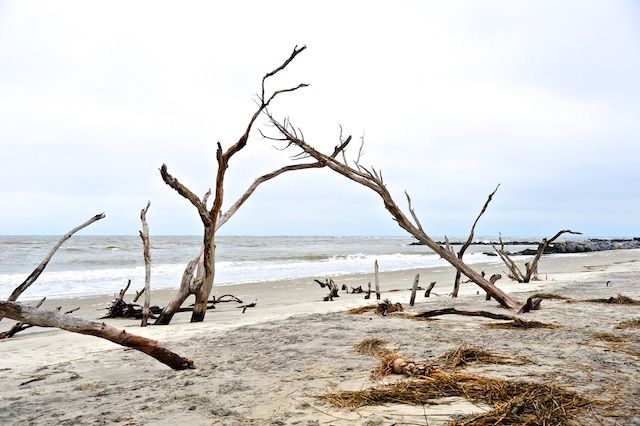 These dead trees make beautiful photo subjects. The
stumps sticking out of the sand, are fastened
to the dead trees root system.
Tomorrow, I expect to drive to Rockville to check progress on our boat's re-powering.
December 21
I visited our sailboat this morning.

There was no one working on our boat.

It seemed like one half the boatyard workers were off Christmas shopping.
s/v Rainy Days sits on jack stands lifelessly
in the shade of some trees.
I picked up a spool of 100-lb monofilament fishing line I that had on the boat and brought my deep sea fishing rod back to Folly Beach with me so that I could changeout the line--this has been on my "to do" list for some time.
The new control has been installed with its larger tachometer
dial and the new push button engine controls on the right.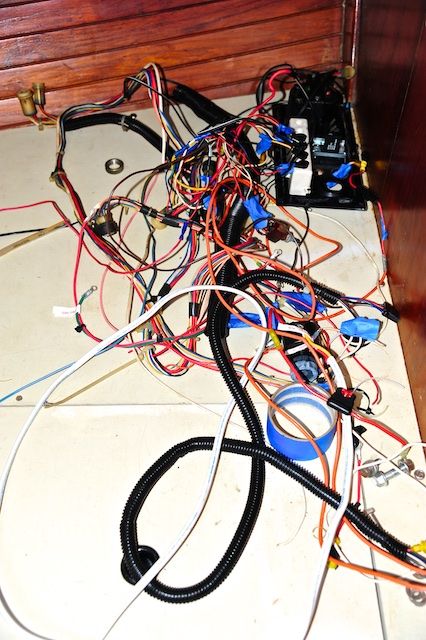 The old control panel and all the associated wiring was
removed and is currently laying on
the quarter berth platform.
On the way back to Folly Beach I found a beautiful shrimp trawler at anchor in Kings Flat Creek just south of Sol Legare Island near Backman Seafood Company.
According to an environmental assessment report, Sol Legare Island is surrounded by salt marsh and measures 2-1/2 miles long and from 1/4 to 1/2 mile wide. The island encompasses over 443 acres. The island is generally flat with a maximum elevation of about 10 feet
.
The average high land
elevation,
however, ranges from 7
to
9
feet
with
a
noticeable
bank and
drop-off
of about 4
feet
to
the salt
marsh. There are a lot of (modest) homes on Sol Legare island but I was unable to get any information on the small island's population.
--------
I went back near sunset to get a good photograph of the shrimp trawler.
This photograph of m/v Backman Enterprise was taken
from Sol Legare Road just north of Folly
Beach as the sun was setting.
December 22
After catching up on some household chores around our rented oceanfront apartment, I finally got around to changing the fishing line on my deep sea fishing rod. This task was made more challenging by Lizzie, our Maine Coon cat, who played with the line as I worked on it.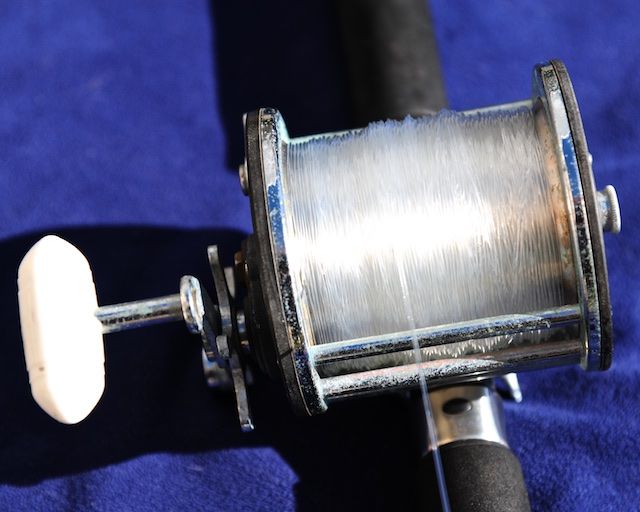 The new 100-lb monofilament line is
fully loaded onto my Penn reel.
One of my remaining tasks is to upgrade some fittings on my fishing line so that the strength of the fittings match the strength of the fishing line.
I finished reading a (kindle edition) book about two Swedes, Yanne and Carl, who sail around the world on Albatross, their Halberg-Rassy 42. The book is called Brave or Stupid and I highly recommend it to anyone interested in bluewater sailing.
It is a true story involving humor, adventure, and even romance, written in first person by one of the two sailors.
Stay tuned as we wait for our sailboat to be re-powered... only 3-1/2 weeks to go!
Thanks for following our blog!