Folly Beach - 2016
Dec 3 & Dec 4
--Blogpost written by Bob
We are here in Folly Beach SC, just south of Charleston, and we expect to be here for the next five weeks while our sailboat is being re-powered.

Weekends don't seem very different to us than weekdays except that there are more people around.
We just got our bill from AT&T for wireless service and I used over $400 in data services in November.

This is a reminder that I must use free WiFi whenever it's available and avoid using my iPhone as a hot spot all the time.

Thankfully, we have unlimited WiFi here in our rented beachfront apartment--a luxury that we miss from our home in Annapolis, Maryland.
December 3
Today was a very relaxing uneventful day. I've been collecting photographs of eclectic restaurant signs around Folly Beach: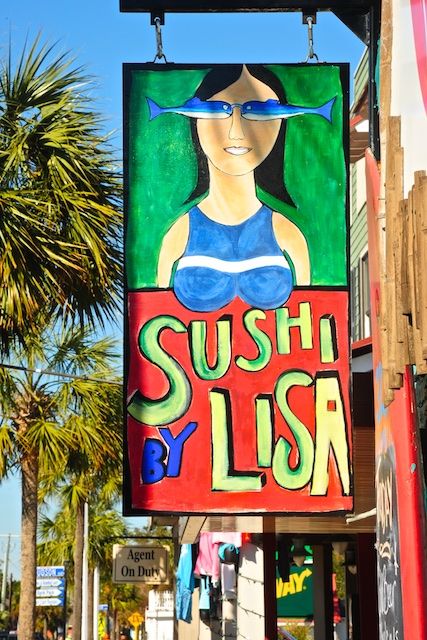 I love the color and design of this eclectic sign for a
sushi restaurant in town along Folly Road.
Bert's Market is like an old fashioned general store but with
sandwiches and grocery items in addition to store goods.
It is a business located on East Ashley Street.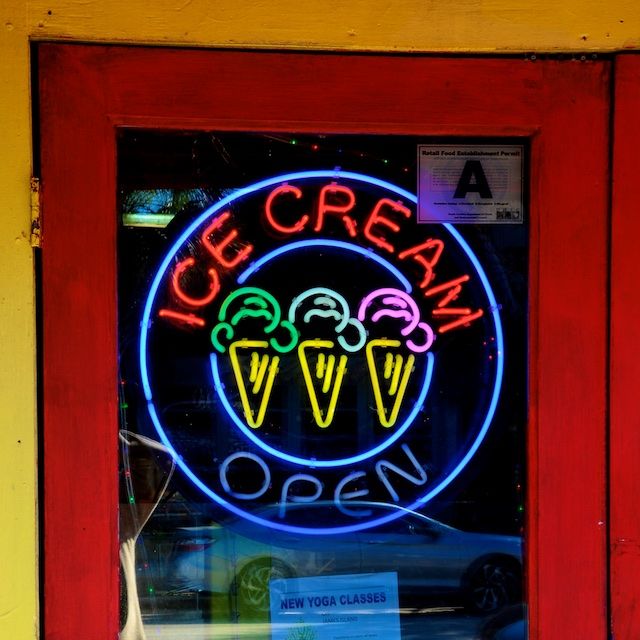 A neon sign on the door of an ice
cream shop on Folly Road.
This was a simple but colorful sign on the side of
the building housing Chico Feo Restaurant.
Tonight, Penn State (my alma mater) beat Wisconsin (38 to 31) to win the Big 10 Championship Football Game! It was a second half come-from-
behind
victory--what an exciting game!
December 4
We decided to visit our boat today in Rockville but the boatyard was locked up for the weekend and our boat was still in the water. So, we visited Angel Oak which is between Rockville and Folly Beach. Angel Oak is a southern live oak tree that is approximately 500 years old. According to Wikipedia, "The oak derives its name from the estate of Justus Angel (a slave owner) and his wife Martha Waight Tucker Angel. Local folklore tells stories of ghosts of former slaves appearing as angels around the tree."
The Angel Oak is over 66 feet high and its trunk is 28 feet in circumference. Southern live oak trees are evergreen and the name comes from the fact that their leaves remain green (or "live') during the winter when other oaks are dormant.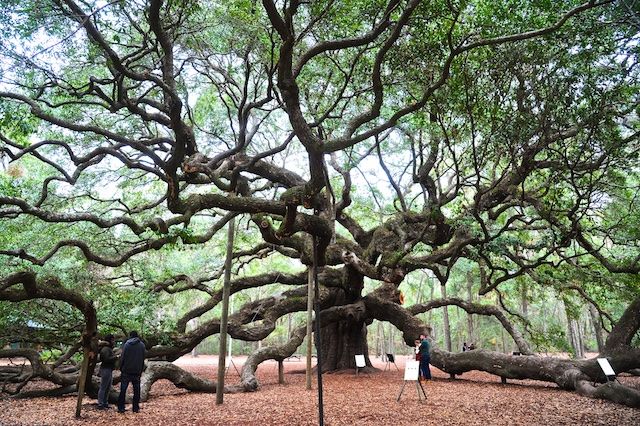 Angel Oak is 500 years old. Many of the large branches
are supported by the ground since they have spread
beyond their ability to support their own weight.