Folly Beach - 2016
Dec 5 & Dec 6
We checked on our boat this morning--our new engine and the required adaptor plates have been received! So, it looks like our stay here on Folly Beach will be limited to five more weeks. (Sounds like a prediction from Punxsutawney Phil, the ground hog in Pennsylvania that predicts the coming of spring.)
December 5
On our way back from Rockville SC, we drove by a swamp on Wadmalaw Island and I just had to get some photographs. When first seeing the swamp, my attention was drawn to the trees and the reflection of the trees off the standing water. As I observed a little closer, there was a plethora of colorful plants growing in the water that were absolutely beautiful.
The green haze on the water's surface is actually the
leaves of plants that are growing in the swamp.
This photograph is looking down into the water in the swamp.
The trees that you see are just the reflection of the
trees off the water. There are many different
colorful plants growing in the water.
On our way back to Folly Beach we stopped at the Screen Door Restaurant for lunch and it was a real treat! We shared a very unique appetizer of fried brussels sprouts served with an aioli sauce--these were very tasty!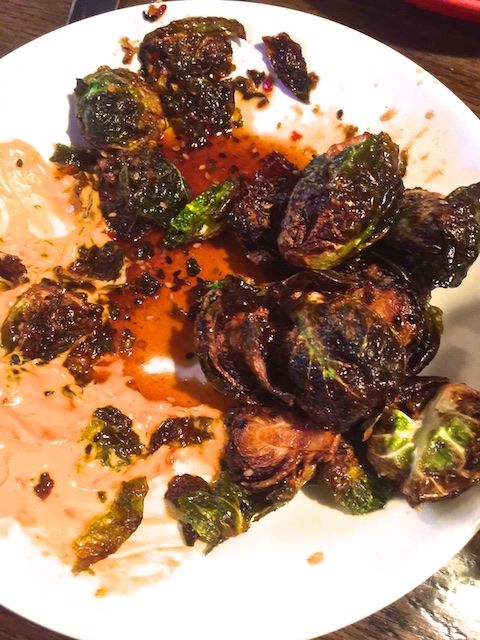 Fried brussels sprouts appetizer at the Screen
Door Restaurant on James Island,
just south of Charleston.
This photograph was taken just north of Folly Beach.

This image is typical of South Carolina's low country.
Usually
marsh areas surround the barrier islands except
on the ocean side. At times there are slightly
higher areas within the marsh that create
islands, and these higher level
areas contain homes.
Salt marshes rank among the most productive ecosystems on earth and they cover 350,000 acres just in South Carolina.
South Carolina, with its relatively small coastline, has 30% of all the marshland found on the eastern seaboard of the United States.
The water in the marsh ranges from salt water (from the ocean) to fresh water (from rain runoff).
"Perfect for high heat and salt water, the marsh grass (known as Spartina) has special glands to secret excess salt on a daily basis.

Its stalks are thick, very tough, and well anchored by a root system.

In late fall, the green Spartina begins to turn brown as the leaves die and decomposition begins."

In the above photograph (taken in early December) the marsh grass has clearly turned brown.

Besides supporting a broad ecosystem, the marshes also buffer land erosion and minimize damage from storm surges by absorbing large volumes of water.
December 6
Yesterday and today are the only days that we've experienced (all-day) rain during our five weeks in South Carolina. The rain cleared up about 4 PM and the sun came out. We spent most of the day reading and relaxing.
I just finished reading the kindle version of A Foolish Voyage: Self Discovery at Sea by Neil Hawkesford. It was an excellent read for all the sailors who follow this blog!
It seems like everyday the beach is different and the
sunsets are different. This was a beach comber
trying to find beach treasures at sundown.
Thanks for following our blog!