Folly Beach - 2017
Jan 1 thru Jan 3
--Blogpost written by Bob
We are starting off the new year still side-lined from our trip south.

We are staying in a rented oceanfront apartment while our boat is being re-powered.

We expect to be here another two weeks if everything goes well.
January 1 (New Year's Day)
The big event of the day was the Folly Beach Polar Plunge. There were probably one thousand people on the beach, about half of them participants plunging into the cold ocean water.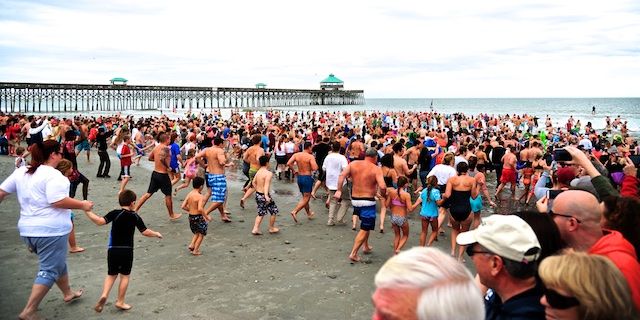 Between 500 and 1000 people participate in the Folly
Beach Polar Plunge, running into the cold ocean
water near the Folly Beach Fishing Pier.
These grass covered dunes protect the oceanfront homes
from ocean surges. Access paths through the
dunes occur every couple blocks.
Stiff
fines
discourage
walking on these dunes.
In looking back on the preparations we made for this trip, there are four things that I would do differently and four that I would not change at all.
Four preparations I would do differently:
(1) I installed an AIS receiver on s/v Rainy Days which has worked flawlessly and has been extremely valuable.

If I were doing it again, I would install a transceiver, adding the ability of other vessels to see us.
(2) I would never have left Annapolis with a 33-year old engine and transmission.
(3) The PDQ WiFi booster has not worked since I left.

I would not have installed this system if I were preparing all over again.
(4) Our rigid hull inflatable dinghy blocks our vision too much (while stored on the foredeck) going down the ICW--we have towed it the entire way so far.

(I'm not sure what I would do differently with the dinghy.)
Four preparations that I would not change:
(1) Our windlass (and leak catchment system) has worked perfectly and saved my back.
(2) The multiple guides and chart books have been invaluable--no single guide or chart book would suffice alone.
(3) The auxiliary fuel tank has been an invaluable addition, allowing us to stretch the run time between refueling.
Fuel gauges for both the primary and auxiliary fuel
tanks are easily seen in the boat's cockpit.
(4) The secondary VHF radio installed in the cockpit has become our primary radio and was invaluable so far on the trip south.
January 2
Today was nice and warm--in the low 70's during the afternoon. We went out for lunch at the Black Magic Cafe in Folly Beach.
The inside of the enclosed porch on Black Magic Cafe.
A colorful local beach bar called Planet Follywood.
It was like a kick in the gut when my Alma Mater (Penn State) lost to USC in the Rose Bowl 52-to-49. One too many interceptions...
January 3
We visited the boat this morning in Rockville to make sure the boatyard people were aware that the new transmission should be arriving later this week and to coordinate any additional parts that may be needed. I spent some time with John, the parts guy, to make sure work was not delayed beyond waiting for the transmission to arrive.
There are many advantages included in my new Yanmar engine--one of them is automatic air bleeding! In the past, if the engine ran out of fuel, I would have to bleed all the air out of the fuel system at several points--all that is now automatic except for one bleed point that needs to be used when replacing the fuel filter.
After Rockville, we drove to Mount Pleasant to do some errands: got cat food at PetsMart, bought a couple small items at West Marine, and upgraded some of my deep sea fishing lures at Haddrell's Point Tackle & Supply. Then we had lunch at the Pickled Palate in Mount Pleasant--it was a cute little restaurant on Hibben's Street with unique character and tasty sandwiches.
The Pickled Palate is a restaurant built into a small cottage
on Hibben's Street. The dining room is in an
enclosed porch on the back. In warmer
weather, outdoor seating is available.
An old house near the foot of Hibben's Street in Mount Pleasant SC.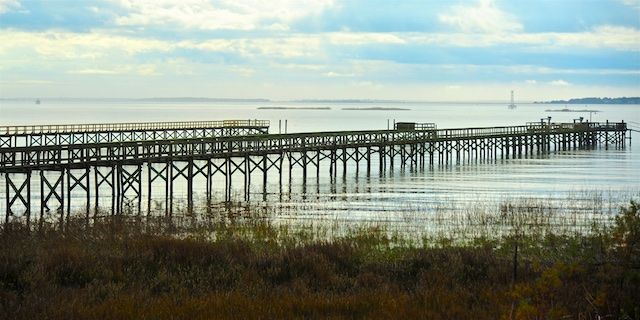 Some long piers that extend out into Charleston Harbor
from homes on the south end of Mount Pleasant.
Tomorrow we will be visiting Edisto Island by car. Stay tuned...
Thanks for following our blog!